This afternoon, I was playing with the kids in our luxurious 6-inch deep swimming pool with the yard sale Little Tykes slide perched over the side.
We're living the big life, seriously.
I kid.
That pool and our air conditioning get us through all the days in between our Hersheypark visits.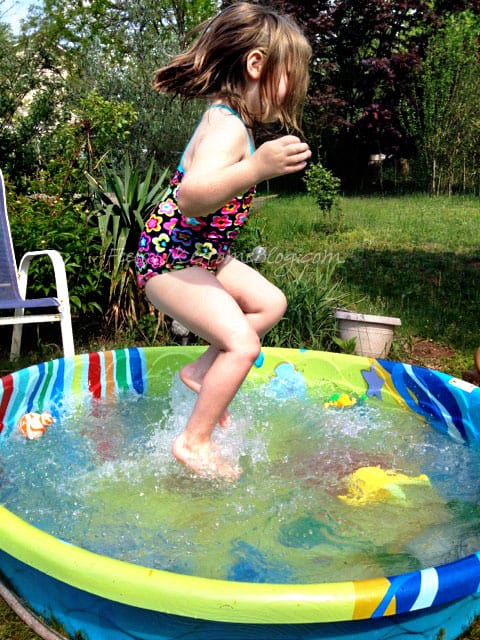 Pin
The temperature reached 94 degrees in Harrisburg yesterday, and we were outside from 2 until 4 pm (that's the hottest part of the day for you non-earth science majors) because I'm not that smart.
The water was as warm as bath water and not at all refreshing, so I got the hose. I had to run the water for several minutes to get the too hot to touch water out. (I didn't even use it in my plants! It was at least 120 degrees. The grass will probably be dead tomorrow where I sprayed it.) Finally, cool water began to run and I filled the kiddie pool to overflowing.
Because I'm the mom, and I can overflow the pool if I want to.
My parents never let me fill the bathtub the whole way to the top.
I never got over it.
I might get one of those overflowing into the floor bathtubs someday.
The pool was lovely.
I sprayed the slide before every trip down for that fancy water slide feeling.
And sometimes I sprayed the children.
You know, just a little bit. Enough to be refreshing.
I sprayed myself, too.
Allie loves to be squirted. She giggled and squealed every time I spritzed her.
More spray!
Get hose Mommy!
No stop!
Grace was mostly pouring water down the 10-foot slide attached to their play set (though she never slid down it which I found odd), but she came back to the pool every minute or two to refill her cups.
So I sprayed her.
A few times.
Maybe fifteen.
She protested.
"Come on, isn't that refreshing?" I prodded.
"MOM!" she snapped. "YOU are VEXING me."
I laughed, and she laughed, but I got the message.
I didn't spray her with the hose again.