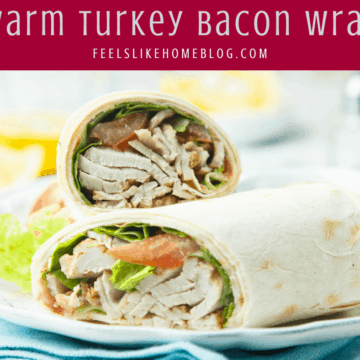 Warm Turkey Bacon Wrap
How to make a warm turkey bacon wrap - This is the best quick and easy wrap recipe and very healthy! Great for lunch or dinner, and even kids enjoy it because of its simple ingredients! You can go wrong with turkey, bacon, and cheese, but you could also substitute ham or roast beef. Great weeknight meal.
2

tablespoons

butter

6

medium size flour tortillas

Miracle Whip Light

horseradish mustard

6-12

slices

mozzarella cheese

1

pound

deli turkey

12

slices

bacon

pre-cooked

1

small

cucumber

thinly sliced

leafy lettuce

baby spinach or spring mix

sprouts

2

medium

tomatoes

thinly sliced
Melt ½ tablespoon butter in a large non-stick skillet over medium heat.

Spread Miracle Whip and mustard on the tortilla.

Place tortilla in the skillet and top with 2 slices of cheese, precooked bacon, and turkey. Cook 2 minutes or until cheese is melted.

Slide tortilla out of the skillet and onto a plate.

Add thinly sliced cucumber, lettuce, sprouts, and any other toppings you like.

Roll up and eat.