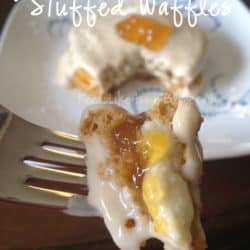 Peaches and Cream Stuffed Waffles with Cream Cheese Syrup
These peaches and cream stuffed waffles sandwiches includes a thick, sweet cream cheese syrup recipe good for pancakes or waffles.
For the cream cheese syrup
For the stuffed waffle sandwiches
8

frozen waffles

we used s'mores flavor

4

oz

cream cheese
For the cream cheese syrup
Make the cream cheese syrup first and keep it warm while you prepare the waffles and filling.

Over medium heat, melt a stick of butter and half of a block of cream cheese. When both the butter and cream cheese are melted, gently whisk them together until the butter is all incorporated with the cream cheese. It will take a few minutes. Be patient.

Whisk in the milk and vanilla. Add the maple syrup and whisk that in. Dump the powdered sugar in. Whisk until it's all incorporated.

Check the consistency of your syrup. If it's too thick, add more milk and blend. Leave it on low heat while you prepare the sandwiches. If you let it cool too much, it will set up like jello and won't pour on your waffles.
For the stuffed waffle sandwiches
Toast 8 waffles in the toaster or oven, according to the package directions.

While the waffles are heating, soften 4 ounces of cream cheese in the microwave. Heat 30 seconds then stir. If it's not soft enough, heat for an additional 20 seconds and stir. You may need to do this a few times, but don't heat it for more than 20-30 seconds at a time.

Spread cream cheese on half of the waffles and peach jam on the other half. Assemble the waffles into sandwiches, each with one cream cheese side and one jam side.

Spoon enough of the hot syrup over top of the waffle sandwiches that it covers the top and pours down over the sides. Add a dollop of jam on top for garnish, if desired. Finish with a light sprinkle of powdered sugar.

Serve hot.