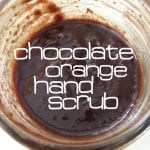 Print
Homemade DIY Chocolate Orange Hand Scrub Recipe
How to make the best homemade DIY chocolate orange sugar hand scrub - This refreshing recipe is quick and easy with essential oils, brown and white sugar, and cocoa powder for a healing deep clean that is moisturizing and exfoliating.
2

heaping tablespoons

cocoa powder

1/2

cup

brown sugar

1/3

cup

white sugar

1

teaspoon

vanilla extract

1/3

cup

olive oil

Get something cheap. You aren't eating it; you don't need EVOO.

2-3

tablespoons

sweet orange essential oil

(Be careful with this if you don't want it to be very orangey. You might want to add it in smaller amounts and evaluate. I did use this much, but it wasn't a premium brand.)
Mix everything but the oils in a small bowl. Add olive oil a tablespoon or two at a time, until the consistency is right. I like mine to be thin, like pudding, so I used quite a bit of oil.

After the consistency is right, add the essential oil. Use your nose as a guide. You'll know when you have enough.

Mix it up really well.

Pour or spoon it into a half-pint jar.