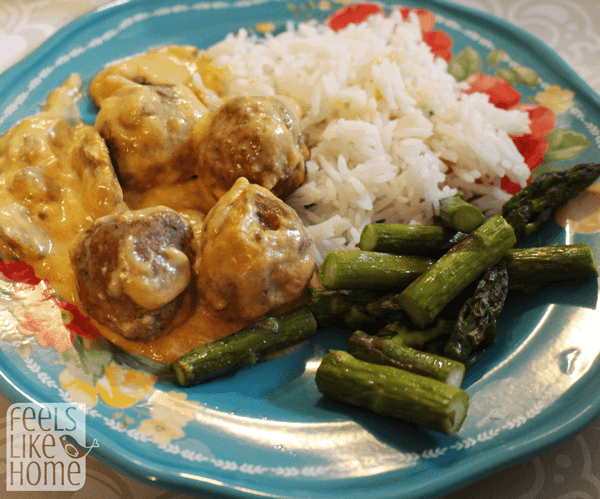 Joe didn't think about our children's disdain for mushrooms and put all of meatballs into the mushroom sauce. Then, when it was time to serve the food, he had to set about rinsing sauce off of meatballs for the kids. He was none too happy about that.
Joe ate his meatballs as pictured, with the sauce and meatballs served over rice. I ate 4 meatballs in sauce with some asparagus, and I was very happy with them. The kids devoured their rinsed off meatballs and asked for more.
I found the Italian Style Beef and Pork meatballs to be very moist and rich. I really liked them a lot.
Cooked Perfect fresh meatballs come in four flavors: Italian Style Beef & Pork, Korean Style BBQ Beef & Pork, Sun-dried Tomato & Roasted Garlic Chicken, and Italian Style with Parmesan & Mozzarella Chicken. My last meatball recipe featured the Sun-dried Tomato & Roasted Garlic Chicken Meatballs, and they were fantastic, too!
Cooked Perfect Fresh Meatballs fully cooked with no artificial flavors, colors, or preservatives. They're flame broiled to lock in the savory flavors of each mouthwatering meatball. You can't go wrong with any of the flavors and, as I said above, they make weeknight meal preparation a breeze! The recipe above came together in under 15 minutes and is perfect for after a long work day.
Find a store where you can buy Cooked Perfect Fresh Meatballs.
Save $1.00 on your next purchase of Cooked Perfect Fresh Meatballs.
Find Cooked Perfect Fresh Meatballs in the refrigerated meat and poultry section - not in the freezer!