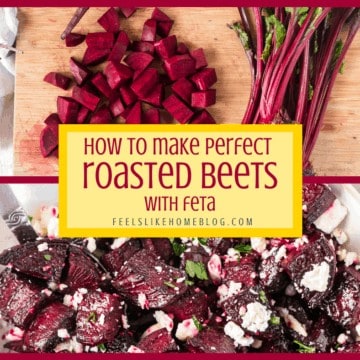 Oven Roasted Red Beets with Low Carb Balsamic Glaze and Feta Cheese
Oven roasted red beets are sweet, rich, tender, and an incredible addition to salads or great as a side dish for any meal! Paired with balsamic vinegar and olive oil, they're naturally gluten free, paleo and vegan. Add some feta cheese for a burst of tangy flavor.
Prep Time
10

minutes
mins
Total Time
1

hour
hr
10

minutes
mins
2

pounds

beets

½

cup

balsamic vinegar

¼

cup

olive oil

6

ounces

crumbled feta cheese
Preheat the oven to 375º.

Wash and peel the beets using a vegetable peeler. Cut into 1-inch chunks (see note in #4 below on cooking times).

Toss the beets with a generous amount of balsamic vinegar and olive oil. You may need more than I've listed above to make sure all the pieces are well coated with both oil and vinegar.

Spread beets in a single layer on a baking sheet with a rim. Roast them at 375º for 30 to 60 minutes, until tender. The total cooking time depends on how big you chopped the beets. Pieces around ½-3/4 of an inch will cook in about 30-40 minutes. Pieces around 1 inch will need closer to 60 minutes. Test the largest beets with a fork to make sure they are tender.

While the beets are still hot, toss them with some additional oil and vinegar and sprinkle with a generous amount of feta cheese.