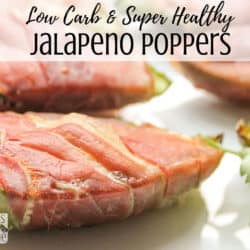 Healthy & Low Carb Prosciutto-Wrapped Jalapeño Poppers with Herb Cream Cheese
These homemade oven baked spicy jalapeno poppers are wrapped in prosciutto and stuffed with a cream cheese and cheddar filling. This easy & healthy recipe is low carb & keto. One of the best simple appetizers, no frying needed.
Course
Appetizer, Side Dish
Preheat oven to 350°F/180°C. Line a baking sheet with parchment paper and set aside.

Mince Italian parsley and sage. Mix herbs throughly with cheddar cheese; blend into cream cheese.

Cut top of jalapeños off and cut in half, lengthwise. (We call that the hot dog way at my house.) De-seed and de-vein peppers to reduce the spice factor. Fill halves with cream cheese. (Cheese will expand when heated, don't overfill.)

Cut each prosciutto slice in half (lengthwise) into two strips each. Wrap prosciutto strip around cream cheese filled jalapeños. When wrapping, cover the pepper top to prevent cheese from spilling out when it expands during baking.

Place wrapped jalapeños on the lined baking sheet lined. Bake at 350°F degrees for 15-20 minutes. Remove from oven, allow to cool for 2-5 minutes. Enjoy warm!