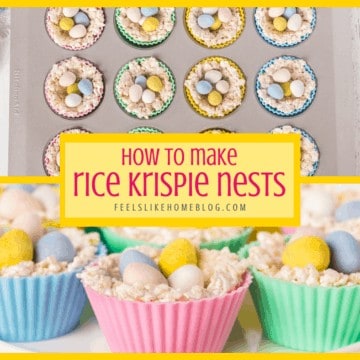 How to Make Rice Krispie Nests
Rice Krispie nests are simple and easy and impressive! Packed with jelly beans, Cadbury mini eggs, or other small candies, the nests are a perfect Easter treat.
The first step is to melt the marshmallow fluff and butter. You can do this on the stove, but the microwave is much faster and easier. Put them in a glass bowl for a minute or so. Take the bowl out of the microwave (carefully - it's hot) and stir it up. If your marshmallow fluff looks fluffy, it needs to go back into the microwave for another minute.

Remove the bowl and stir again. If it is sufficiently melted, the goo will be a liquid. Make sure the butter is incorporated with the marshmallow liquid.

Pour the marshmallow liquid into the Rice Krispies and mix them until it's completely distributed through the cereal.

Spoon the Rice Krispies mixture into the cupcake liners and press a dent into the center of each one. Drop a couple of egg-shaped candies into each one.
Silicone baking cups work really well in this recipe and act like cupcake wrappers to keep each nest separate and contained.