Breastfeeding doesn't work for everyone, and moms who want to but can't are heartbroken! Regardless of the reasons you're unable to breastfeed, you must deal with the guilt and understand that it's okay, and you aren't a failure.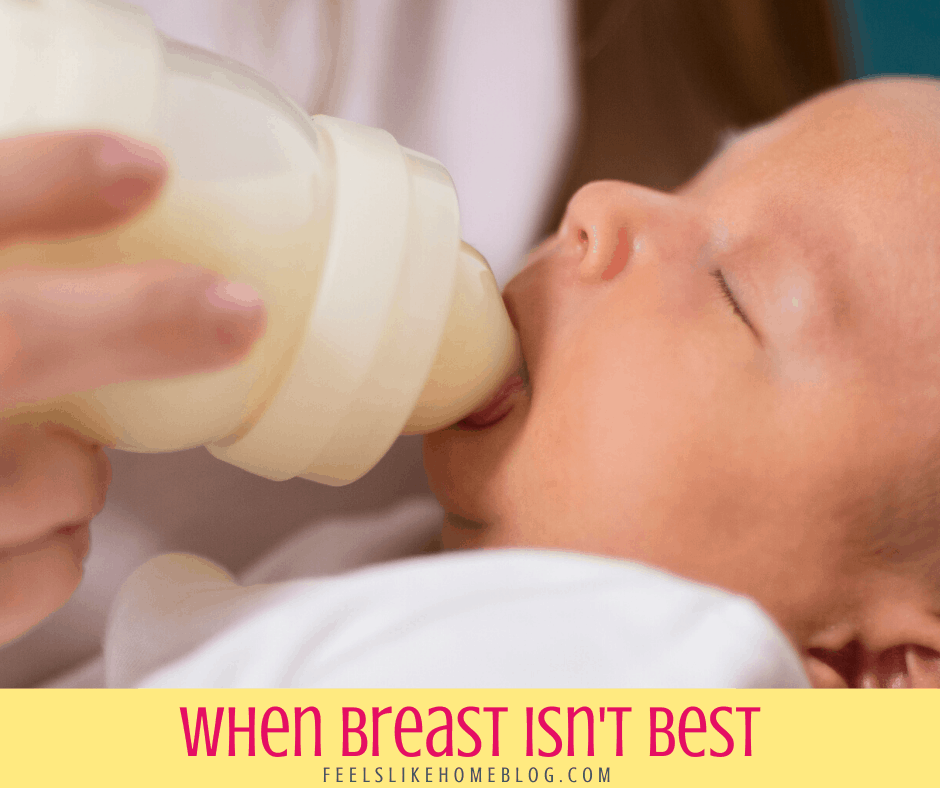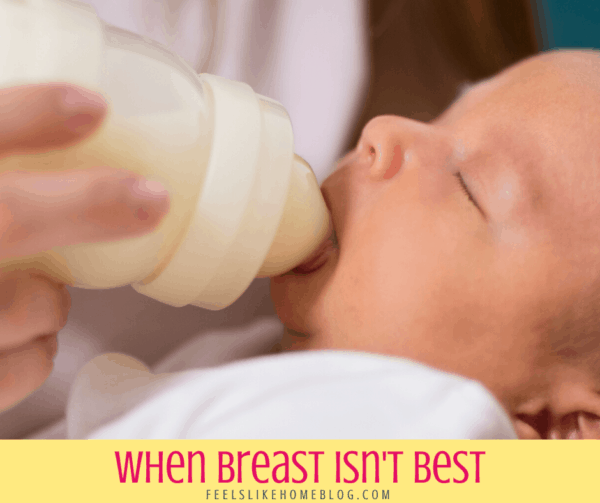 Pin
I wanted - desperately - to breastfeed both of my children.
Grace never latched on to my breast. Though I tried just after she was born, she refused. She would occassionally open her mouth for my breast, but wouldn't suck.
I've talked about Grace's refusal to latch before. She never successfully breastfed.
I didn't know what else to do, so when the pediatrician and lactation consultant told me to give her formula, I did.
Though I deeply regretted my failure to breastfeed Grace, I came to appreciate the formula. Formula made my baby gain weight. She quickly became healthy and strong.
The sting of failure lingered for years.
But this time!
Allie was rooting from the moment I first saw her. She was hungry!
As soon as she was cleaned and wrapped in a blanket, Allie was latched on and happily breastfeeding. My spirits were uplifted; she wanted to eat!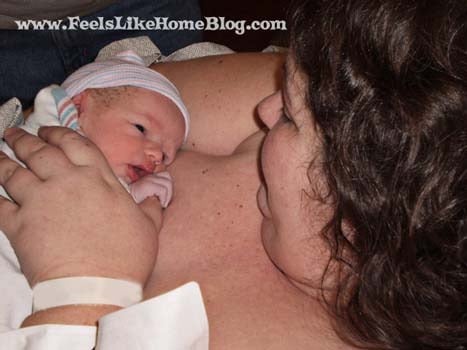 Pin
Every time Allie showed signs of hunger, I put her to my breast. She ate.
Every hour or so.
All day and all night.
The nurses and their aides joked gently with me about cluster feeding, assuring me that it would slow down when my milk came in.
It didn't.
My milk came in the second day I was in the hospital. Milk leaked from my breasts throughout the day.
For seven days, Allie nursed almost constantly, around the clock. Grace was ignored and felt unloved. Joe felt inept and disconnected. I was a sleep deprived zombie who cried all the time.
My friends who breastfed their children called and emailed and Tweeted encouraging messages. It will get better. Breastfeeding is hard to learn. You're going to get the hang of it soon. Breastfeeding is a struggle, but it will become a lot easier soon. It will get better. It will get better.
Despite being latched on to my breast for hours a day, Allie didn't gain any weight. She was an ounce smaller at her one-week well baby appointment than she had been at hospital discharge. The jaundice that developed in the hospital had gotten worse.
I consulted the hospital's lactation consultant and left the appointment feeling refreshed and hopeful. I'd supplement Allie at each feeding with a little formula or pumped breast milk via a supplemental nursing system. She would surely gain weight.
She didn't.
I allowed Allie to breastfeed every time she showed signs of hunger. With the supplement, it was about every two hours. After she finished nursing, I pumped for forty-five minutes so that I could give her supplemental breast milk at the next feeding.
Grace felt more ignored than ever.
Because she was.
Out of every two hours, 120 minutes, I spent at least 90 feeding and pumping. Then I cleaned the pump parts and the supplemental nursing system parts. If I had time, I used the bathroom and got myself a drink and took care of Grace's basic bodily needs, like food.
And then it was time to feed the baby again.
This went on for another week. Allie still wasn't gaining weight, and I was sinking deeper and deeper into the mire of depression.
Doctors and nurses called to check on me. The pediatrician questioned whether we had heat in our home. She questioned whether I was eating. She sat and talked to me about my constant crying.
Just before leaving the exam room, she patted my knee and said, "You know, there is nothing wrong with giving your baby formula. It's a good resource."
I cried. I didn't want to fail at breastfeeding again.
After another consultation with the lactation consultant, it was decided that I needed to supplement more formula at each feeding.
I continued to go through the motions of my life. I continued to wake every couple of hours through the night to nurse the baby. I continued to supplement and breastfeed around the clock.
I found a hands-free pumping bra on Amazon that allowed me to play with Grace while I pumped, giving her some valuable time and attention. A little time and attention went a long way at first, but then Grace wanted needed more.
Allie gained three ounces at her next appointment, a huge success.
But then the feedings started getting closer together again. Allie wanted to nurse every two hours, then every ninety minutes, then every hour.
My friends continued to call and email and send Twitter messages. It will get better. This is a growth spurt; it will only last a day or two. Stick with it. It will get easier.
It wasn't getting easier. It was getting harder.
Just when I thought I was getting better, my tears started flowing again. Allie began to refuse the supplemental feeding tube, screaming until I offered just my nipple.
I knew that the formula was what nourished her, what made her gain weight. How could she refuse it?
Melancholy surged. Tears and frustration returned. I felt detached from everything and from everyone.
As I drove home on Monday night, the third Monday of Allie's life, God spoke to me.
I know it was God because the words brought me incredible peace as soon as they passed through my brain.
You've really worked hard. You've done everything you could do.

It's time to give up.


Buy some bottles.
I cried but they were good tears. They were tears of relief, of hope.
The struggle was over.
I gave myself permission to give up, and I felt good.
That very night, Joe fed Allie formula from a bottle, and she slept for three hours straight. He took care of all of the feedings that first night so that I could sleep.
I needed to sleep.
The next day, Allie drank a bottle about every three hours. She napped in between, and she slept soundly enough that I could put her down.
For the first time in her life, I could lay her in the bassinet, in the bouncy seat, or in the swing. She didn't mind not being held all day.
I played with Grace. We colored. We played princesses and dinosaurs and doll house. We watched movies together; Grace sitting in my lap. We read books together.
I took a shower, my third shower in three weeks.
Allie has been drinking formula from a bottle for a little over a week now, and I couldn't be happier.
I know that the female body was designed to breastfeed. I know that breastfeeding has incredible advantages for both baby and momma.
And I know that it didn't work for us.
In the end, I'm glad I tried. I needed to try. But I do wish I'd given up a little earlier. I wish I'd been easier on myself.
I want other new mothers to know that they don't have to run themselves into the ground, into depression, and into emotional detachment to feed their babies.
Formula is not the enemy.
It's okay to feed your baby formula.
It's okay.