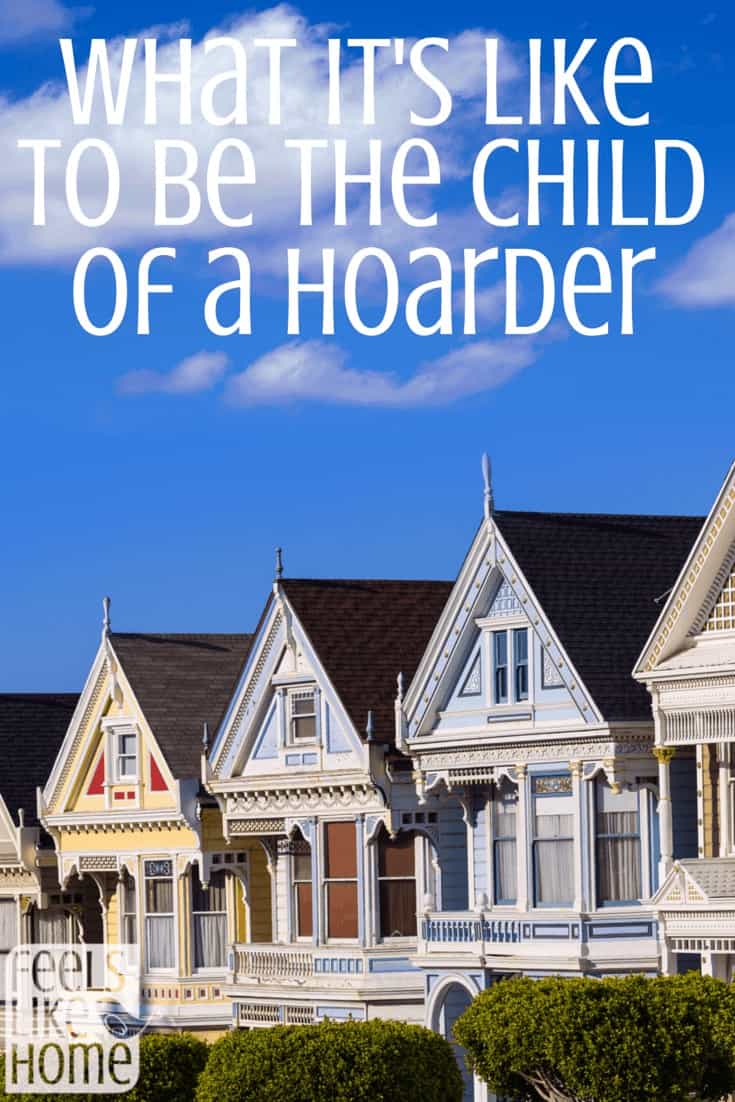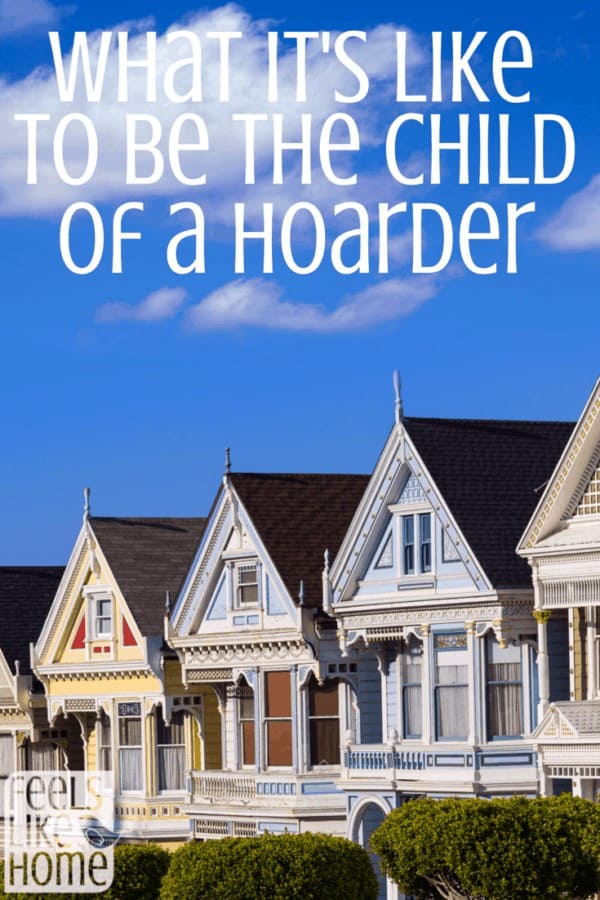 Pin
Imagine living in an ant hill, walking through trails barely wide enough to pass and finding a little pocket of space here and an empty chair there. If you were an ant, you might not mind, but if you're a human being, it's no fun. It impacts your mental health and well-being.
My mother was a compulsive hoarder.
She was the kind of hoarder you've seen on tv, where there are paths through the house and the stuff is piled up to your chest in every room.
She's been gone for almost six years, but I feel ashamed even now to talk about it, like it's a dirty secret that I shouldn't bring into the light of day.
She had a lot of good qualities, my mother. I still miss her almost every day. But the facts are the facts, and I grew up in a unique situation.
I desperately wanted the house to be different. I even took it upon myself to clean a space a few times, but it always got filled back up.
There was no real cleaning at my house because we couldn't see the floors or reach the walls. We ate out a lot because the stove was covered in stuff and dirty dishes were piled in the sink and on the counters and the table was piled as high as we could see with papers and miscellany.
There was a swivel chair in the living room where one person could sit at the computer desk. The rest of the room was full of boxes and bags and piles. There was no other furniture save some shelves against the walls, long since piled in.
Every surface was covered with something. Even the landing above the stairs was filled with old clothes, too old to be worn but never donated or thrown away. A glow-in-the-dark cardboard mobile of the planets hangs from the hallway light, made in the nineties and still hanging, caked with dust.
It all made me feel trapped, claustrophobic, like I had nowhere to go.
People are not meant to live like ants.
After I graduated from college, I couldn't wait to get a home of my own and get away from the mess. I did, and she filled in the spot where my chair used to sit.
Everything was important to my mom:
The inserts from the newspaper.
The pages from the TV Guide magazine (remember the TV Guide magazine?).
Cardboard boxes from all sorts of purchases.
Everything she ever made or painted.
Everything we ever made or painted.
Everything she ever bought.
Expired food.
Magazines.
Plastic grocery bags.
Actually, I can't think of anything that she threw away on a consistent basis. She put one small kitchen bag out at the curb every week, but she brought in bag after bag from shopping trips all week. There was a constant flow in and barely a trickle back out.
To be honest, I've inherited some of my mother's hoarding tendencies.
I have a real problem with books, clothes, and papers. School supplies and craft supplies pop up everywhere. My kids' toys clutter up all our rooms, and their clothes are literally a foot deep in my home office.
I'm largely blind to the piles. I tolerate a lot more mess than an ordinary person which causes frequent strain in my marriage.
I'm a work in progress. I forget to clean the toilet every week, and then I have to get out the pumice stone and some rubber gloves and scrape off the gunk that accumulates.  I forget to wash the windows and the tv screen. I forget to dust and giant dust bunnies fly off the ceiling fan when I turn it on in the spring. I don't notice the fingerprints on the walls until the walls are brown and grimy.
People don't often come over to eat a meal with us because of the state of our kitchen. There is grease on the cabinets, there are crumbs in the corners, and there is grime behind the faucet of the sink. I have six crocks full of utensils on the counter because they all seem to be important. We recently went through them, and I donated a few, but what if I need the rest? I just can't make myself get rid of them, so we have virtually no counter space.
I think I might know how my mother felt because I am overwhelmed at the work that needs to be done to make my home feel pride-worthy. I'm pretty sure I'll never be able to invite people over because I am ashamed of my home.
When you grow up seeing your mom and dad clean every week, when neat and tidy is the status quo, you learn to keep your own home neat and tidy.
But when you grow up with a hoarder, you don't learn how to keep your home neat and tidy - or even acceptably clean.
You have to come up with your own routines and plans.
I'm quite good at coming up with routines and plans, but I'm quite bad at following them. I've written about that before, and it has never changed.
One thing I've gotten good at is decluttering and purging. I donate books to the library with regularity, and I go through the toys every couple of months. I have bags of clothes destined for the Community Aid store (but not there yet, another problem), and I have boxes in the basement waiting to see if I miss them.
I need constant encouragement and inspiration to keep fighting in the right direction.
A Slob Comes Clean
I have found tremendous inspiration and encouragement in the work of Dana K. White, author of Decluttering at the Speed of Life: Winning Your Never-Ending Battle with Stuff and How to Manage Your Home Without Losing Your Mind: Dealing with Your House's Dirty Little Secrets. She writes a blog called A Slob Comes Clean, and we became blogging friends more than 8 years ago when we both attended the same blog conference.
I am in awe of Dana's decluttering journey and her work in general. I've studied her books closely over many years, and I have picked up a number of habits that I have incorporated into my daily life - they help, though I'm not cured by any means.
If, like me, you feel like you have hoarding tendencies, or even if there's just that one secret spot in your home that bugs you, check out Dana's Decluttering Challenge this week.
There isn't a quick and easy answer for someone like me.
I guess there probably isn't a quick and easy answer for any of us, but there is hope.
I have hope. You should have hope, too.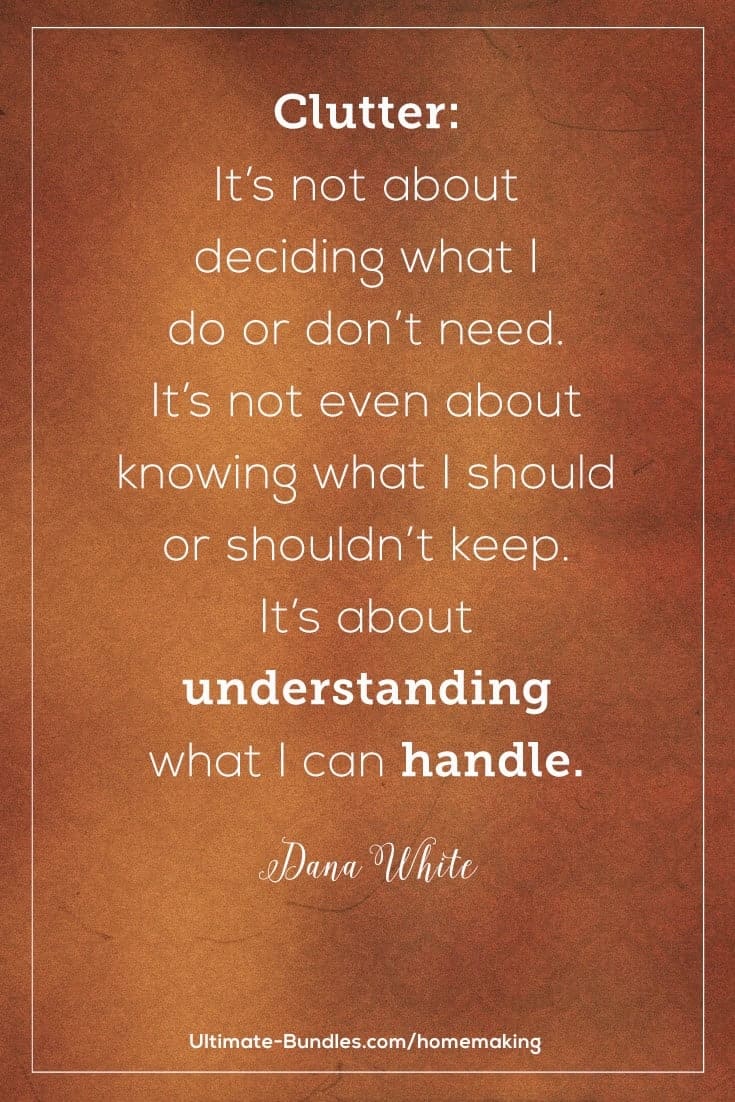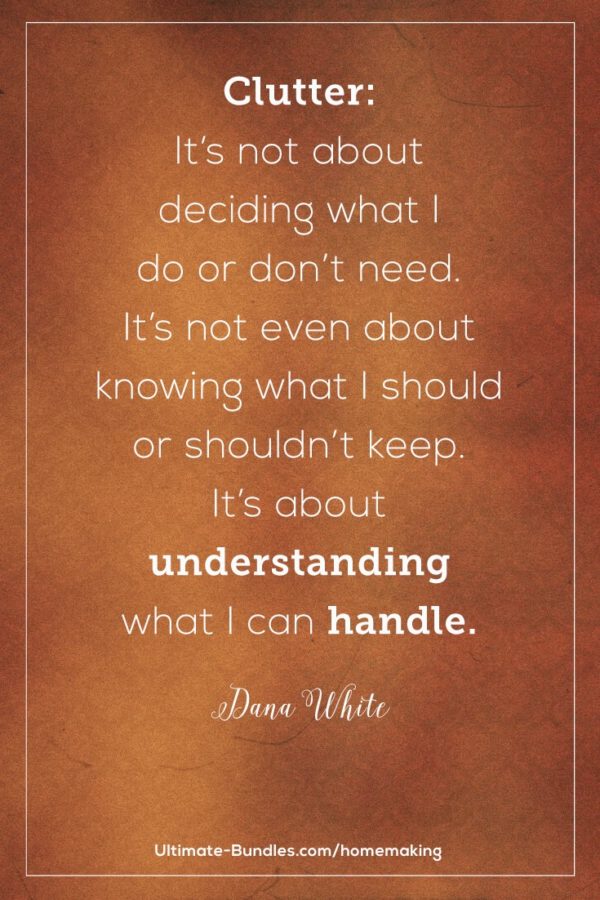 Pin