This past Friday, we had friends over for a campfire. In the twilight, we roasted hot dogs and marshmallows, traded stories, and got soaked by rain.
It wasn't the most successful campfire, but it was a good visit.
Our friends have 3 kids: Elizabeth is 8, Jackson is 5, and Gretchen is 2. Our families make perfect playmates; our kids have known each other for almost as long as they can remember.
This past Friday, something was different.
Remember when I was worried about Grace's little girl confidence? Allie said that a Barbie looked like Grace, and Grace responded. I wasn't sure whether Grace's response meant she believed it or that she didn't believe. I wrote:
If she does believe she's so beautiful, I know that it's fleeting. All too soon, she will understand that she isn't pretty enough, that she doesn't measure up, that she should be thinner, taller, better.

That's what we all believe, isn't it?
This past Friday, Grace breezed into the bathroom with her play makeup.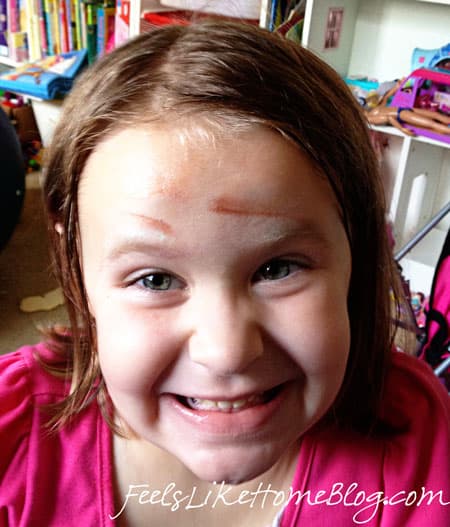 Pin
I asked what she was doing.
"I'm putting on my makeup."
"Oh you are? Why are you putting on your makeup?" I asked.
"Because I want to look pretty so that Jackson will want to play with me more."
So that Jackson will want to play with me more.
An elephant sat down on my chest.
I am so not ready for this.
When I looked up, my five-year-old was wearing a rainbow of eyeshadow between her hairline and her eyebrows. Blues, greens, purples, and grays streaked across her forehead.
As the day progressed, she washed and blow dried her hair, washed the initial makeup off, and then applied new makeup, browns and blues and more subtle this time.
And the elephant stayed right in the middle of my chest, settling in a little more every time she appeared from the bathroom.
I projected. The message has gotten in there that she's not good enough, that she needs makeup to be pretty, to be worthy, to be liked, I thought. Her confidence is broken.
I had a moment of what I hope is clarity at the salon today. Mary, my new hairdresser, said "Do you suppose she's seen you put makeup on for special occasions?"
Why yes, yes she has.
Grace has seen me putting on makeup for dates with Joe or for church or for my moms' group. She has asked why I wear it, and I've told her honestly that it's to make my eyes and lips look prettier, that I like the way I look with it, that it makes me feel good about myself.
I need to talk to her about makeup. I also need to stop projecting my insecurities on my daughter.
She was doing exactly what she's seen me do a couple of times a week for most of her life. Why wouldn't she emulate what she's seen?
I'm still not ready for my five-year-old to wear makeup.
How old were your daughters when you let them wear makeup (including play makeup)?