Last week, I was down. I felt blue, like I was taking small steps along the path to full-on depression. Between Joe Paterno's death, work stress, and cyber school stress, I was teary-eyed and sad and having a hard time coping with my life.
Wednesday night, I noticed a big hole in my schedule for Thursday through Sunday.  I also noticed higher than normal temperatures and a lack of winter weather in the forecast.
Sounded to me like the perfect equation for a trip to Old Grandma's house.
I called her on Wednesday night around 10 o'clock and told her I was thinking about a visit.
The next morning.
After a long pause, she said we should come.
In the morning, I packed some clothes (old ones, the reason for which you will see below) and some diapers and put the children in the car.
And then we were off.
I forgot my regular camera, so you'll have to see our trip through grainy iPhone photos.
The first night of our trip included clearing out the cabinet under Grandma's sink.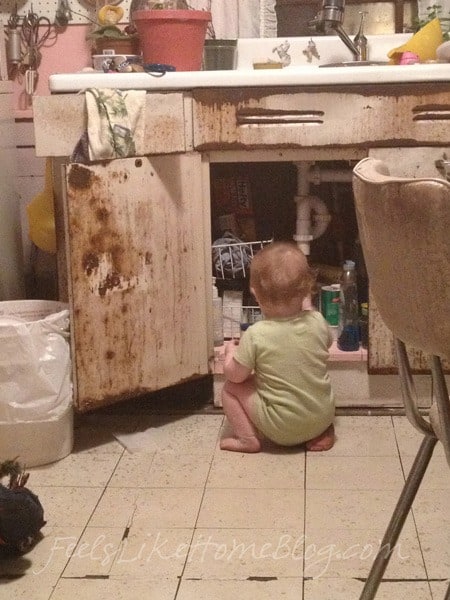 Pin
Grandma just laughed.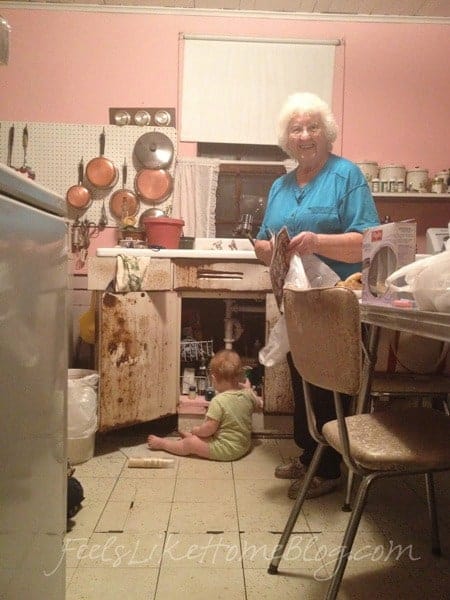 Pin
Before too long, I took my tired girlies to bed. I hadn't fully thought through the sleeping arrangements.
Neither of my children will sleep by herself when we're away from home. Normally, Joe sleeps with one child, and I sleep with the other.
My kids and I went to sleep around 8:30pm. Old Grandma doesn't go to bed until well after midnight. Asking Old Grandma to sleep with one of my squirmy angels wouldn't work very well.
So.
The three of us went to sleep in the double bed in the Blue Room.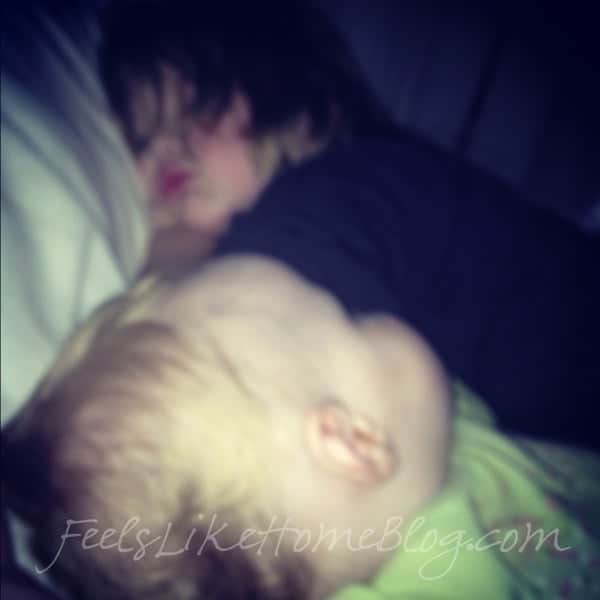 Pin
They inched closer and closer to me, crowding me to the edge of the bed. As I lie there, listening to a pair of squirrels running around in the attic, I realized that I was never, ever going to fall asleep perched there. I got out of bed and went downstairs to watch tv with Grandma. In the dark.
Grandma made up the spare twin bed for me, and I fell asleep for the first time.
And then Allie woke up crying.
Allie's crying woke up Grace, who became hysterical because I wasn't in the bed.
I left my soft and warm and spacious bed to join my screaming children. They both cried on and off throughout the night. I guess the squirrels were scaring them. Or something.
When my children woke Grandma up (much earlier than she'd planned, I'm certain), she said, "You didn't get much sleep, did you?" I think that meant that she didn't, either.
After breakfast, I put Allie back in bed for a nap. You know it was a rough night when the baby takes a nap at 10 in the morning.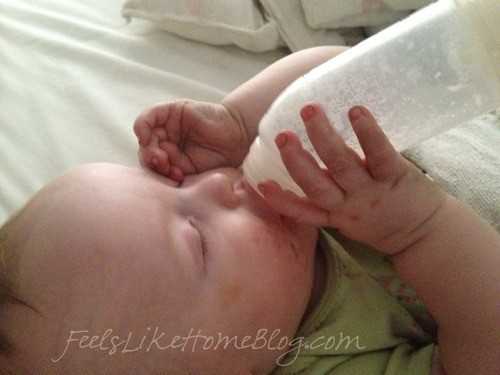 Pin
Can you tell how dirty she was? More on that below.
While Allie was asleep, I did my Bible study while Grace and Grandma played Barbies.
Pin
We all played Angry Birds and Princess Yahtzee.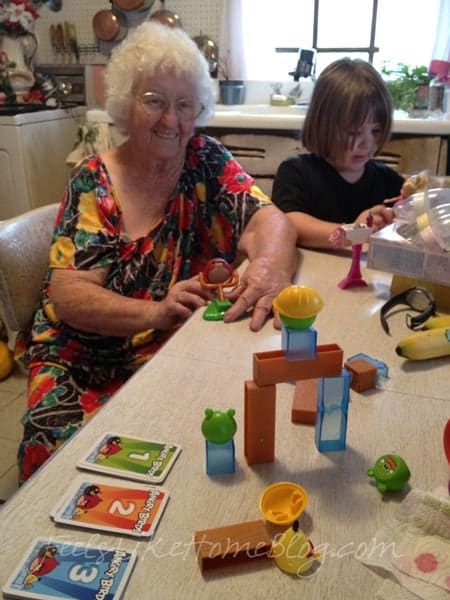 Pin
When I was a student at Penn State, I drove to visit Old Grandma once or twice a month every month. One of our favorite pastimes was to play Yahtzee. We spent whole days playing Yahtzee together back then. It was really fun to teach Grace how to play the game we love so much.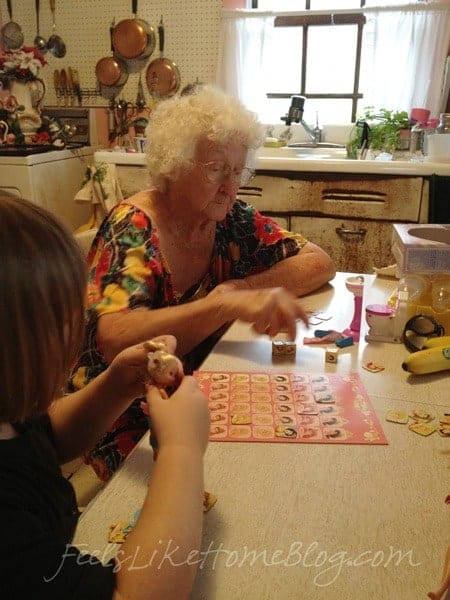 Pin
After Yahtzee, the two of them went back to playing Barbies. I was delighted to have a respite from plastic dolls for a change.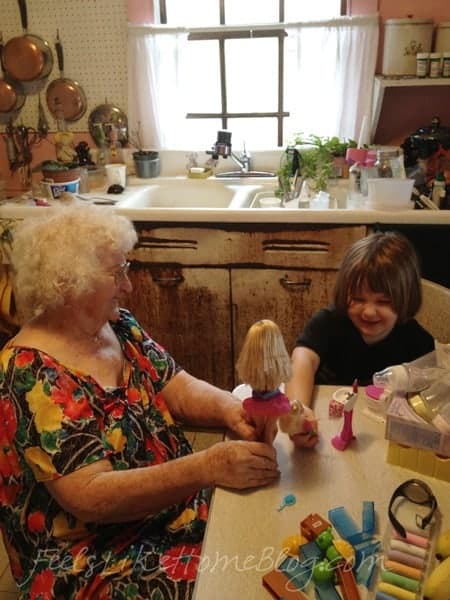 Pin
Allie eventually woke up (after a FOUR hour nap - why doesn't she nap like that at home?!), and she proceeded to run amok.
That's how the rest of the visit transpired, too. Grace and Grandma playing, and Allie running amok.
Pin
She looks like she's been playing in the coal pile, but she hasn't been.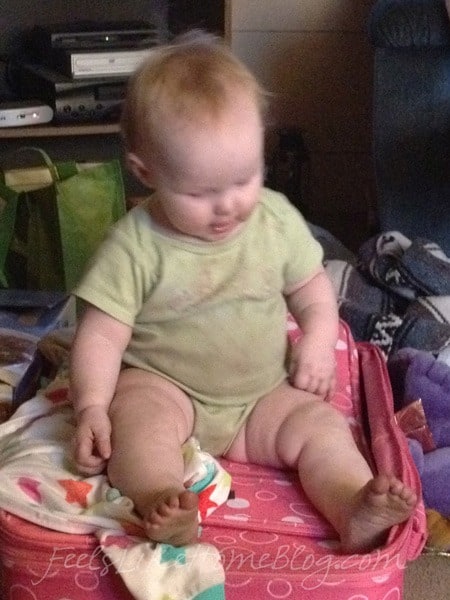 Pin
Old Grandma's home is heated by a large coal furnace in the basement. Even at 84, she goes down to the basement every few hours to tend the fire.
There's a lot of coal dust. It coats everything. It always has, since Grandma moved into that house fifty years ago.
My children looked like coal pile pigs the whole time we were there. I found them irresistibly kissable.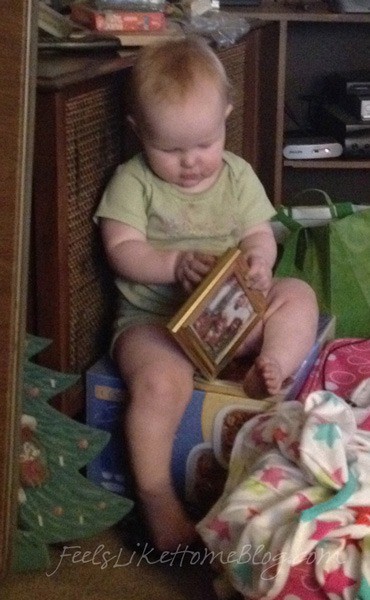 Pin
Dirty Allie left nothing unturned at Old Grandma's. She looked at the photos, the knickknacks, the books, the movies, the rugs, the Purple People Eater - everything.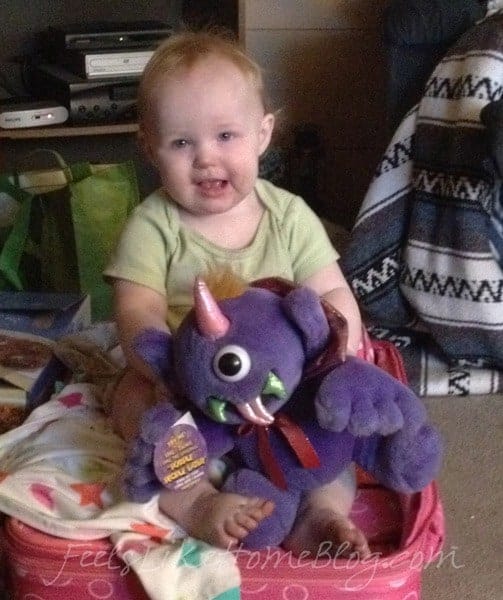 Pin
Looking at this pictures makes me nostalgic. Grandma's house feels like home. The coal dust, the squirrels in the attic, the flies in the plastic on the windows, it is all familiar, steady, comfortable. I yearn to be back in the pink kitchen or the blue bedroom where I sleep or the green and white bathroom where I bathed the girls.
Oh, to be at Old Grandma's house again.
I feel like myself at Old Grandma's. I have no stress (aside from children who run amok and hog up the bed), and life is good.
Even if it is only for a couple of days.