Pin
Quiz time. I promise that you know this guy. Who is he?
He is often called "the only President of the United States who was never President of the United States" and "the first American."
He may be the most influential American in the history of America.
He quit school at age ten (because of family finances) but read voraciously throughout his life, educating himself on a very wide variety of subjects.
He established the Library Company of Philadelphia, now home to over half a million rare books and pamphlets, the first volunteer firefighting company, and the first hospital in the US.
He designed the current model of the university, changing everything from admissions policies to teaching methods and coursework.
He organized the first Pennsylvania Militia.
He created the Poor Richard's Almanack, the inspiration for today's popular Farmer's Almanac.
He authored or co-authored the first treaty of friendship between America and Germany, the Declaration of Independence, the Treaty of Paris, the Treaty of Alliance with France, the Treaty of Amity and Commerce (with Sweden), and the Constitution of the United States of America and inspired the Edict of Versailles in 1787.
He (unsuccessfully) advocated for the inclusion of daily prayer in the US Constitution.
He petitioned Congress to abolish slavery in 1790.
He was a prolific inventor, creating bifocals, urinary catheters, lightning rods, anti-counterfeiting measures (for money), the pros/cons list (for decision-making), and the glass harmonica, among many other things - but he never secured a single patent, believing that all people should benefit from the inventions of others.
He conducted countless scientific experiments, discovering that electricity is generated by a difference in positive and negative charges, the concept of electrical ground, the cause and effect relationship between a volcanic eruption and weather events, and the concept of cooling by evaporation (which would later become refrigeration).
He's been credited with creating the idea of paying it forward and with cementing many (mostly Puritan) values in the society of America, including the importance of education, equality of all people, frugality, honesty, moderation, charity, humility, freedom of speech, and freedom of religion.
He studied and charted the Gulf Stream current in the Atlantic Ocean, allowing ships to shave two weeks off their trans-Atlantic voyages.
He was the first Postmaster General, a Grand Master of the Freemasons, and the sixth President of Pennsylvania (the title for governor at the time).
He is a member of the US Chess Hall of Fame and received honorary degrees from Harvard, Yale, Oxford (in England), and the University of St. Andrew (in Scotland), despite his lack of formal education.
He struggled with obesity but lived to the ripe old age of 84 in the late 1700's, when the average life expectancy was around 40.
Did you figure it out yet?
The answer is Benjamin Franklin.
I told you that you knew who he was.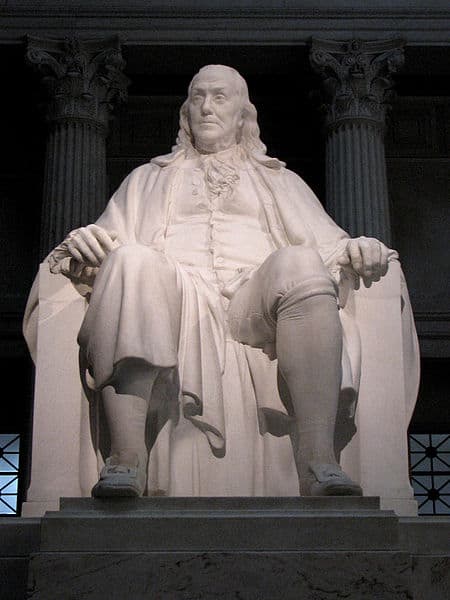 Pin
I simply cannot imagine all of that packed into one lifetime, but he did all that and much more. I could write a whole book (and I'm sure many other people actually have) about him.
So why am I quizzing you about this Founding Father? (History was never my strongest subject, but I became interested in Ben Franklin because of his scientific inquiries and inventions.)
Benjamin Franklin is Philadelphia's favorite Founding Father, and his birthday was last Friday, January 17. VisitPhilly.com wants to encourage you to come and experience his wit, wisdom, and joy firsthand.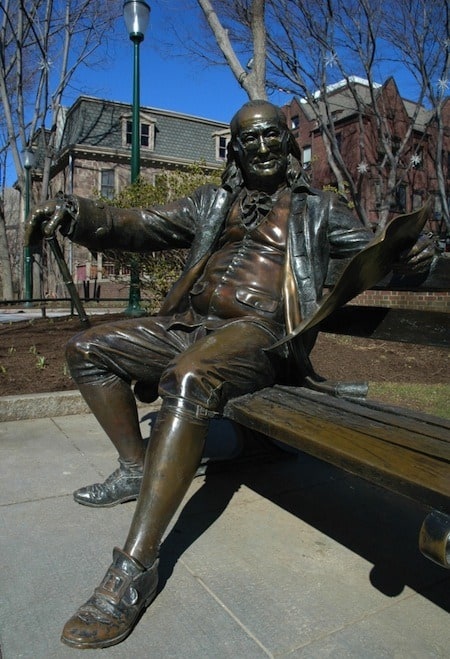 Pin
From the new Benjamin Franklin Museum (the only museum in the world dedicated to this extraordinary man) to the Franklin Institute (a very cool science museum to which we have had a membership for several years) to his grave site at Christ Church to Franklin Square, you could spend most of a week exploring Benjamin Franklin's legacy in the city of brotherly love. (Here's a cool itinerary full of suggestions and contact information for each.)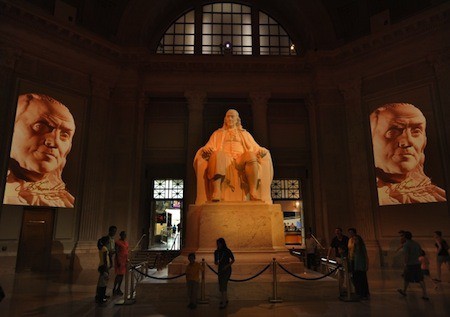 Pin
We in Harrisburg are so close to Philadelphia that it's a great day trip or a perfect weekend getaway. I personally have not seen the new museum, but have visited many of the other Franklin-related landmarks, including his grave site, Independence Hall, the Free Quaker Meeting House, the Masonic Temple, and Carpenter's Hall. Unfortunately, that was pre-digital camera, so my photos are stored away somewhere in my house.
I'll have to tell you the whole story of my first visit to Philadelphia sometime. It's hysterical.
This is a sponsored conversation written by me on behalf of Visit Philadelphia. The opinions and text are all mine.