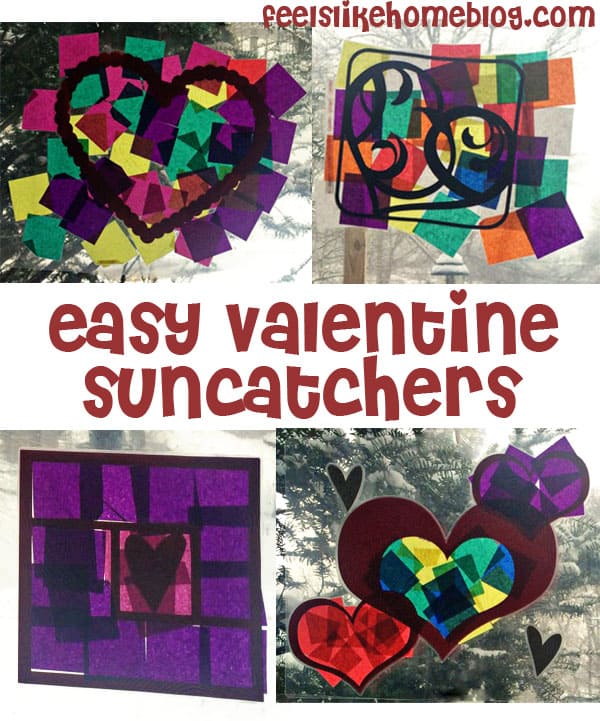 Pin
You make a lot of heart crafts when you have two little girls. My girls just love hearts. They draw hearts and they cut hearts and the like to glue and paint hearts.
Valentine's Day is like our crafting heaven.
This is the craft that kicked off our Valentine's Day crafting, and I had actually forgotten all about it until I went looking for something in my photos. I was like, "Hey! Did I post that on my blog?!" and I came looking for it, and lo and behold, I had deprived you of it for a month.
Sorry.
Anyway, my idea was to make heart suncatchers with tissue paper. I went through a variety of materials.
I've never had any luck with suncatchers made between two layers of Contact Paper. It never sticks properly, and whatever's inside it always falls out. So that was out.
I wondered if I could iron wax paper and make a suncatcher out of that, but we didn't even have any. So that was out.
I was pretty sure that ironing plastic wrap would result in a giant ball of ruined iron and towels. So that was out.
The only two semi-transparent plastic-y things I had left were page protectors and laminating pouches. So I grabbed some of each and the girls and I set to work.
In the end, the page protectors proved too complicated (would have required glue or tape which would have shown through when hung in the window). So I eventually nixed the page protectors and glue dots too, even though they made the photo below.
Easy Valentine Suncatchers for Kids (Adults will like to make them, too!)
Materials: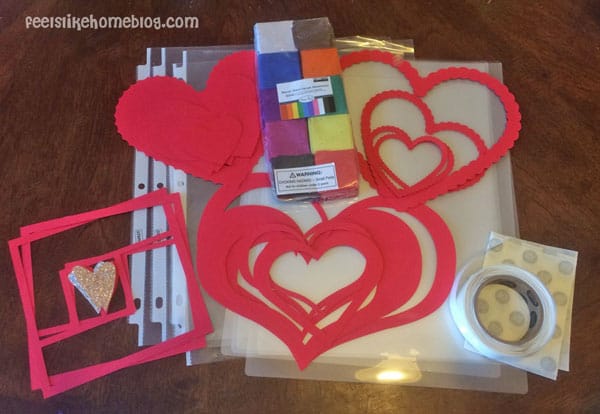 Pin
As I said above, I revised the project after I took the photo of the materials, so please disregard the things you see that do not appear on the list below:
Paper hearts - Or really, paper heart frames? I used my Silhouette Cameo to cut a whole bunch of hearts inside hearts, so that I had a bunch of little hearts and a bunch of big heart outlines. As you can see, I also cut out a square card front that had a heart in the center. I was very glad I had that after we started crafting. More about that in a minute.
Small tissue paper squares - Could you buy tissue paper at the dollar store and cut it into 1" squares yourself? Absolutely. Do I have the time and patience to do so? Absolutely not. I paid for a little convenience and bought a small pack of squares. The only thing is that the squares stick together, so you will probably have to separate them a little for your kids, especially if they're littles like Allie. More on that later, too.
Scotch Laminating Pouches - I don't know much about laminating pouches, so I don't know if you need to stick to this brand or not. I have a Scotch Thermal Laminator, and I've always just gotten the name brand pouches to match.
Let me first describe laminating pouches to you in case you aren't familiar.
Scotch laminating pouches are slick plastic on the outside, thicker than page protectors but thinner than uncooked Shrinky Dinks. On the inside, they are almost sticky but not quite. They aren't slick at all. I knew the inside would have enough grip to hold on to our tissue paper and keep it in place to get it through the laminating machine.
As you can see, the laminating pouches are cloudy at first, but they become completely clear after you run them through the laminator machine.
So first, I helped Allie with her craft and I came up with the following list:
What Not to Do When Making Tissue Paper Suncatchers with a 3-year-old
Do not set a stack of 2,000 mini tissue paper squares within reach of the 3-year-old.
Do not waste your time explaining "one layer" to the 3-year-old.
Do not attempt to explain "overlapping" to the 3-year-old.
Do not give the 3-year-old a heart and tell her to fill it up. She'll fill it up alright, totally violating the "one layer" and "overlapping" rules you just explained.
Do not interrupt her tissue paper placing.
This project is easy enough for a 3-year-old, but your 3-year-old will try your patience if you don't set it up just right ahead of time.
I've always prided myself as the Patron Saint of Crafting where my children are concerned. I am very patient. I don't know what it was about this particular project that made me all panicky.
Perhaps the possibility of thousands of tiny tissue paper squares all over the dining room?
Not sure.
Anyway. Here's what to do to make your own Tissue Paper Suncatchers.
Instructions:
1. Preheat your laminating machine.
2. Lay out the laminating pouches so that the bottom side is flat. You may need to put a little piece of tape on each of the four corners so that the pouch stays perfectly still while you work.

Pin
3. Place tissue paper squares in a single layer on the laminating pouch. You can arrange them in any way you want, but the laminating pouch creates a little static electricity. The static electricity makes the squares move around a bit as you add new ones.
The easiest and fastest (and least frustrating) way to place the tissue paper squares is to grab a handful and throw them at the laminating pouch. Or just kind of drop them. Remove all the extra layers so that there's pretty much just one thin layer of tissue.
Grace, who is a perfectionist to a paralyzing degree, almost scrapped her project at least three times. At first, she wanted to perfectly fill a heart with no tissue paper outside the lines. That frustrated her immensely, even after I showed her that she could tear the corners off the squares, and I convinced her to switch to one of the big squares instead. That made a big difference.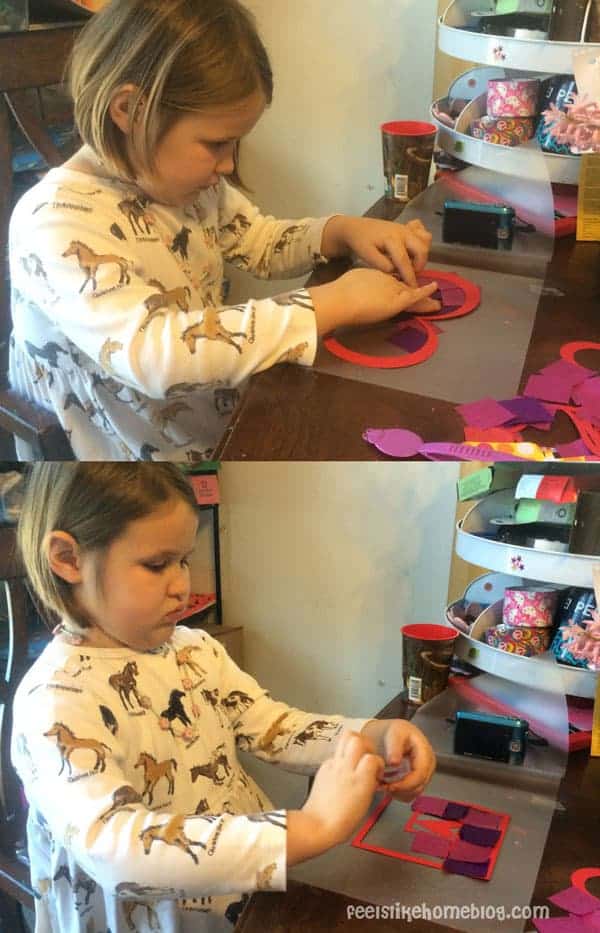 Pin
So filling in the square was much easier than filling in the round heart. Still, she was really worried about it being perfect with no gaps or spaces in between any of the pieces of tissue paper, and that is simply not possible. The static pushes them around, even as they are going through the machine, and they shift. You can see hers up close at the bottom of the post.
4. Add any additional hearts, heart outlines, or other shapes. You could add other decorations if you wanted to - some really fine glitter would be pretty.
5. Press the top of the laminating pouch down onto the bottom, hold it tightly together, and stick it in the laminating machine. Let it do its magic.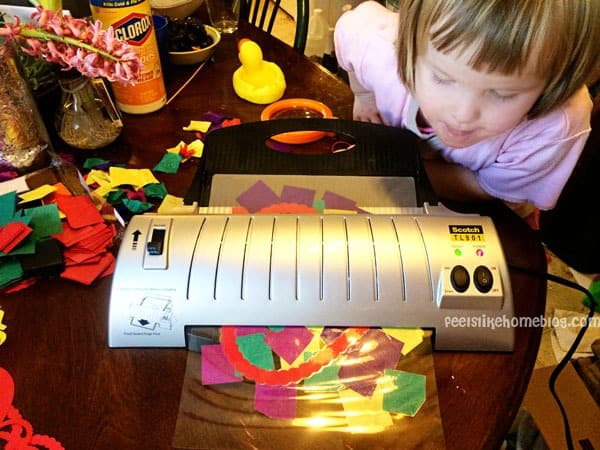 Pin
I did notice that some of the laminated suncatchers come out a wee bit wavy. I think that's because there's not a stiff piece of paper in between the plastic sheets.
Here's what the laminating pouch looks like before and after laminating. The top one is Allie's suncatcher, and the bottom one is the one I made: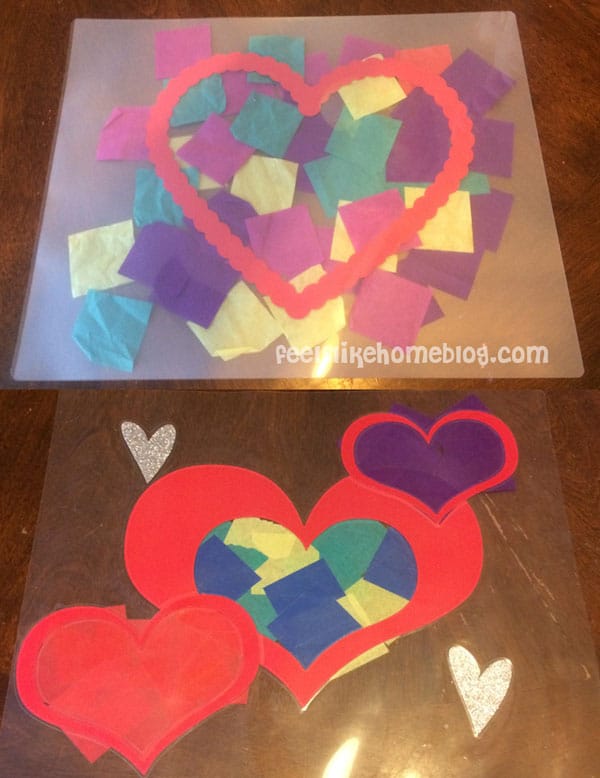 Pin
Here's Grace's (almost) perfect one: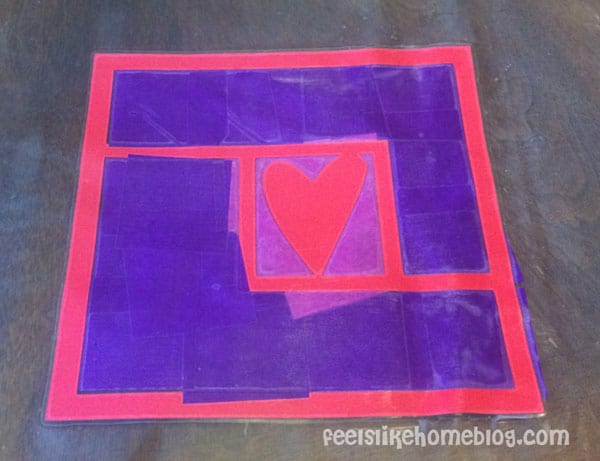 Pin
And here they are (with Joe's) in our front window. See the teeny gaps in Grace's? You only notice them when it's bright outside.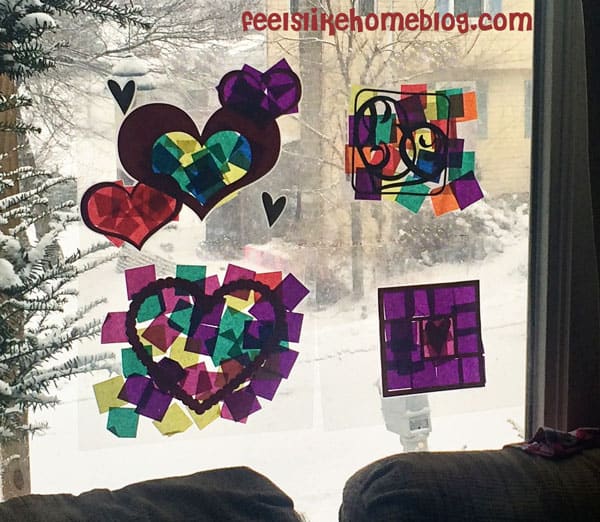 Pin
Have you ever made tissue paper suncatcher crafts?
What did you stick your materials between?