Most days, it feels like my house is going to fall down around me around 2:30pm.
Grace won't take a nap. It seems she'd prefer to be overtired and grumpy and mean and whine about all of the injustices in her life.
Allie has recently started playing nicely with some toys, but also hits a wall of fatigue and grumpiness in the late afternoon.
They whine in stereo.
And, judging by my reaction to their grumpiness, I'm pretty sure that I have something going on in the late afternoon, too.
It's a hunch.
One thing we've been talking about in my hospital program is how to cheer yourself up, climb out of the grumpiness, pass through the irritability (or sadness or despair or whatever) without collateral damage.
It's something I really needed to work on anyway. Since Honoring the Man They Call Daddy, I have been trying to greet Joe with a smile and pleasant word every day. I don't always succeed, but he has noticed my effort and thanked me for it.
I decided to record a list of  things that I enjoy.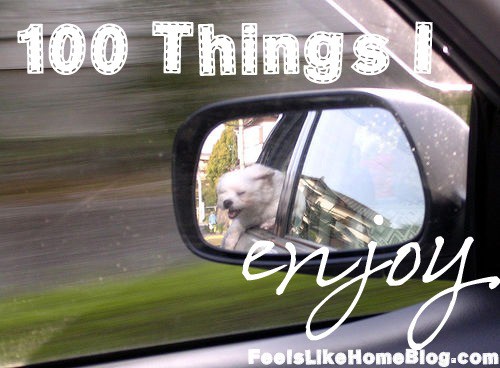 Pin
I'm not there yet. Frankly, I'm not sure that I can imagine enjoying 100 different things right now.
I can't imagine it now, but I will imagine it soon, and I will do everything on the list.
For now, here are the first 10:
Playing Wii . When I was on bedrest, Justine from Brand About Town sent me a copy of Wii Party. At the time, I was too depressed to care, and Grace was too little and uncoordinated for us to play together effectively. Now though? We love it. We also really like Where's Waldo? (also a freebie, from UbiSoft and Clever Girls at the Type-A Conference), Rayman Raving Rabbids (one I actually paid for), and the plain old tennis game that came with the Wii.
Playing Wii is pure joy for me. It makes me think about fun times and loud laughter.
Read. I love to read. Before I had Grace, I read a book every few days. Now? Not so much. I've been trying to read more, though. Right now, I'm working on The Success Principles, The Bipolar Workbook, and The Digital Mom Handbook. I just received a review copy of my friend, Amy McCready from Positive Parenting Solutions' book, If I Have to Tell You One More Time..., and I can't wait to dive into it, too.
Write. No explanation needed, right?
Except.
Sometimes, the thing that is bothering me is something I think you probably don't want to read about. Or something that is too personal or too boring or too confusing or fragmented. In short, I have taken up my favorite pen and journal again after four years of writing here and only here. I've rediscovered my love for writing with a nice pen on nice paper.
Color with Gracie. I enjoy coloring; I always have. We've been coloring Strawberry Shortcake a lot lately. I get coloring books at the Dollar Tree store or I print them out from online.
Exercise with EA Sports Active. I reviewed this for BlogHer and EA Sports way back in 2009, and I've used it ever since. It's my go-to exercise, and I actually enjoy doing it.
Bake. I don't think I've baked anything since I was pregnant with Allie, but I do love it. Checkerboard cakes, fancy cookies, pies, you name it. I just love to bake.
Eat out. We can't afford to do this much these days, but I like to order something fancy that we'd never make at home. It's just nice.
Work in my flower garden. While I detest insects, especially those that touch me, I enjoy deadheading and pruning and growing flowers. It makes me smile to see lots of color outside.
Swim. We swim several times a week most weeks through the summer. When I'm feeling especially low, it seems like more hassle than it's worth, but generally, it's great for my mood to take a dip.
I've decided to break it up into weekly 10-item segments. Stop back for 10 more items next Friday.