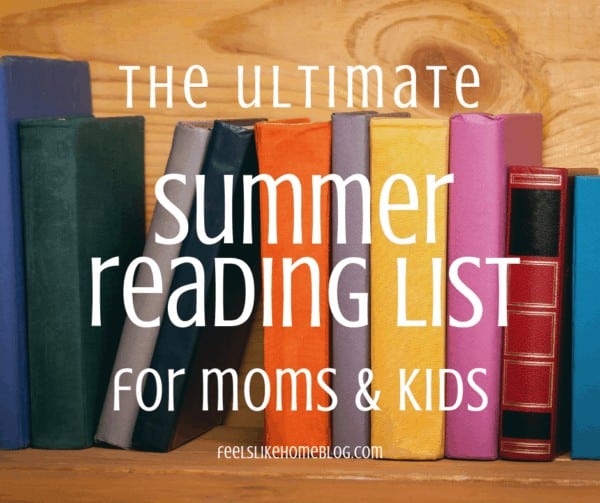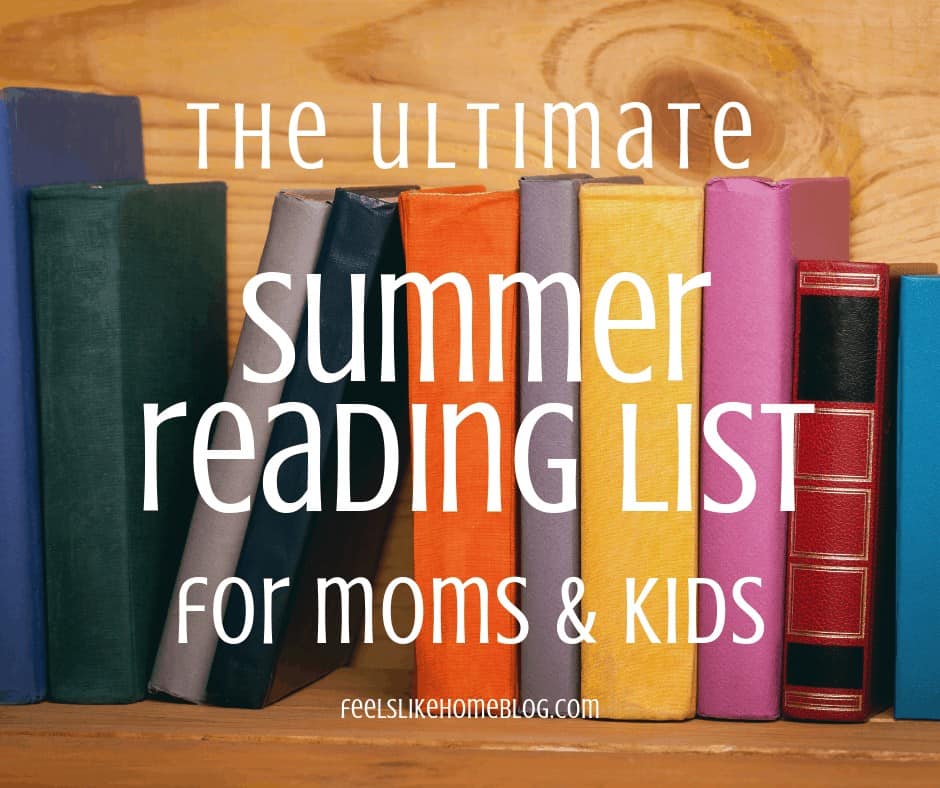 You already know that I am a reader. I read constantly, day and night. I mostly listen to audiobooks, but not all books are available as audiobooks and I do read some words on my Kindle or, as a very last resort, on paper books. (I only say as a very last resort because paper books are so bulky and prevent me from reading in the dark without a separate book light.)
I have read all sorts of books lately, and I have all sorts of favorites where my kids are concerned, and I wanted to share with you some of the best in a reading list for your fun summer ahead.
While you're thinking about the summer looming on the horizon, be sure to check out my planning guide called An Intentional Summer. It is available in my shop, and it will give you all the tools you'll need to identify a heart goal for the season and plan activities and events around it so that you and your kids have the summer you've imagined – instead of a long expanse of bored time spent glued to a screen.
I own, or at least have borrowed from the library, every book on this list. They are all excellent and will be great fodder for your mind and the minds of your children as we move into the summer season.
One area that is missing is books for husbands. I can't help with this because my husband is not a reader and has only read one book in the last year, and I cannot recommend that book because it was written by some wingnut whose political leanings are diametrically opposed to my own. I can't even believe I bought it for him on my Amazon account and now get recommendations sometimes based on its nonsense.
But enough about that. Let's move on to the recommendations for great books for you and your kids.
Read Aloud Books & Audiobooks for the Whole Family
It is no secret that audiobooks are my favorite. My kids and I listen whenever we are in the car, I listen myself daily, and we combined have listened to thousands of hours over the last few years.
The Little House on the Prairie series - I read this series aloud when Grace was 3-4, and we listened to the Cherry Jones audiobook when she was 7 or so. It is the best of the best, all about a little girl in the mid 1800's as her family moved from Wisconsin to Kansas to Minnesota over a period of a few years and she grew up from a little girl to a teen to a wife. It's based on the author's life though some critics have said it's more fiction than autobiography. Either way, it's amazing.
The Harry Potter books - These books are just as amazing as the Little House books and come in a close second for me. Harry is a tween boy whose parents died when he was a toddler, and all these years, he has been raised by an aunt and uncle who despise him. On the eve of his 11th birthday, he discovers that he's a wizard who's been invited to Hogwarts School of Witchcraft and Wizardry to live and learn. He goes, OF COURSE, and the books are mostly about what he does while he's there. They are full of wit and wisdom and amazing prose. You will absolutely fall in love with these stories.
The Penderwicks series - Love love love these books about a family of sisters and their widowed father. Their adventures are just the sort of things a bunch of real life sisters would get into, and that makes them endearing and wonderful. The box set comes with the first four books, and then the fifth and final book (The Penderwicks At Last) takes place many years after the first four and is purchased separately.
The Chronicles of Narnia - I expected to hate this series because I hadn't enjoyed the PBS TV series my mom watched religiously every time it was on when I was a kid. But I didn't hate the books. I won't say they were my favorite, though my kids absolutely loved them, but they weren't as bad as I imagined. They are essentially about the adventures of a handful of siblings in a magical land.
Mary Poppins - Did you know that Mary Poppins is the first in a series of books? It is. You probably already know about the Julie Andrews Disney version (and it is extraordinary!), but the book story is so much richer and full of nuance. In the book, there are more children and more hijinks. You will love these books.
Winnie-the-Pooh - I have been enamored with Pooh Bear for as long as I can remember. These books are a treasure of children's literature, and I think you will like their stories just as much as your kids will.
The Jesus Storybook Bible - This is my favorite children's Bible storybook, hands down. We have had it since it came out, and we have never gotten tired of sharing the stories together. Every single story, Old Testament and New, ends with how that story leads to Jesus' coming to earth to save humanity. The illustrations are wonderful, and the audiobook version (only available on CDs with this version of the Bible) is also quite good.
In addition to the books above, I've shared my top 40 audiobooks and audiobook series for kids and families over here. They're all excellent for summer road trips, every day driving, or anytime at all.
For more book recommendations, check out the Reading & Writing Index.
The Best Easy Picture Books for Developing Readers
For more great picture books, check out my list of 101 Best Picture Books for Kids.
The Bear Books - These are by far my very favorite picture books on the entire planet. They rhyme and the cadence is very pleasing to read and hear, and the stories are just marvelous. There are a couple of different box sets, only one of which I've linked above, but sadly neither one comes with my very favorite bear book of all and that is Bear Stays Up For Christmas. Who cares that it's summer? Read it anyway. (Note: The boxed sets are board books, but if you look at the individual stories, they are available in traditional hardback and paperback versions.)
Fancy Nancy books - Long before Fancy Nancy had a TV show, she was a single book about a little girl who was just too fancy for her drab (but very normal) family. The original and subsequent large hardback books have big words in them; Nancy calls them fancy words. But there are hundreds of easy readers, small paperbacks, and subsequent sequels to the original Fancy Nancy. I still remember the trip to Barnes & Nobles when we discovered Nancy. She will always have a special place in my heart.
Splat the Cat books - Splat the Cat is funny and very easy to read especially for kids who are struggling. Allie and I have been working our way through them. Our current favorite? Splat the Cat and the Late Library Book. Story of my life, man. Story. of. my. life. Anyway, these and the elephant and piggie books below are Allie's favorites. She says she doesn't want to read anything else.
Llama Llama books - Llama llama is cute and the books rhyme and I love them. My favorite is Llama Llama Mad at Mama because, again, story of my life. I first met Llama at story hour at our local library, and I've loved him ever since.
Elephant & Piggie books - Imagine The Odd Couple for little kids and that's what's behind these books. They're hilarious because the characters are so very different. I got a bunch for Allie, and she loves to read them over and over until she's memorized all the words which sort of defeats the point of READING but I don't dwell on minutia. These are probably the easiest to read of all the books on my list. Allie is able to read almost every word of almost every story with no help.
The Big Red Barn - This book has been read cover to cover more times in my household than any other book ever. Both of my kids loved it, and we actually wore out our first copy because we read it so much. I will always have a soft spot where The Big Red Barn is concerned, and I can still all these years later recite most of it from memory. It also rhymes.
Dr. Seuss books - Mr. Brown Can Moo is my kids' favorite followed closely by Green Eggs and Ham and The Cat in the Hat. They're all wonderful for early readers because they focus on repetition and letter sounds. I think I've read Mr. Brown about a million times in my short life. (Be careful when you order - sometimes the board books are abridged versions. The paperback and hardback books typically are unabridged.)
The Best Chapter Books for Elementary Readers
For more great chapter books, check out my list of 101 Best Chapter Books for Kids.
The American Girl Collections - These were my kids' favorite audiobooks for a long time. They are fiction, but they're based on the real lives of cultures from all over America from many different time periods. There's Kaya, a Native American from pre-1800 days. There's Josephina, a Mexican American from the mid-1800s. There's Addy, a slave who escapes to freedom with her mother, leaving other family members behind. There are immigrants, and there are families who've been here for generations, poor girls and rich girls. The only one we didn't finish was Julie from the 1970s, and that was because Julie's parents are divorced, and it was making my sensitive, anxious daughter upset about divorce in general. But I can tell you that all the rest are truly wonderful.
The Ramona Quimby series - Ramona is the BEST and the FUNNIEST little kid there is. We got the audiobooks which are narrated by Stockard Channing (amazing!) and Joe and I laughed every bit as much and as hard as the kids did. These books are so so so good and your kids will absolutely love them whether they are girls or boys.
Encyclopedia Brown series - This was one of my favorite book series in elementary school, even though I could never solve any of the mysteries before the story revealed the solution. I've never been good at that kind of stuff, which perhaps makes the books even more delightful. I'm always surprised at the ending.
Frog and Toad stories - These are kind of a combination of picture book and chapter book. They're short, but they have chapters. These were the first books I ever remember reading, and I loved them. My kids love them too.
The Never Girls books - We got the first book in this series in a blog book exchange years and years ago, and Grace kept collecting them until she was too old. She loved Peter Pan and Tinkerbell at the time, and the books fired up her imagination and held her interest. We both loved reading these books.
Fiction Books for Older Kids
I had a really hard time limiting myself to 6 books for this list. There are so. many. amazing. chapter books out there for older kids, tweens, and teens. This is just a very short sampling of the best of the best. Check out my list of 101 Best Chapter Books for Kids which includes books for a variety of age ranges.
Anne of Green Gables - There could be no other book series but these at the #1 spot on my list. I received this box set of books for Christmas when I was in the sixth grade, and I devoured them. Anne Shirley was my best friend all through middle school, especially when we moved to a new town and the kids were mean and nasty. I knew how Anne felt going into a new school with no friends, and I didn't feel so alone.
Hatchet - This series is about a teenager who is on his way to visit his dad in the Alaskan wilderness when his plane crashes, leaving him the lone survivor. Spoiler alert: he lives through the ordeal. It's an amazing story followed up by several more amazing stories. Your kids will love it, even the girls.
The Last of the Really Great Whangdoodles by Julie Andrews Edwards - This one was a surprise to me. It's written by that Julie Andrews (Mary Poppins & The Sound of Music), and it is all about some kids who go to a land of whimsy and magic. Grace said it was her favorite book eight years after we first read it together, until Harry Potter came along and replaced it.
The True Confessions of Charlotte Doyle - This was my favorite book for years. It's about a teen who is the only passenger aboard a trans-Atlantic voyage when the crew mutinies. She's stuck in the middle between the captain and the crew and all manner of bad (but kid-appropriate) things happen to her. I still have my middle school copy, and I hope my own kids will want to read it one of these days.
Out of My Mind - This is an excellent book that spent three full YEARS on the New York Times Bestsellers list. It's about a girl with cerebral palsy who can't speak or control her body but is absolutely, astonishingly brilliant. Even adults will love this book.
Robinson Crusoe - I'll be the first to admit that the cover of this book isn't sexy or appealing, but the book itself is amazing. It's the story of a shipwrecked man who is lost for 28 YEARS before being rescued. He meets up with cannibals and all kinds of other dangers in his quest for survival.
Jane Eyre - This was one of my favorite books from high school well into my adulthood. It's long and has a winding story, but it's basically about a young girl who grows up to be a young woman, and the poor girl is ugly. She makes it through a boarding school and then becomes employed by a moody man as the governess for his own young daughter. Jane is headstrong and feisty, and I can't wait to read her story all over again.
Fiction Books for Moms
Every single one of the books for older kids above would be great for moms, too. Also, you should check out my list of 101 Best Chapter Books for Kids which includes books for a variety of age ranges.
You can also find even more of my picks for fiction and non-fiction for moms at this page.
And let us not forget my mega list of 75+ audiobooks for women. I record the best of the best there as I finish them.
The Guernsey Literary & Potato Peel Pie Society - I totally fell in love with this book about a writer in post WWII England. She corresponds with a handful of people from the English island of Guernsey, and they tell her all about their lives during the war. She eventually makes a trek from London, where she lives, to Guernsey to find out more about them, and then the story gets really interesting. I really loved this one, and there's a Netflix movie based on it that follows the story closely.
Gone Girl - This book, in a word, is CRAZY. It's about a young man whose wife disappears, and that's all I'm going to tell you lest I ruin one of the many twisty surprises you will find in its pages. It's so good and the ending is so INSANE you won't believe it. You'll be left with your mouth totally agape when you finish. It's a great summer read because it's not too serious or heavy. There's a movie version of this one.
The Huntress - I read this author's last book and liked it though it was a bit heavy and depressing at times. This one is quite a bit different, though it does in part deal with World War II and atrocities committed by Nazis. There's nothing graphic or terrible, just the idea of despair. The book itself is a bit of a mystery though, as some people are looking for The Huntress and another character has a mysterious new step mother that you suspect is the same woman, but you don't really know for sure until the very end. So good.
Then She Was Gone - This book captivated me from almost the first bit. It's about a woman whose beautiful 15-year-old daughter disappears without a trace. 10 years later, divorced and painfully alone, she meets a man with a 9-year-old daughter who looks just like the disappeared girl, and they begin a relationship. Like The Huntress, this book wasn't all happy and light, but it was so good and well worth the emotions.
The Storied Life of A.J. Fikry - This book is about a youngish but very grumpy and maybe even curmudgeonly widowed bookshop owner. At the beginning of the book, someone leaves a baby in his shop and he takes care of her. They eventually become a family and the rest of their life together is wonderful and rich with emotion. I loved this story and, though it did not turn out how I would have liked, the end was satisfying and pleasant. It would be a great summer read.
Non-Fiction for Moms
Love Does - Oh Love Does. This was the first audiobook I ever listened to more than once. It's read by the author, who reminds me of Grover but without the blue fur. He's affable and interesting and he makes me want to be a better human. This book is seriously seriously amazing.
The Life-Giving Parent: Giving Your Child a Life Worth Living for Christ - I love Sally Clarkson, as you will likely guess from the next few books on my list. Her parenting style matches my own perfectly and I truest her wisdom and counsel on a variety of parenting topics. She is gentle and kind and imperfect and I love her heart so much. You will really enjoy this book which is one of her newest.
The Ministry of Motherhood: Following Christ's Example in Reaching the Hearts of our Children - I read this book while breastfeeding my second child in the middle of the night. In it, Sally Clarkson suggests a way to use the teaching style of Jesus to minister to your own children. It's a beautiful, uplifting book that will make you want to be the best mom you can be. I want to reread this one this summer.
The Mission of Motherhood: Touching Your Child's Heart for Eternity - Sally Clarkson says that a mother's influence in the lives of her children cannot be overstated. In this book, she lifts up and encourages mothers to grow into this role with passion and compassion for the little hearts they are raising. I want to reread this one this summer.
The Antelope in the Living Room - If you don't know Melanie Shankle, you are missing out. She is absolutely positively hilarious, and this is my favorite of all her books. (Honestly, I think the newer ones are getting a little contrived, but the older ones are pure gold.) It's about living life with another human being, namely one's husband, and how we mess each other up and get along sometimes and hang up antelope heads in the living room. She reads the audiobook herself which is pretty much the best thing ever. It's like having her as your best friend.
Surprised by Motherhood - I was surprised by this book. I didn't expect to love it as much as I did, having met the author at a conference and found her to be snobby and not approachable at all. This may well have been my own introverted, insecure self passing an unfair judgement, but in any case, her book is amazing. It's about learning to become a mother and all the surprises that brings. In Lisa Jo's case, her mother died when she was a teenager, but I identified with a lot of what she said as my own mother was often emotionally distant when I was learning to be a mother.
Becoming - Michelle Obama. Do I need to say any more? I love her, I love her husband, I loved their presidency. She is brilliant and a fantastic writer, and her stories made me laugh and cry right along with her. She tells about being a black kid in Chicago with the same ease that she tells about hugging the Queen of England. It's all pure gold. It's also SUPER LONG, and I broke it up with some fiction a couple of times.
So there you have 12 books for moms and a couple dozen for kids and families, all of them amazing. I promise that you will not be disappointed by any book on this list, and they for the most part make great beach reads or park reads or picnic reads or roadtrip reads. You will fall in love with their characters and stay up late trying to finish them just to see what happens.
I'm always on the lookout for my next great read, so please share what you're reading and loving below in the comments.