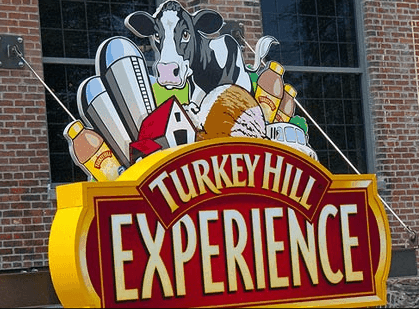 Pin
A couple weeks ago, my family was invited to the Turkey Hill Experience in Columbia, PA. It was such a fun day, and I want to share it with you. If you're local (or even passing through the York/Lancaster PA area), it's definitely a great stop to make!
First, the Turkey Hill Experience is literally feet from the highway exit, making it super convenient and easy to find.
Once we got inside, we were greeted by the staff and headed upstairs to the Experience. As we approached the entrance, we saw all sorts of trivia, like this display which was impressive because it was way taller than Joe!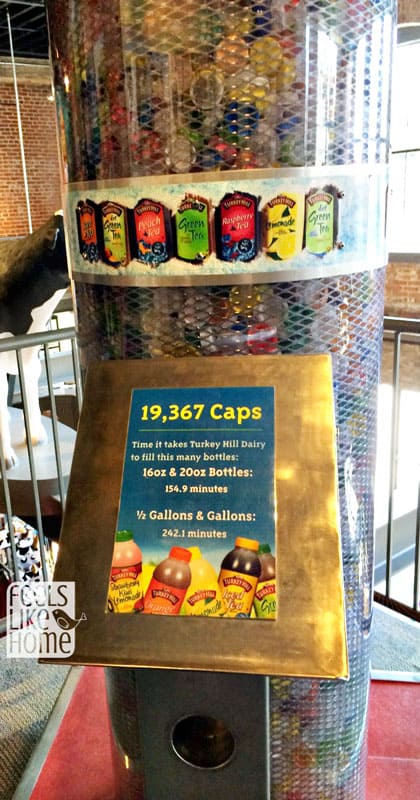 Pin
Later on, we learned the components of milk. 87% water?!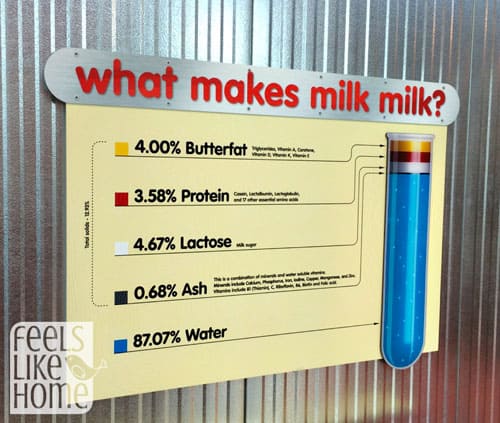 Pin
I would like to go back so that I can actually read all the information and Grace and I can do some learning, but that was not part of of the kids' agenda on this day. They went straight for the fun, interactive things, like the milk truck. We did talk about how milk was delivered daily in the past because of a lack of refrigeration, but I'm not sure if that stuck. They were too busy driving.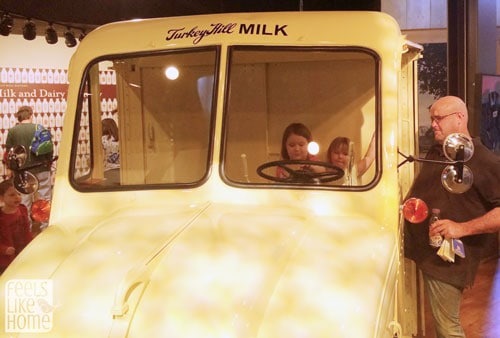 Pin
They both loved milking the cows. They have done that before, but it never gets old.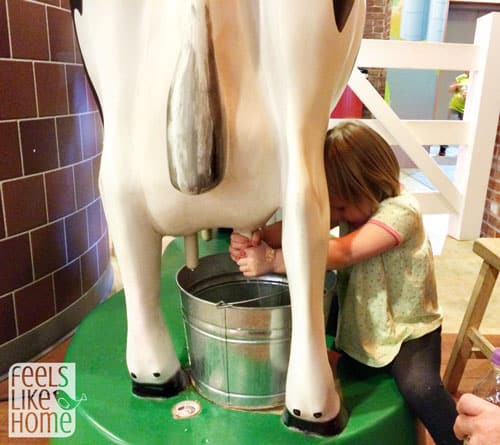 Pin
Don't tell Grace, but Allie was way better at milking.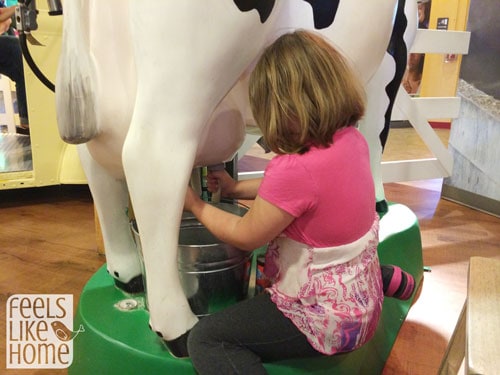 Pin
Somehow, I failed to take pictures of the next part (perhaps because I was too busy eating and drinking), but the next two sections of the Experience were tasting stations! You can sample Turkey Hill ice cream and drinks!
After the tasting station, we headed into the homogenization chamber where all the molecules of the milk are pushed through a filter that breaks the big ones apart.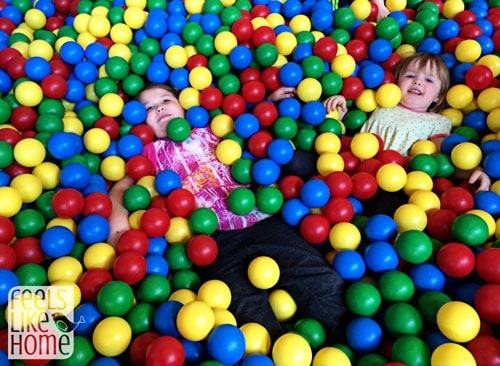 Pin
After homogenization, we were pasteurized and mixed with flavorings and mix-ins, then frozen in a giant freezer.
There were activities to participate in at each step - a game to try to figure out what extras are mixed together to make different ice cream flavors, a trough where we poured flavorings into the vanilla, a conveyor belt to see how ice cream is packaged, and real live webcams of the factory at different stages in the process.
Next, we made virtual ice cream flavors. Using computers, each of us created our own custom ice cream flavor! First, we had to put on our ice cream making hats, then we went to Create Your Own stations where each of us created an ice cream flavor, carton, and commercial.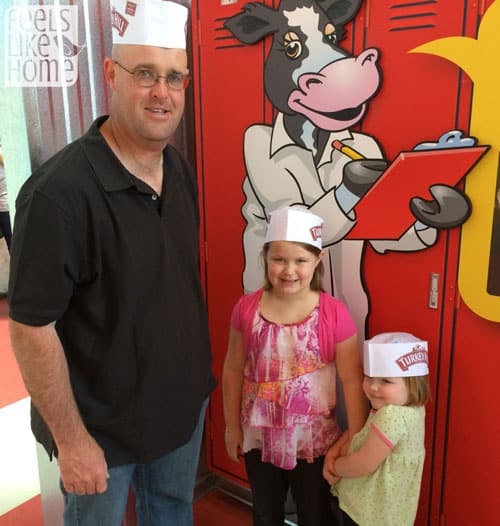 Pin
Here are Joe's flavor and carton. He took his work very seriously.
Pin
I personally would love to eat his creation. Doesn't it look delicious?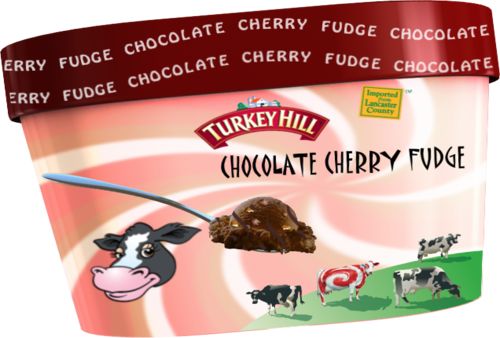 Pin
After we practiced by making virtual ice cream, we made real ice cream in the Turkey Hill Taste Lab! This was our favorite part of the whole day.
Each station has all sorts of sauces and flavorings to add to your vanilla ice cream.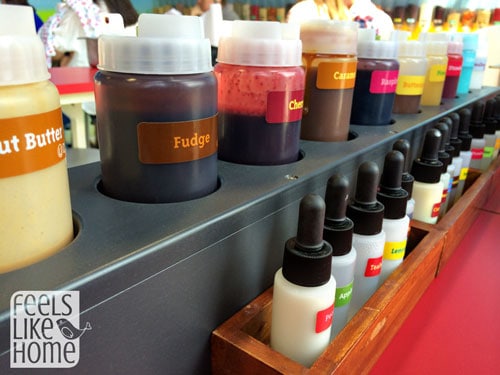 Pin
Allie was eagerly watching everyone get their cup of ice cream.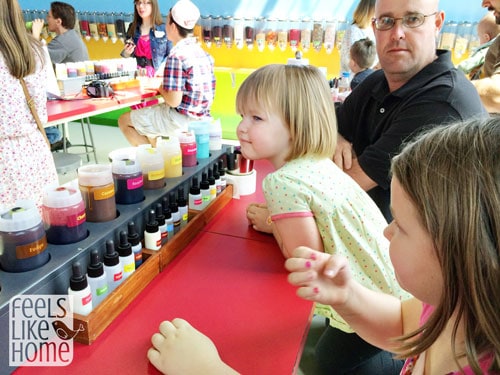 Pin
I made peanut butter and jelly ice cream. I have to say, it was really amazing to eat.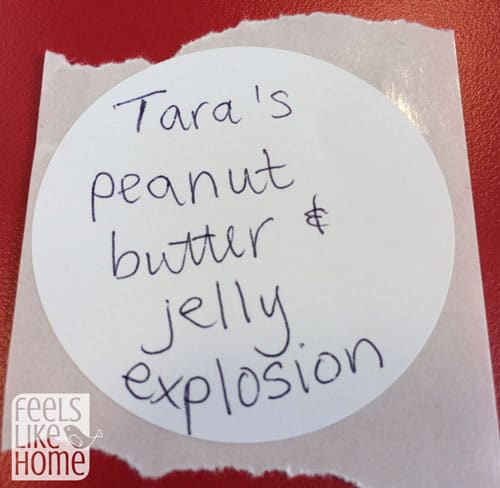 Pin
There's a certain procedure. First you add flavoring, then solid mix-ins (like chocolate chunks and cookie pieces, even gummy bears), then the sauces. I put cherry flavoring and chocolate chunks in mine, and then I swirled in tons of peanut butter and cherry sauces.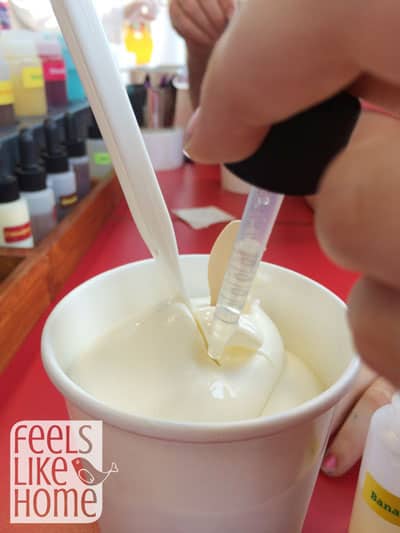 Pin
Right before we left, the girls had a photo op with the What a Nut ice cream carton.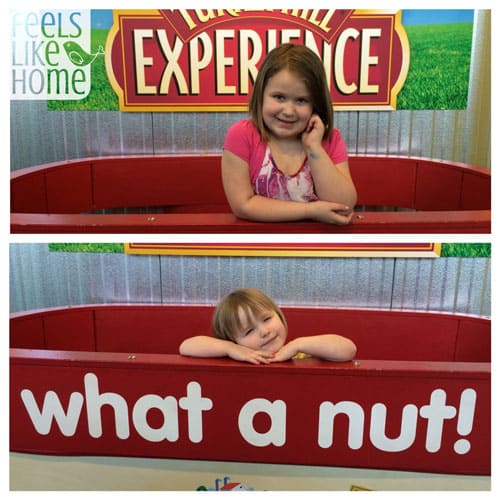 Pin
It was a really fun day.
I was investigating the Turkey Hill Experience website while I was writing this post, and I saw that they have birthday parties. I wish I had known that a month ago, because Grace would've had a Turkey Hill Experience birthday instead of a Frozen party at home. I'll have to remember for next year.
They also have a yearly membership option which I am going to think about because we really loved the whole day, especially the Taste Lab. We could go back there over and over!
You can also connect with Turkey Hill on Facebook and Twitter.
I wrote this sponsored post on behalf of Turkey Hill Dairy. All opinions are my own.