How to make the best homemade pizza you've ever eaten! These tips and tricks will make a DIY grilled or baked pizza taste amazing. These are the secrets you've been hoping for.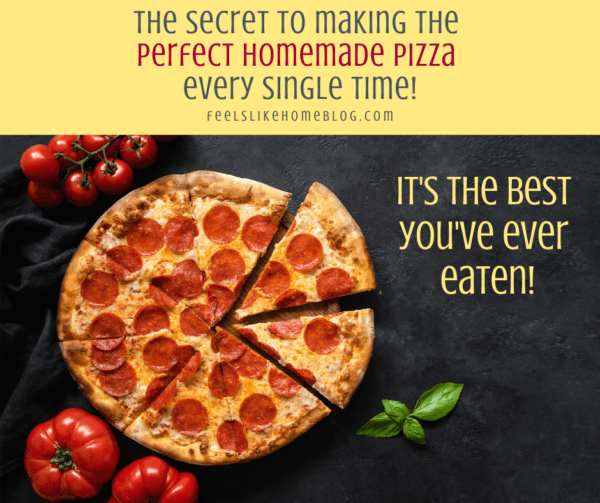 We've found the secrets to the baking the best homemade pizzas.
Really. I'm not pulling your leg.
Joe and I have been making homemade pizza for over a year now, and we've always liked it. The pizza is healthy, and we top it with all sorts of different things. (See 24 homemade pizza recipes!)
Except.
For a long time, we couldn't figure out why sometimes our pizza was really great, and sometimes it was just okay.
We finally figured out why just this week: we need to press garlic onto the crust and then pre-bake it on a pizza stone.
Tip #1 - Press fresh garlic onto the raw pizza dough.
We always buy fresh garlic, but sometimes we would forget to put it on the crust before the sauce and the toppings. Now that we've realize what a huge difference in the finished pizza, we never forget.
And by the way, don't even think about using garlic powder or garlic from a jar. It's not the same thing, and it won't taste as good.
To get perfect pizza, use a garlic press to squeeze the cloves onto your naked pizza crust, and then use a knife or spreader to smear it around onto the whole crust.
What's that, friend? You don't have a garlic press?
Go buy one. I'm not kidding. You can buy them cheap on Amazon. You should not have to pay more than $15. I have a fancy overpriced one from The Pampered Chef, and it was $17 I think (okay, I bought it back in 2002, but they still aren't expensive).
Tip #2 - Bake the pizza on a pizza stone.
I was first introduced to cooking stoneware when I was a consultant with The Pampered Chef around 2002. I haven't done that for nearly 20 years, but I still cook almost exclusively on stoneware.
I have 9x13 stones, 8x8 stones, sheet pans, cookie sheets, pie pans, oval and round stones - pretty much every possible shape and size of cookware comes in a stone form, and I use it.
Pizza stones or cookie sheets are essential for cooking pizza, but your stoneware doesn't have to come from The Pampered Chef (although theirs is really good!). There are highly rated pizza stones on Amazon, and they may be as good as the PC ones although I haven't tried them. I can tell you for sure that the PC stones are reliable and never have a chemical odor, although they can't be used above about 450º and should never be put on the grill. The Amazon stones can go in for higher temperatures including on the grill, but there are some complaints of a chemical odor coming from the stone.
Stoneware mimics a brick oven while cooking, pulling moisture away from foods, making them brown evenly, and ensuring the texture is light and crispy. Stones are great for reheating leftovers, cooking oven fries, preparing frozen convenience foods, and of course baking pizzas.
The only thing I've ever found that cooked better on a metal pan than on a stone is a cookie. I don't care for cookies baked on stones. But everything else tastes better on stoneware.
Tip #3 - Prebake the pizza dough before adding toppings.
After you smear the garlic all over the raw dough, you need to prebake the pizza crust on a stone.
Depending on the recipe, you should preheat your oven to 400º to 425º, roll the dough out onto the stone, and prebake the crust for 10 minutes.
This works both for homemade pizza recipes and premade crusts from the dairy case.
Prebaking makes the top of the crust light and crispy. If you don't prebake, the center of the crust will remain gooey and uncooked even after the edges of the pizza are golden brown. This is because the crust doesn't get as hot in the center under all the toppings. If you don't prebake, either the center will be uncooked (if you remove the pizza when the edges are done) or the edges will be burned (if you cook it until the center is done).
After prebaking, you can top the crust as normal. Spread spaghetti sauce, pizza sauce, Ranch dressing, barbecue sauce, or whatever you like on top. Toss a little shredded cheese on top of the sauce, then your toppings, and a bunch more cheese. Bake as directed.
You're done, and your homemade pizza should be perfect!