On our way home from Old Grandma's house last week, Grace asked if we could stop to see the Nittany Lion.
"If you're awake, we'll stop," I responded, hoping that she would sleep the whole way home.
What if I'm sleeping?
"Then we won't stop."
About 15 miles before Penn State, Grace woke up.
Did I miss it? she asked, stretching and sleepy.
"No. You had perfect timing. We're almost there."
As soon as I unbuckled her, Grace raced from the car to the Nittany Lion. She climbed up all by herself, and she hugged its neck.
I've missed you, Nittany Lion! she cooed.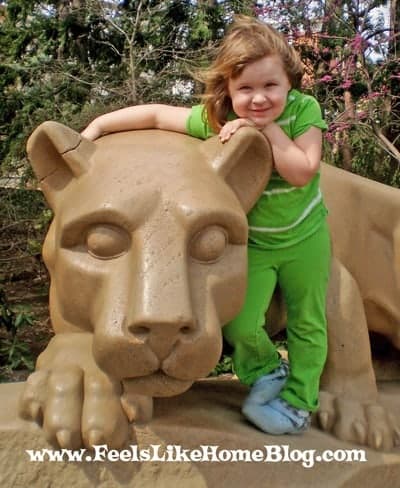 Pin
I wish I'd put her in a blue outfit because that is otherwise a perfect picture.