I looked at my blog today and realized that I hadn't posted anything in six days. Christmas sorta got away from me.
I guess that's just how it goes when you're a grown up.
Between the decorating, the eating, the crying, the shopping, and the cleaning, I scarcely had time to sleep. No matter how busy I felt, I hope to commit to memory the effervescent 2-year-old running around and around my house for 72 hours.
Christmas was every bit as magical as I'd hoped.
On Christmas Eve, Joe and I ran around like crazy people cleaning and cooking - and still ended up serving dinner two hours later than we'd planned. We cut a lot of the things we'd planned to make (live and learn), but the things we did make were superb. The meal (which I'll post later on today or tomorrow) was delicious.
After dinner, an overly tired 2-year-old opened two presents from Joe and I - new pajamas and a plush Eebee doll - and sprinkled Reindeer Food on the front yard.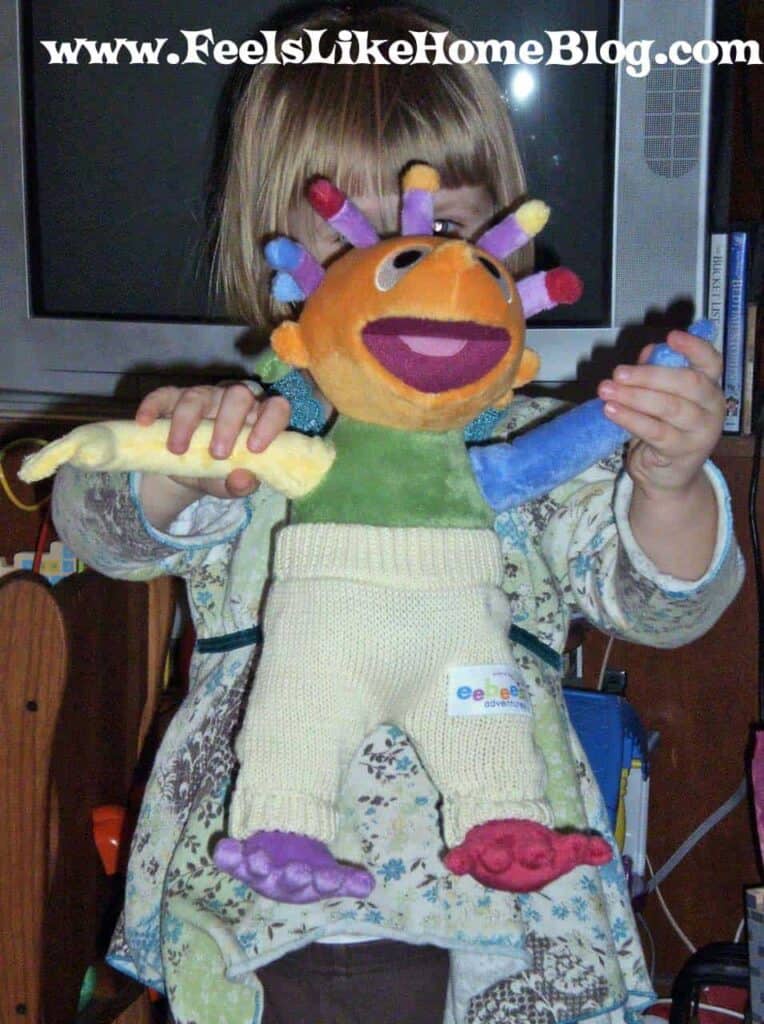 Pin
And then, she seemed to suddenly understand that it was time for Santa to come. She was overcome with emotion, and it wasn't eager anticipation. She was full of apprehension replaced quickly by panic.
For Grace, Santa coming meant that a strange man would be sneaking into her house while she slept. She was suddenly not okay with that. She trembled and cried. She jumped up onto my lap (while I was sitting on the toilet)Â  and said she didn't want any presents.
She clutched my neck and wailed, completely distraught and terrified.
No Santa! No Santa! My not want any presents!
It was heartbreaking, especially knowing how excited she'd been all week.
My little sister, hearing the commotion, appeared in the bathroom and asked if Mrs. Santa could come instead. Grace thought that would be okay, and my sister called Mrs. Santa on the phone. Fortunately, Mrs. Santa answers the same phone number as our older sister, and she was available to talk.
Mrs. Santa promised that she'd come to our house instead of Big Santa. Grace asked whether she liked white milk or chocolate milk, and they talked about cookies and what Grace was hoping Mrs. Santa would bring to her - a rubber duckie and a train.
Grace breathed a big shaky sigh and said good night to Mrs. Santa.
Grace and Joe put out the cookies and milk Grace had promised to Mrs. Santa, and they counted out enough baby carrots for all of the reindeer. Grace went to bed.
In the morning, Grace found crumbs and a thank you note where the cookies and milk had been.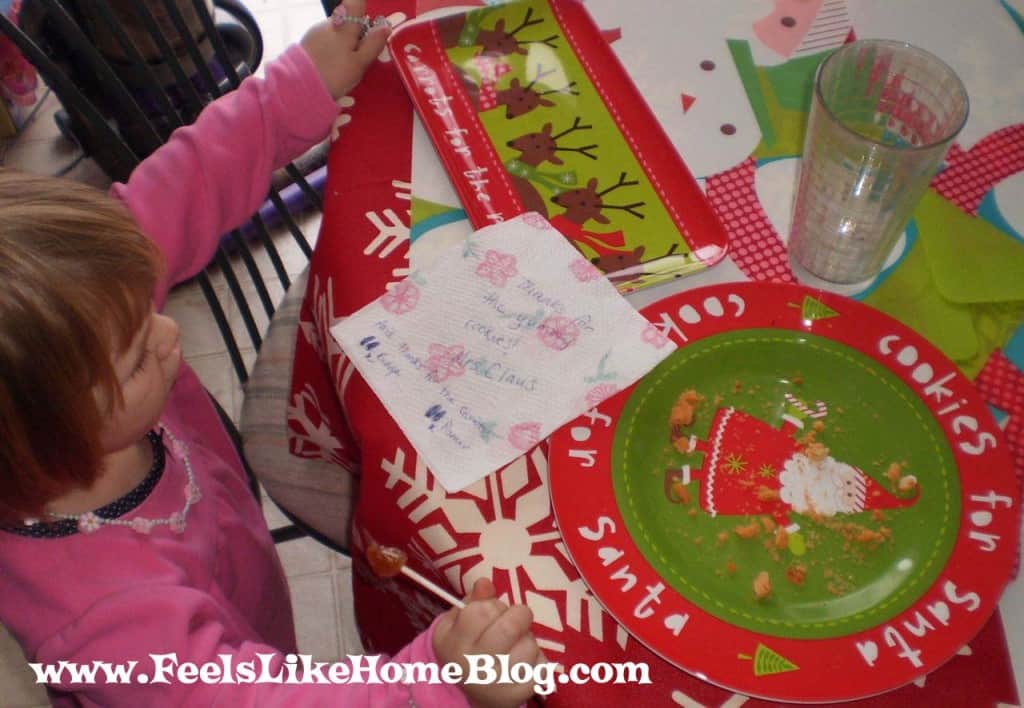 Pin
Where she spread the reindeer food, only leftovers and reindeer poop remained.
What is reindeer food?

Mix 2 parts whole oats with 1 part silver glitter. Sprinkle in front of your house on Christmas to attract the reindeer and ensure they stop by.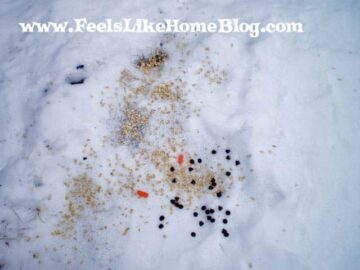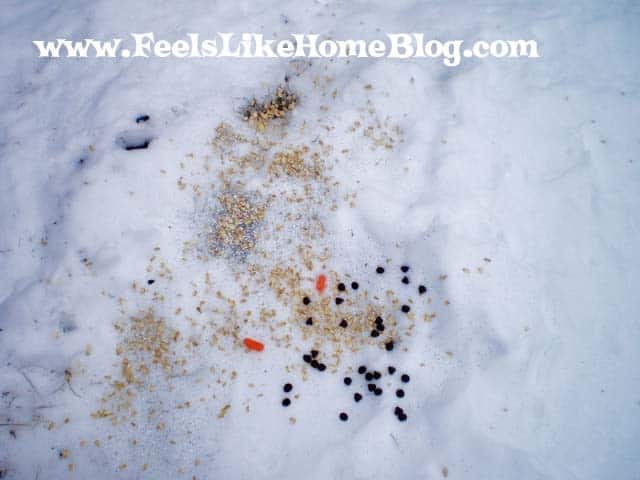 Pin
And in the living room, a Momma rubber duck sitting happily atop a big pile of presents, all wrapped in paper Grace had never seen before that moment.
My mom always wrapped our presents from Santa in paper we'd never seen before. Joe and I will continue that tradition with our very observant tot.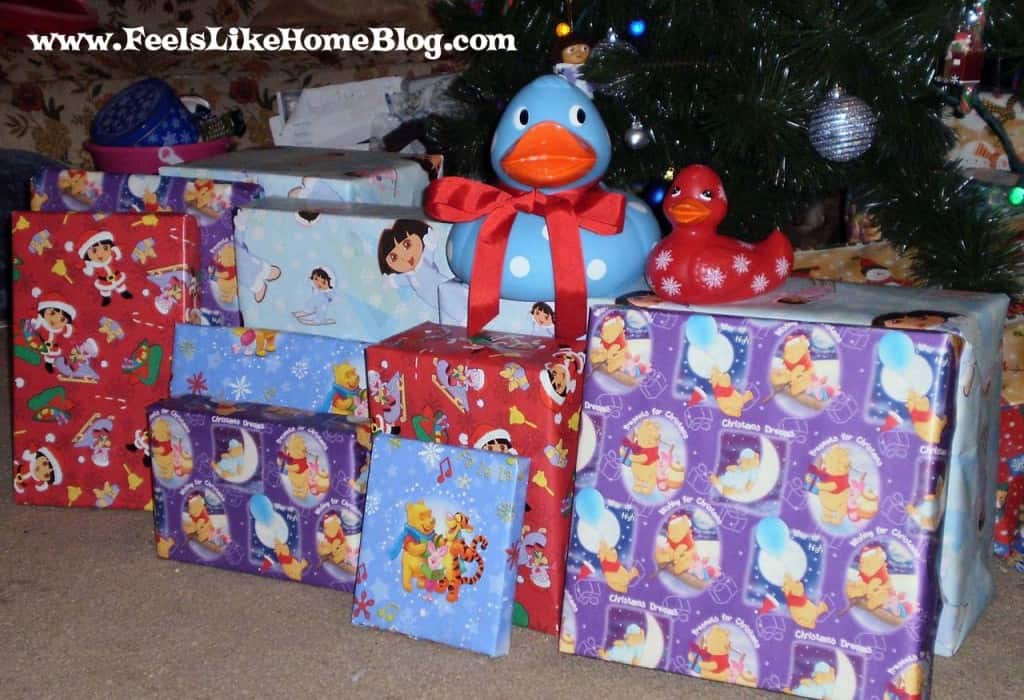 Pin
The present opening commenced. Books, rubber duckie, rubber stamps, games. It was perfect because she played with many of them presents for a couple of minutes before moving on to the next. All three of us had fun as Grace opened her presents.
After she'd opened all of the others, Joe gave her the first package containing Thomas the Train.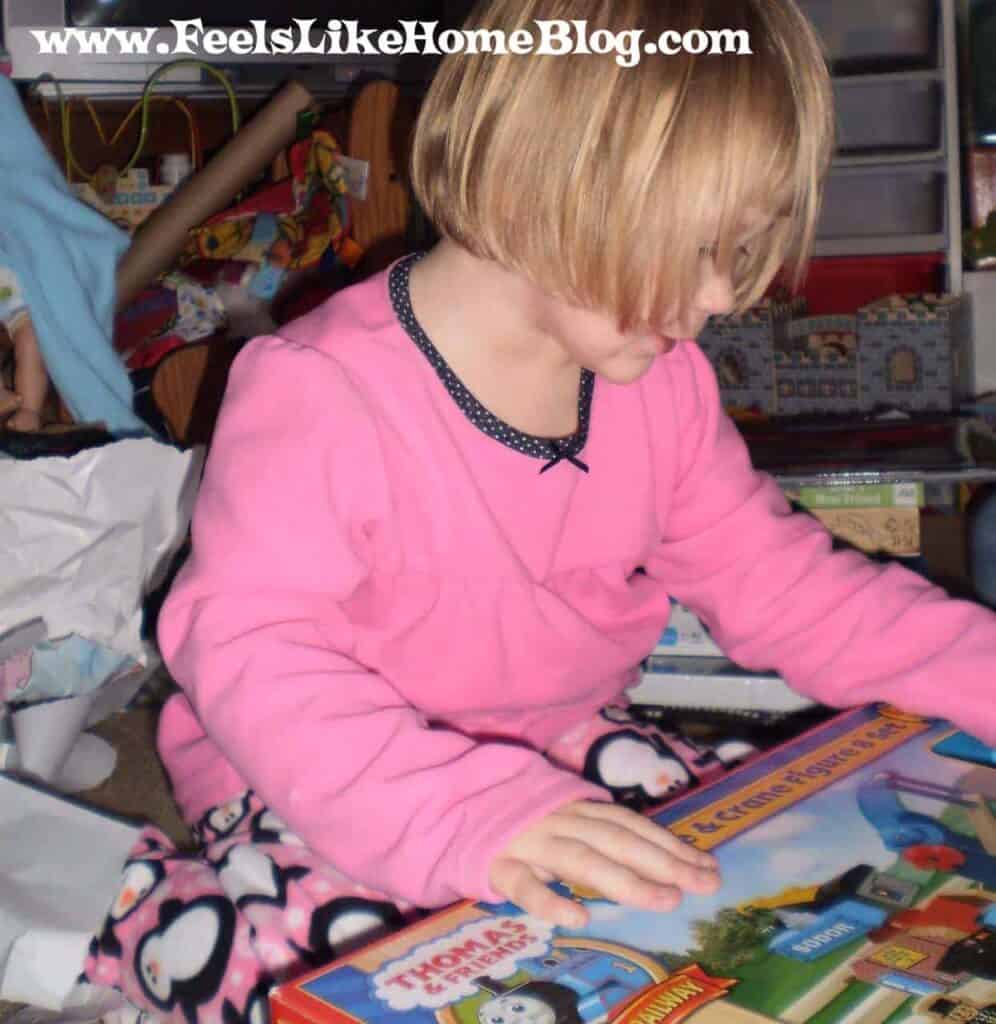 Pin
It's Thomas! It's Thomas!
After she opened all of the Thomas packages, we began putting tracks together. There were trains and tracks and buildings everywhere.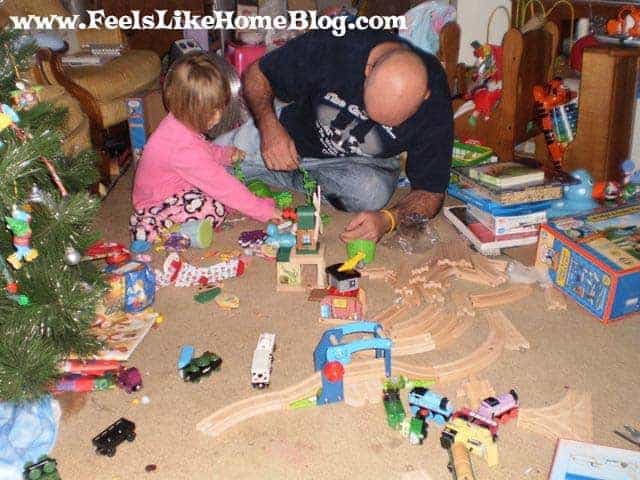 Pin
Before we could get the tracks together, my parents and little sister arrived. We ate French Toast Casserole and opened more presents.
Grace has a good memory. She remembered playing with this guitar months ago in Target. It's my 'tar, Mommy! My 'tar! she squealed as soon as she'd ripped off enough paper to see the photo. She danced and sang Smashmouth songs.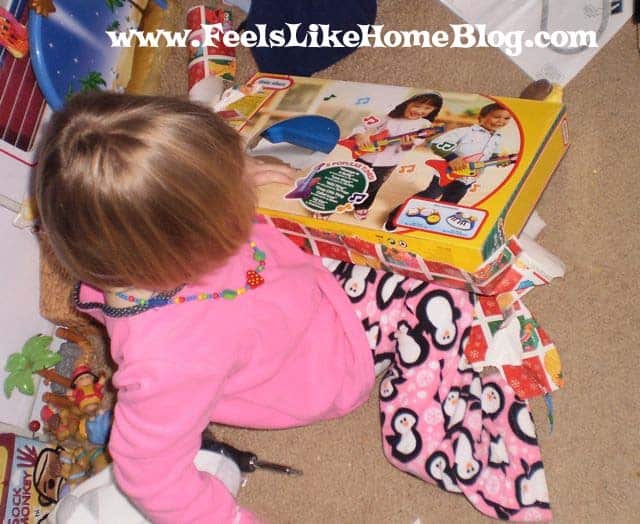 Pin
The present opening continued, and Grace was excited. This is what you get if you ask to see her excited face. (That's a watermelon-shaped puzzle, by the way.)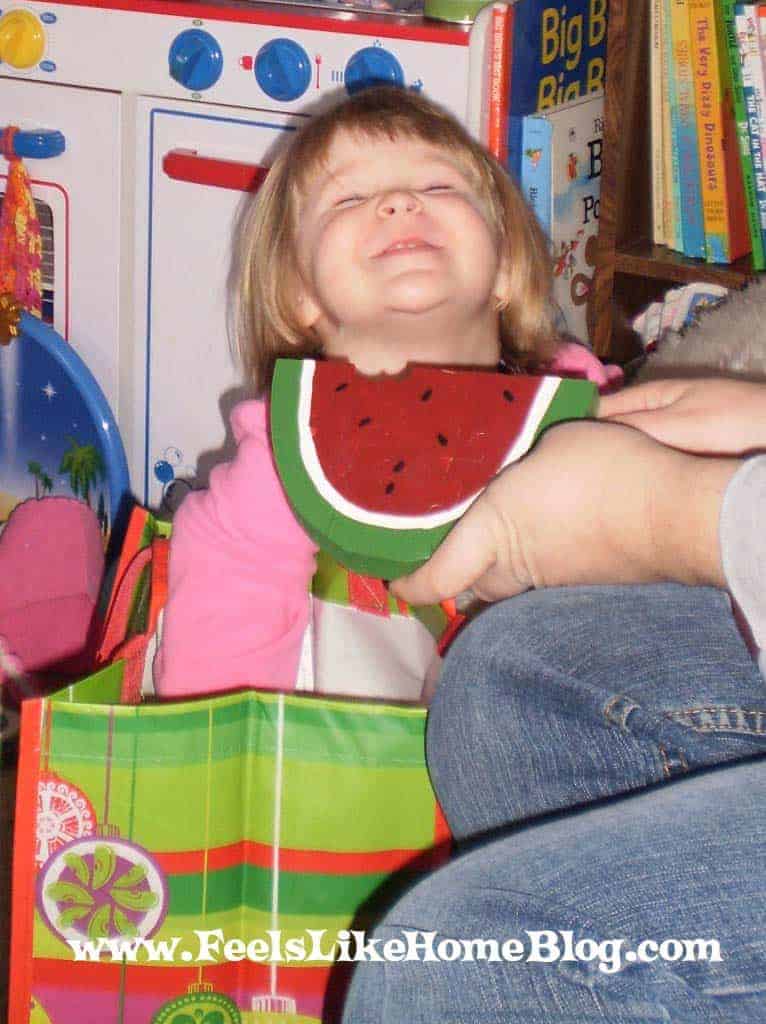 Pin
There should be a picture of my excited face here. I've been wanting this 3 crock Crock Pot for some months, and my mom and sister gave it to Joe and me for Christmas. It was a complete surprise, and it's box was an instant hit with Gracie Anna.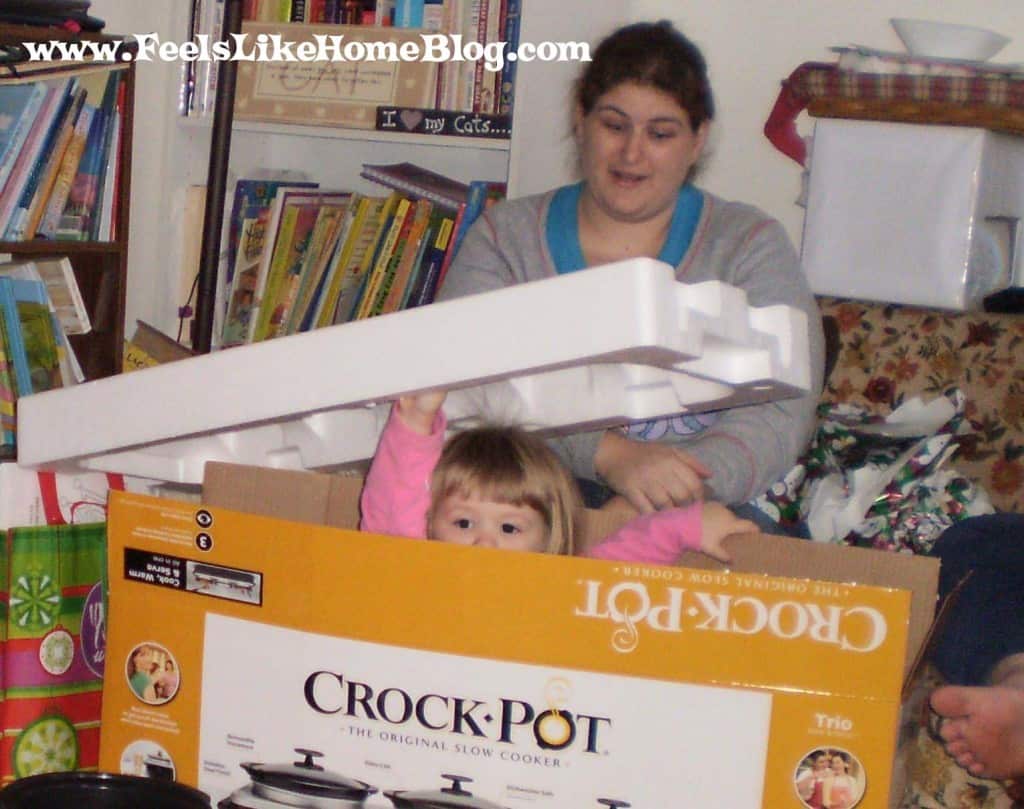 Pin
Before she'd finished opening presents from Grandma and Aunt Amanda, Grace got more presents from PopPop and Nana. She was very excited.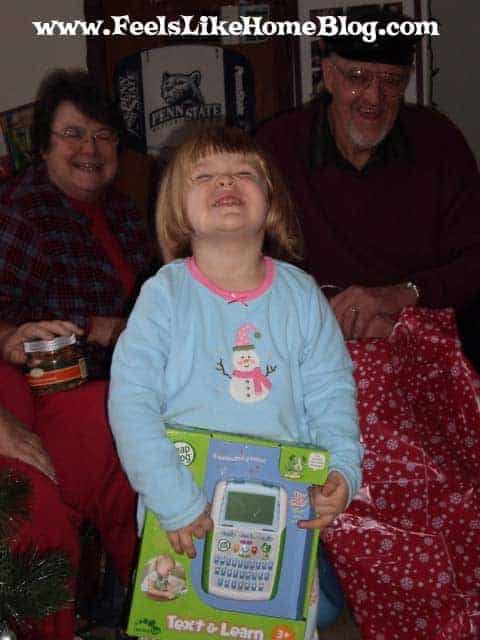 Pin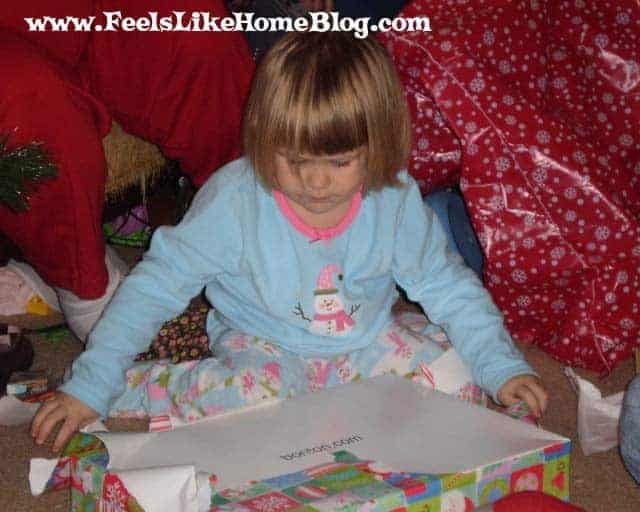 Pin
I love that she's so musical. Grace already had a recorder, piano, xylophone, drums, and assorted maracas and percussion instruments. This Christmas added a preschooler's guitar and electronic fiddle.  Could this picture be any cuter?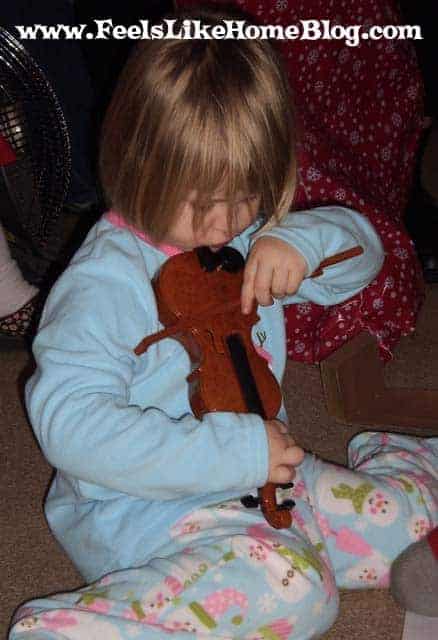 Pin
Christmas was a messy endeavor that required not one but two wardrobe changes. I have no idea what was going on in the next picture, but Grace is wearing PopPop's hat and an as-yet-unnamed face. It looks a bit like mischievous face to me, but I can't be sure.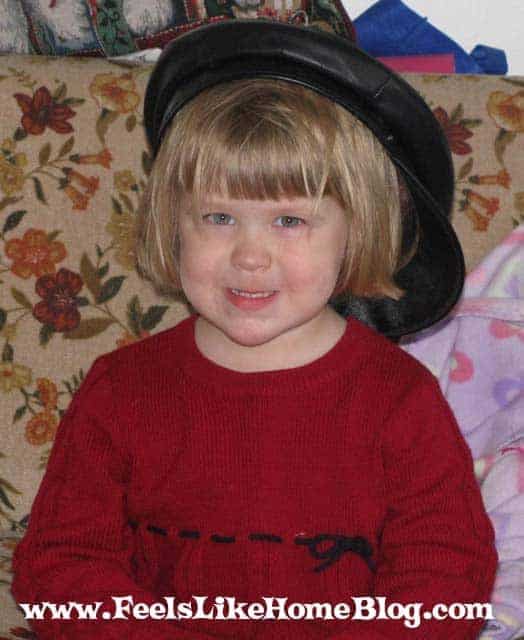 Pin
I should've taken a picture of her fast asleep at 7pm, but I didn't. I'm not sure what I was thinking.
This was definitely our best Christmas so far. It was magical, and not just for Gracie.