Every Christmas, I think about getting an Elf on the Shelf. A few years ago, I reviewed elves from Elf Magic, even, but they were played with and eventually lost.
This year, Grace is old enough to understand the concept and anticipate the surprise each new day brings. She saw photos of someone else's Elf on the Shelf, and she wanted to hear every detail of every hiding place, every mischievous act, every mess made.
I realized, in that moment on the Sunday before Christmas, that I really wanted to make it work this year.
My sister and I went off to Target in search of said elf, but there was no elf to be found. There was nothing that even resembled an elf.
What I found instead was a moose, a snowman, and a gingerbread man.
I thought that Mrs. Santa would probably send someone from her kitchen, someone like a gingerbread man that I overhauled to be a gingerbread girl. Right?
I wrote a letter, thanks to the printables at this site, and stuck the gingerbread girl - named Cookie - in the Christmas tree.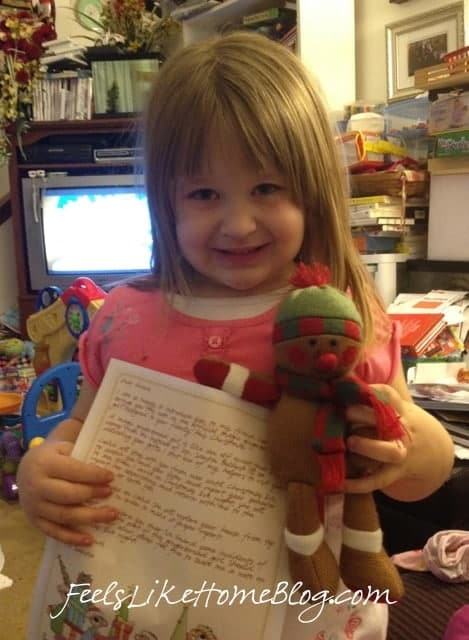 Pin
When Grace found it, she was delighted. Ecstatic. All she could talk about was the impending mischief Cookie would cause.
Knowing that Christmas is almost here, I thought that you might need ideas for your elves or gingerbread girls or whomever.
Elf on the Shelf Ideas
Read a book or do whatever your kid likes to do. The very first thing that Cookie did at our house was to curl up on Clarice's bed and read Grace's favorite Christmas book.

Write his or her name. Write it everywhere, on every surface. I used a bath crayon to write Cookie's name on the bathroom mirror, on the turtle's tank, and on the china cabinet in the dining room. I even wrote Cookie on the high chair with chocolate chips.

Be silly. I use food color in everything. Cookie dyed our milk pink. She dyed our water blue. She dyed the toilet water purple. Apple juice turned purple in the glass, courtesy of the magic milk method.

Marshmallow bath. Cookie took a bath on our living room table, in a bowl of marshmallows. They reminded her of home.

Make a snow angel. This one was a flop at our house, but I thought it was really cool. It was also hard to clean up, so I don't think I'll be doing it again next year.

Look up. Hang your magic elf from the ceiling, from a light, from a ceiling fan. Cookie hung upside down from our kissing ball.

Have a war with other toys. I don't have pictures of this one, but we set Cookie up to have a war with the Barbie dolls. They went back and forth with little signs like "We're in charge here!" with Cookie taped to the couch and then the next night, Cookie wrote back with a note of her own saying "Cookie for President!" and the Barbies tied up. Then they made up and all took a ride in the Barbie convertible.
Row a boat in the bathtub. Joe really went all out with this one. He took a cardboard box and wrapped it tightly with aluminum foil and floated it in a bathtub full of water. He put Cookie inside the boat and use a fishing road from a toy and wooden spoons for oars. This one was a big hit.

Make a zipline. Joe tied a string from the light in our living room to a bookshelf, and then he made a hanger out of a pipe cleaner and hung Cookie on the zipline.

Make your elf homesick by sticking him or her in the freezer with a note.
Stick your elf head first in a bag of candy that your kids can then share.
Where do you put your elf on the shelf?