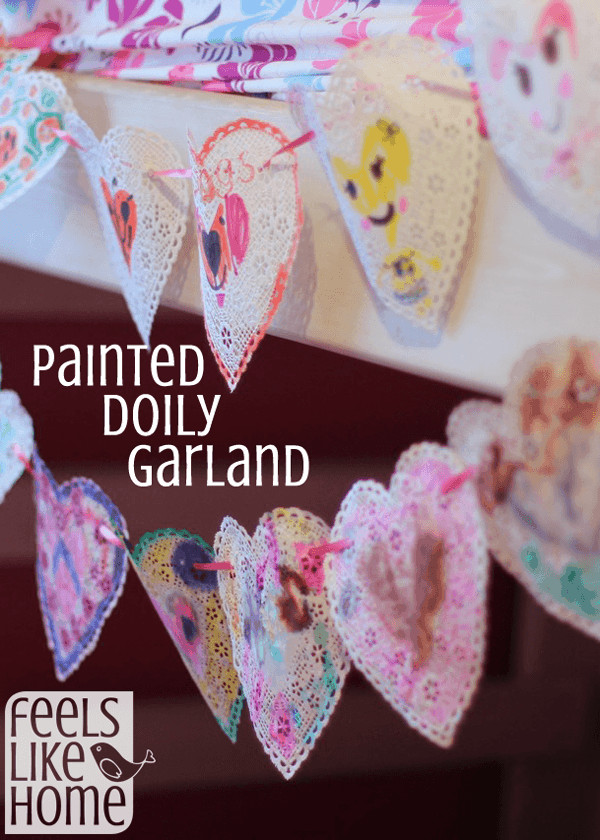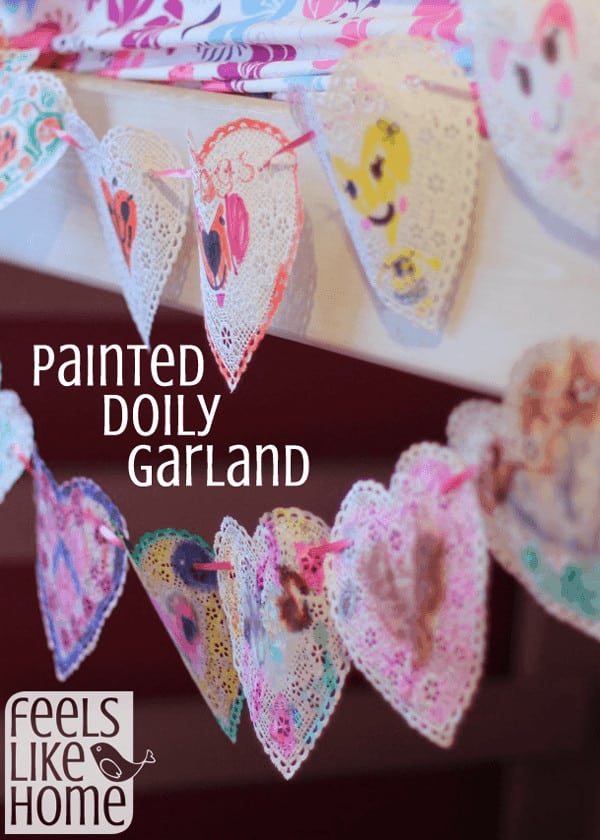 Pin
I have seen lots of painted doilies around the blogosphere the last couple of weeks, and I wanted to make a painted doily garland for the girls' room.
One of my favorite techniques is to color with washable markers and then spray the paper with water, so that was my plan for the activity.
Allie and Grace both had other plans, so I went with what they wanted to do. In the end, we discovered the very best way to make a doily garland was to simply paint the doily with watercolors. They really were too fragile for much of anything else.
Painted Doily Garland Materials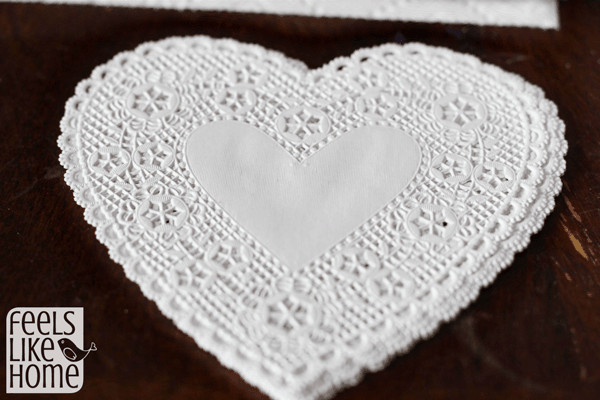 Pin
The most important of the materials is, obviously, the heart-shaped doilies. I got ours on Amazon.com. There were two options, 36 4" doilies or 18 6" doilies. I went with these doilies, which were the bigger ones. I'm glad I got the big ones, but I wished I'd gotten two packages. The kids went through them pretty quickly.
Plain white, non-glossy heart-shaped doilies
Watercolors
Water
Paintbrush
As you'll see below, we went through a variety of materials and methods ranging from plain markers to watercolors, but the watercolors definitely worked the best.
How to Make a Painted Doily Garland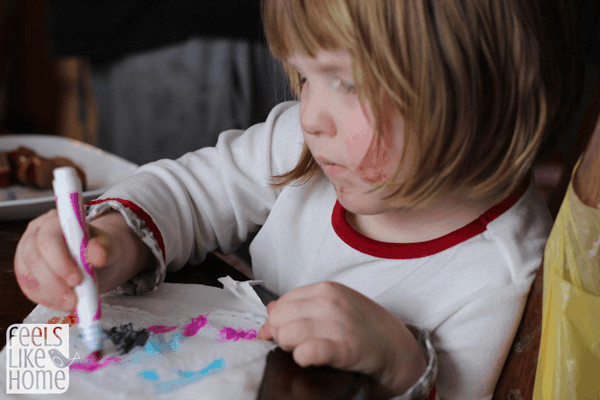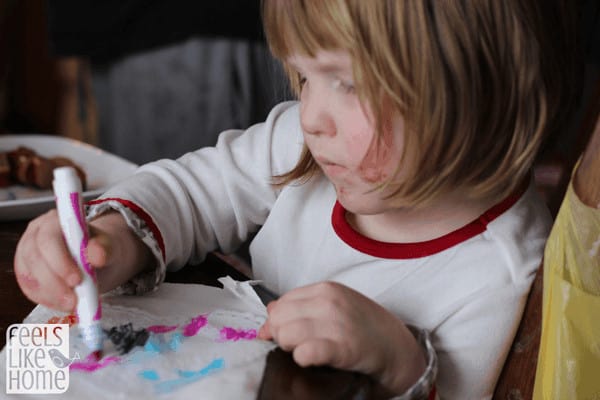 Pin
The first thing Allie wanted to try was spraying her doily with water and then coloring on it. In theory, this should have worked really well to spread the color, but in reality, the doily just got ripped up. She had to color very gently and, even then, the more delicate parts still tore.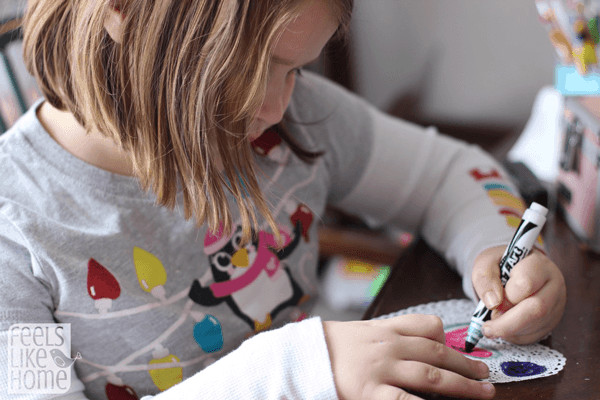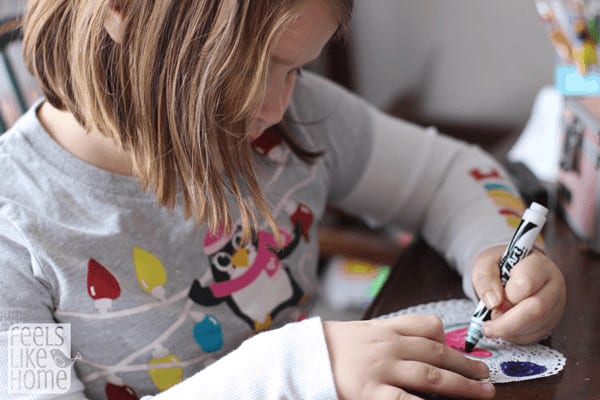 Pin
Grace colored her doily first and then sprayed it with water to get a watercolor effect.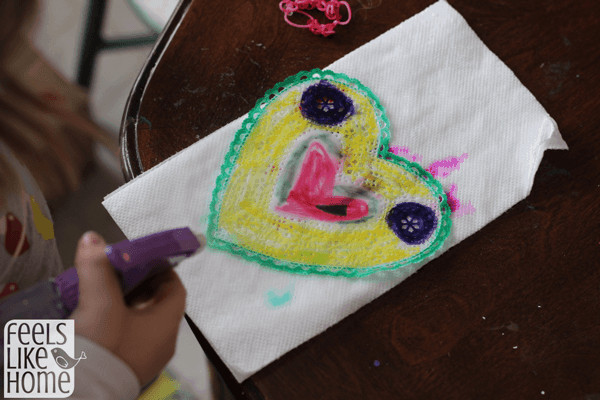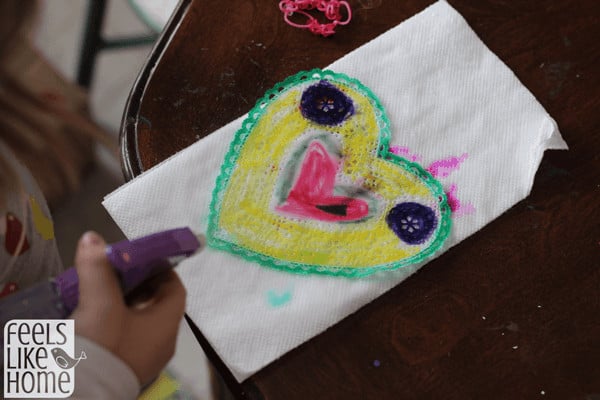 Pin
This method worked well, but where she colored heavily, the paper started to tear.
And, she was very upset that her design smeared (I guess she didn't know what would happen when she sprayed it).
Next, I got out the plain old watercolors. Allie sprayed them with water to get them good and wet.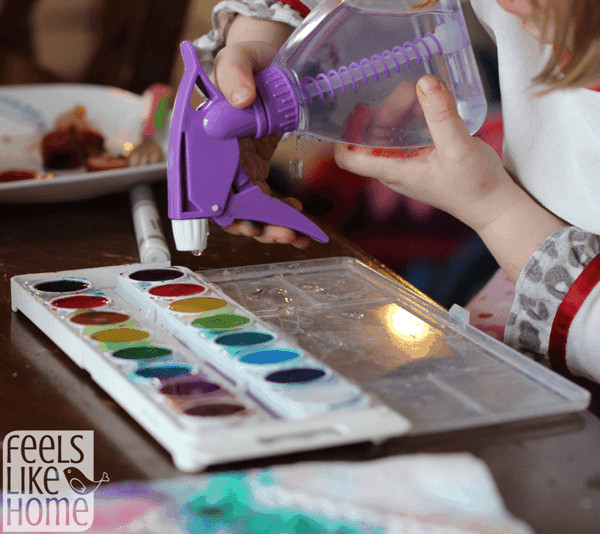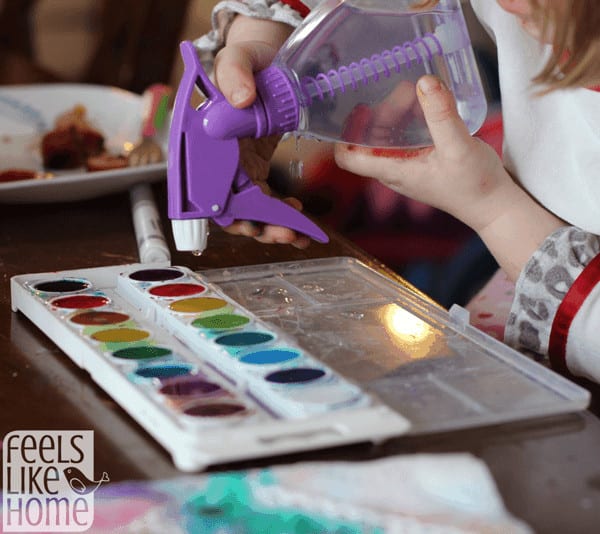 Pin
And then she painted. These doilies came out the best. They were saturated with color and didn't tear at all.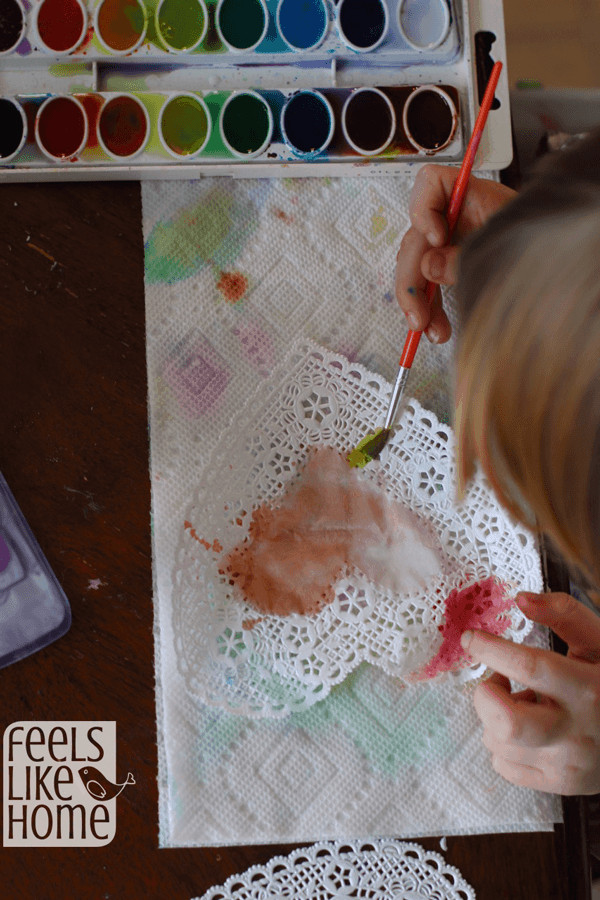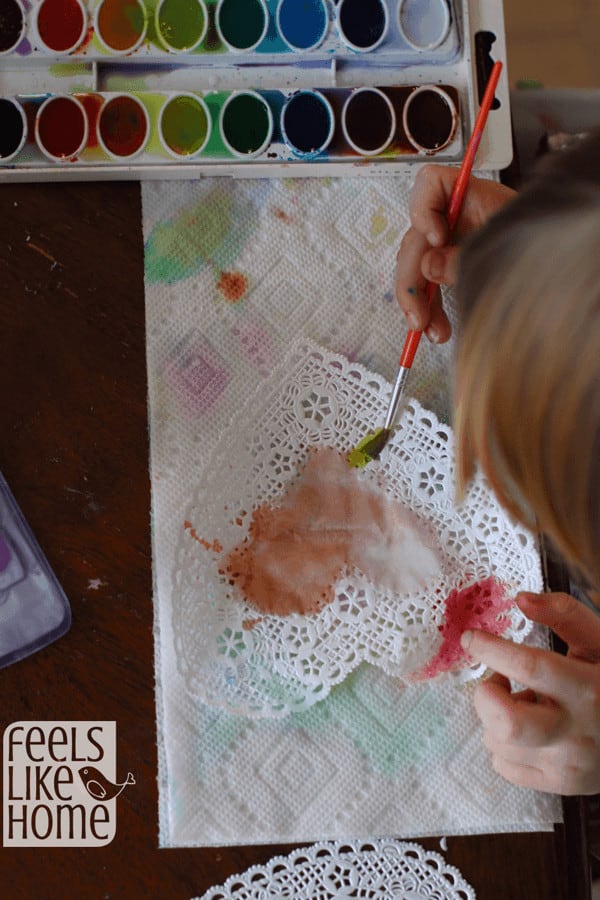 Pin
After the first spraying, Grace decided she was simply going to color her half of the doilies with markers.
And so she did.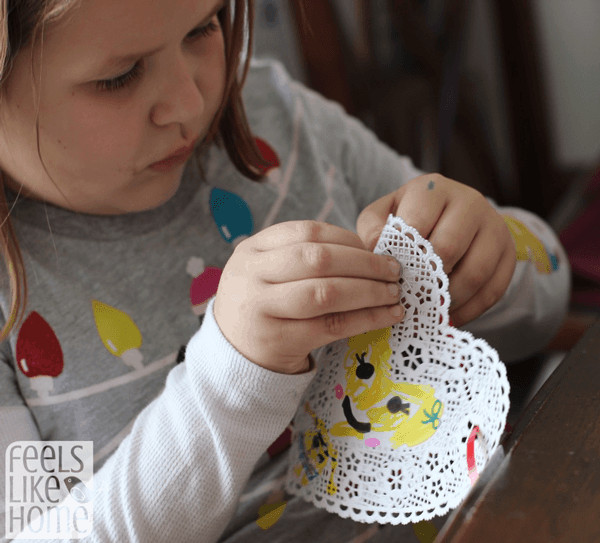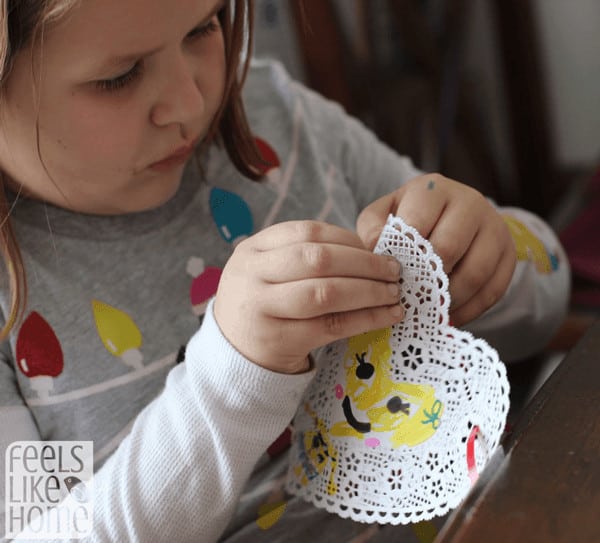 Pin
When the doilies are all colored or painted, string them onto a ribbon or baker's twine.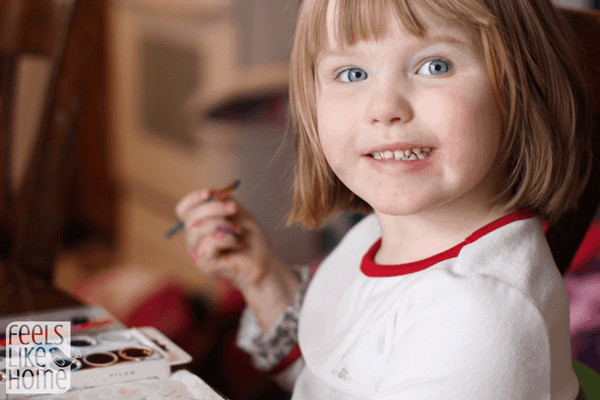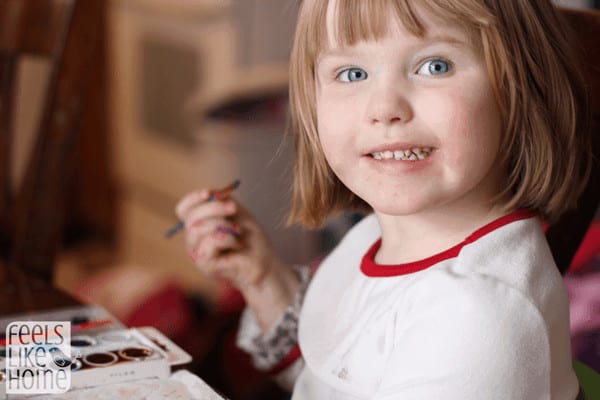 Pin
This is one of my favorite photos from our activity. She was so excited to try lots of different methods.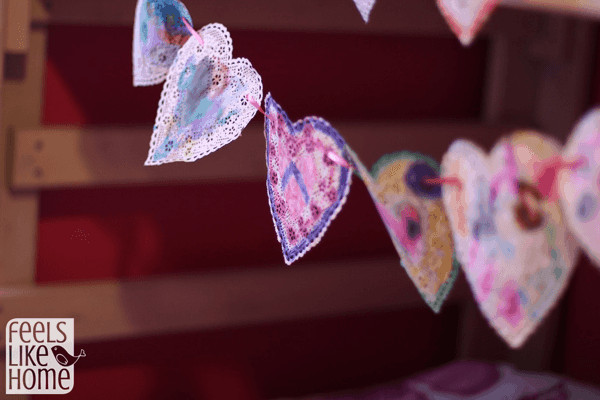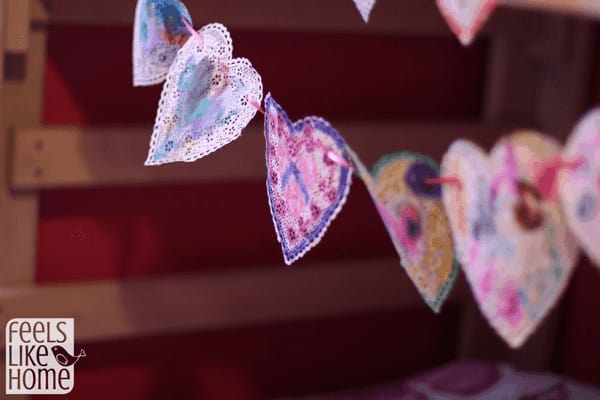 Pin
Hang your garland in a sunny window or anywhere that it can stretch out.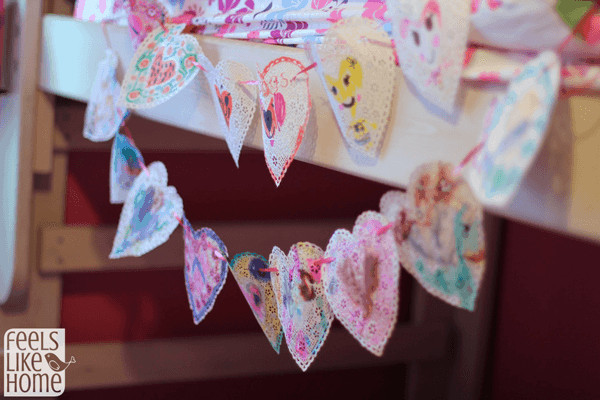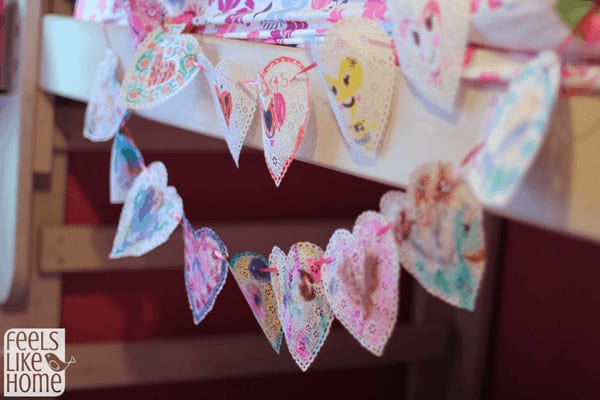 Pin
I'm not sure if you can tell, but my girls hung their garlands on their bunk bed. It is holding up surprisingly well there. The cat grabbed it once and tore one of the doilies, but I think it will last until Valentine's Day.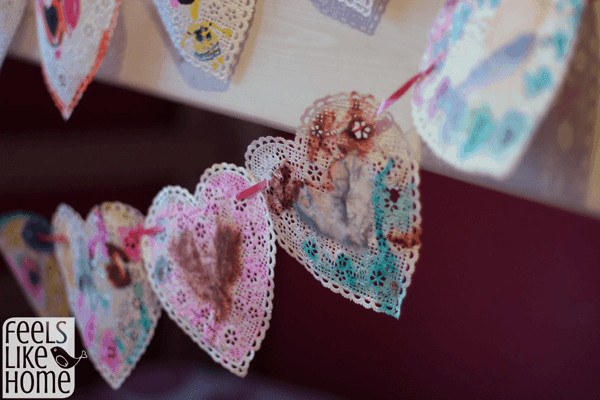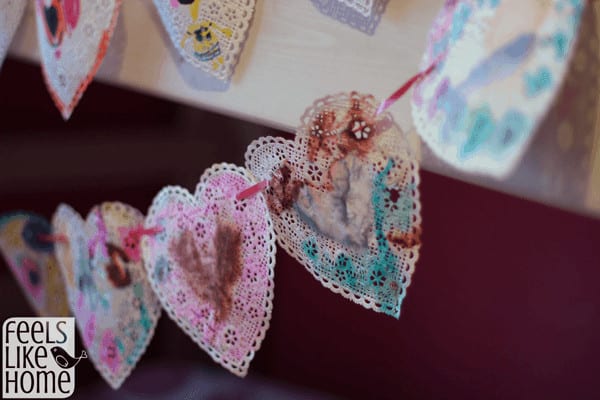 Pin
Have you ever painted doilies?