How to make the best simple homemade no crunch potato salad. Quick & easy recipe uses light mayonnaise and mustard for a healthy twist on a classic favorite! Includes hard boiled eggs cooked in the Instant Pot.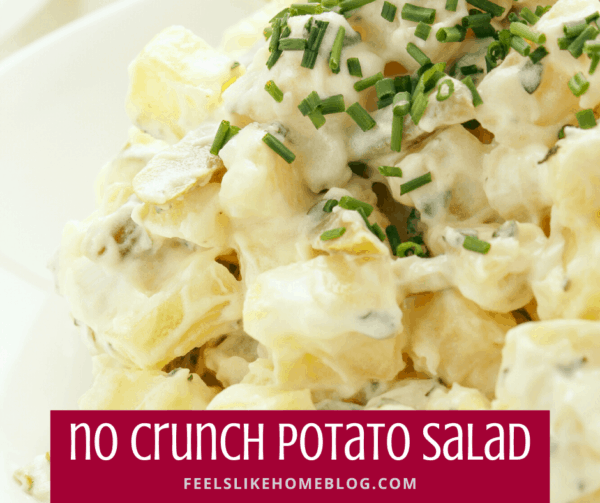 We had an impromptu picnic on Memorial Day. We hadn't planned it, really, but invited a few people over the night before to enjoy our air conditioning (the temperature was expected to soar into the mid-90's) and some good food. We ended up eating outside on the deck, which was totally ridiculous given the temperature outside.
At any rate, Joe whipped up my favorite macaroni salad for the picnic. Knowing that my mom doesn't like cold macaroni, I asked him to make up some potato salad, too.
When he asked for a recipe, I told him to use the same recipe for the dressing he'd used on the macaroni salad. He made a couple of minor adjustments, and the result was fantastic.
Astounding.
Lick the spoon and plate and bowl good.
That potato salad was so very delicious that I wished I could have eaten it every day for a week. We're going to have to make it again. Soon.
Can I also say that I HATE CRUNCHY BITS in my potato salad? Onions, celery, peppers, I hate them all. It's not that I object to them in theory, but I hate the smooth creaminess of my potato salad being interrupted by those little bursts of flavor. NO THANK YOU. So this recipe doesn't have any. You're welcome.
How to make the best no crunch potato salad
Hard boil the eggs using the Instant Pot (preferred) or boiling water method. If using the Instant Pot, cook the eggs on high pressure for 5 minutes, then natural release for 5 minutes, then quick release and place in an ice bath for 5 minutes. Peel the eggs, cut in half, remove yolks, and chop whites into 1-inch pieces. Set aside.

Wash the potatoes well. Cook them using your preferred method. We microwave ours using the Baked Potato button on the microwave, or you could boil them for 10 to 15 minutes. There is no need to peel the potatoes (unless you really want to), but you should chop them into 1-inch pieces. Transfer to a large bowl.

In a medium bowl, combine egg yolks, mayo, mustard, sweetener, water, vinegar, and onion powder. Mix well. Pour over potatoes and mix well. Add eggs and toss to distribute.

Refrigerate an hour to overnight to allow the flavors to blend.
Try these other delicious salads while you're here: