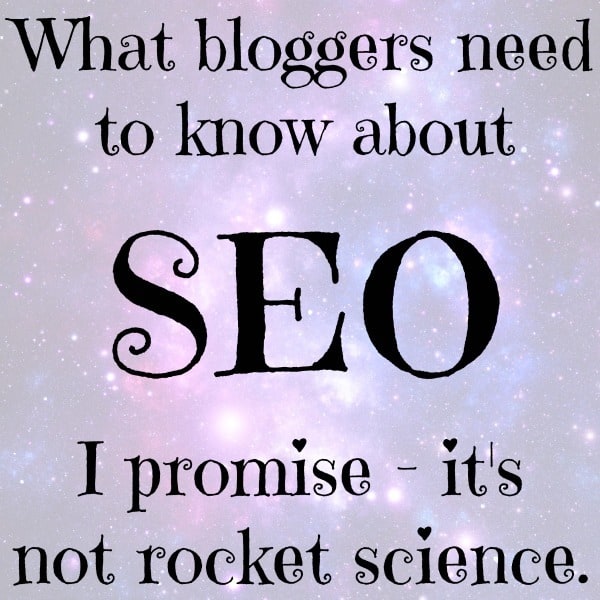 Pin
No matter what update Google does - Panda, Penguin, Petunia, or Potato - good SEO is going to be the same. The best practices five years ago are still the best practices, and they will still be the best practices five years from now.
SEO is all about communicating with search engines. It's about telling the search engines what you're writing about so that the people who want that information can find it (and you).
It's that simple.
Why Do YOU Need to Know About SEO?
SEO stands for Search Engine Optimization. In short, SEO can help your site to show up closer to the top of search engine results.
SEO is a great way to get found, to broaden your audience.
Good SEO means that more people will find you. If they like your voice, if they like what you have to say, they'll keep coming back.
What Can Good SEO Do For You?
SEO first came on to my radar in 2009. I started optimizing my posts, and I increased my traffic from search engines tenfold in 12 months.
From February 2009 to February 2010, I saw a 900% increase in traffic.
Need any more convincing?
The Basics of Good SEO
Good Writing
Are you tired of hearing that Content is king? It still is.
Write for your readers first. Write good posts that are useful. Write things that people will be searching for in the first place.
Make sure your writing is good, clear, and concise.
Think about SEO only after you've written a killer post.
Searchable Posts
Some posts are less searchable than others.
When I post craft tutorials and recipes, I definitely spend the time to include good SEO.
When I write personal stories, post pictures of my kids, or lists like Things I Enjoy, I don't bother. The odds are low that anyone would search for those posts or that people searching would be interested in what I've written.
Write Good Titles & Headings
Your title and headings should reflect your post. Period.
The title and headings should not be cute, clever, or a play on words. They should reflect the content of the post.
The content of your post should include the keyword phrase - the words someone would type into Google if they wanted to find your post - often (but not so much that they're annoying your readers or distracting from your message).
Use Smart URLS
The URL of your post should reflect the title, headings, and content of the post.  This is a really simple change to make, and it will help a lot.
This is a setting, usually called Permalinks.
Bad URL - https://feelslikehomeblog.com/?p=134

Good URL - https://feelslikehomeblog.com/heart-shaped-pancakes
My URLs have the month and year in between the blog address and the post name. There are drawbacks to doing that, but it's okay to have them in there.
Want to learn more about SEO?
I've shared the slide shows that I present at blog conferences. If you want more SEO help, read 10 Tips for Improving Your Blog's SEO and 10 More Tips for Improving Your Blog's SEO.