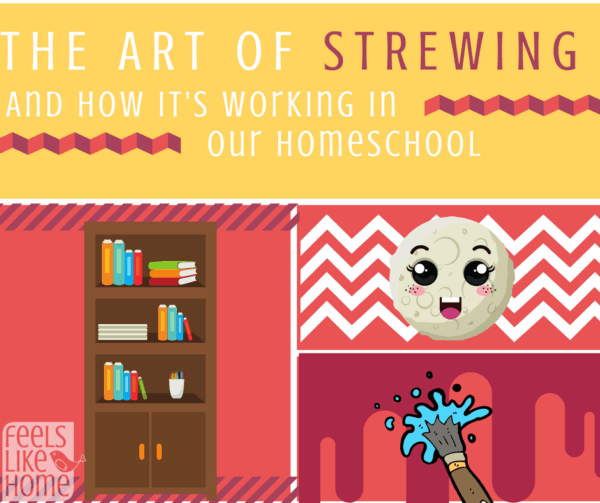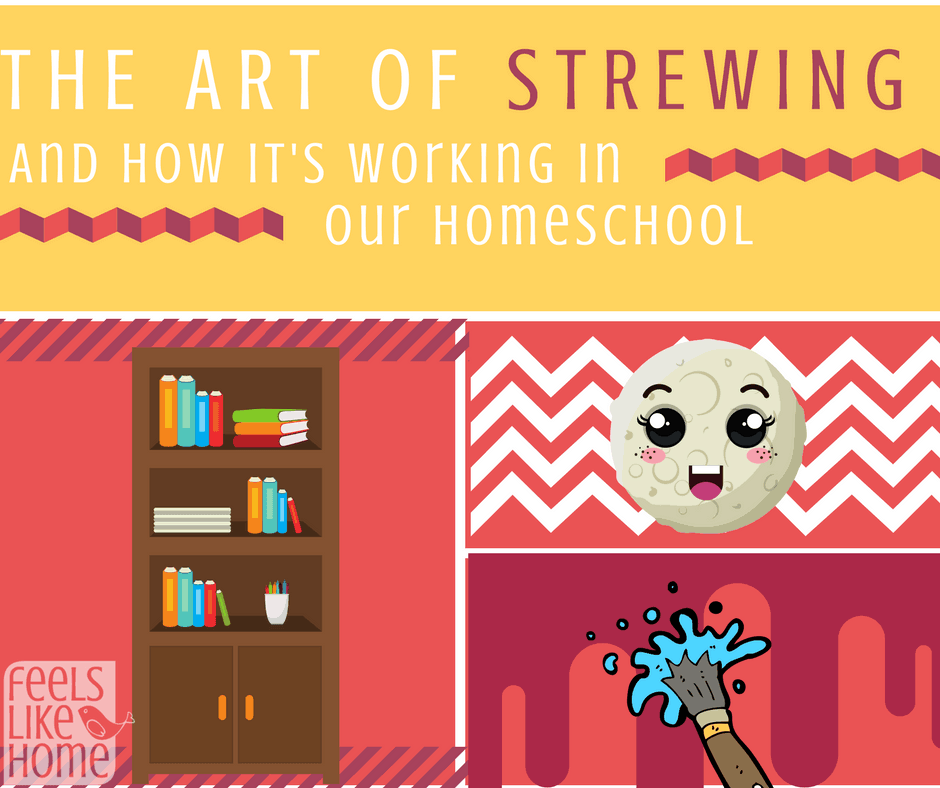 Strewing is a really interesting concept used primarily by unschoolers, but I believe that it would work for any parent (homeschooling or traditional schooling) in any subject, and I think it is a really valuable technique. More on that below.
We have tried so many different homeschool methods and philosophies over our six plus years of homeschooling from school at home (when we used the cyber school) to Charlotte Mason to eclectic, but I have consistently felt drawn to unschooling. Not because I'm lazy, but because I feel like (and learned in college) that kids learn so much more when they have chosen what they want to do and feel ownership of it.
Plus, there's Grace who is 10 and highly resistant (read: fights vehemently and reduces to angry tears in minutes) to anything that is officially labeled as schoolwork.
I am a member of the Homeschool Alliance with the brilliant and inspiring Julie Bogart, publisher of the Brave Writer curriculum and enchanted learning advocate and, during a recent chat with Julie, I asked how to approach schoolwork with my reluctant student.
Julie's advice was to stop labeling stuff as schoolwork. It was so simple and yet so difficult at the same time, but I had the opportunity to discuss it a little further with her. She mostly unschooled her children, making subjects enchanted where she could, but she did tell me that she used some prescribed curriculum as well.
Given that, I have significantly changed the way we "do school." Out are long daily checklists of independent curriculum-based assignments and in is strewing, library books, and excitement about cool topics.
We aren't doing radical unschooling where the kids decide everything and only learn when they want to learn. I'm not convinced that that method would work for us, and I don't think Grace especially would ever want to learn things like math.
What we are doing is a more eclectic approach where I require Grace to do a few things - practice the piano and complete a few lessons - math, typing, French, and spelling. They are a combination of areas of weakness for her (math and spelling) and areas of interest for her (French and typing - although she wanted to learn them in the beginning, now that they are both a little challenging, she doesn't want to do them anymore but I have not allowed her to just quit).
All that aside, this post was supposed to be about the art of strewing. Strewing is a fancy way to say that you sprinkle exciting and interesting things around for your kids to find, and it is essential to unschooling. Unschoolers believe that learning should be self-directed. Kids should be interested in things and want to learn about them.
Rather than just let them do whatever whenever (which I have admittedly done in the past with absolutely no success), I have started ordering things and getting things from the library and leaving them out where the kids will find them.
We had tremendous success with this last week, which is why I decided to write about it now. I wanted the girls to study the sun and the solar system, but I knew that just telling them that would go nowhere.
I taught high school astronomy during my ten years in the public school system, so I know the sun and the solar system inside and out and have a plethora of activities from which to draw.
I got a bunch of books from the library on the sun and the solar system, and I ordered a bunch more from Amazon. I'll write a whole post on our solar system unit soon, but in the meantime, I wanted to use them as an example of how strewing works.
We have been playing solar system MMRY - a super fun game with gorgeous photos of the planets and moons in the solar system. They love it. I also got a nice early reader book with amazing photos of the planets, but they weren't excited about reading it, so I left it alone.
Then, I bought them each a solar system model kit and a package of acrylic paint tubes. When the package arrived, Grace opened it. I told her what it was, and she shrugged and set it down. I was disappointed (she usually jumps at any chance to do art) but kept my feelings to myself. I showed it to Allie, and she was super excited.
"Can I paint them now?" she asked. I was working, but I set her up with a palette, a bunch of paint brushes, and a bowl of water. I gave her the MMRY cards with the solar system photos, in order by size so that she could figure out which planet was which without my help, and the solar system book. Then I let her go.
A few minutes later, Grace came back to the office and asked if she could paint her solar system. I hid my excitement and helped her get set up with the same materials.
About two hours later, they came back to the office and asked for help assembling their models. They were great! The girls had both studied all the photos of the planets and painted their models to the best of their abilities and patience levels. They both could identify which planets were which, and even though they didn't know the order of the planets, they were excited about their work.
SCORE!
I helped them put their models together and then hot glued everything so it wouldn't fall apart. We stuck paper clips into their suns and prepared to hang them up. I'm not sure where we'll hang them yet, but we'll find somewhere. I think displaying projects is critical in their wanting to do more projects.
Another time when strewing was really successful was with my Magic School Bus solar system book. I knew Grace wouldn't care about it, so I left it on a big stuffed chair in the living room where I knew Allie would find it. She did and asked me to read it to her. We sat in the chair while Grace sat on the couch doing something else. I read the book out loud, and Allie was really into it.
Before long, Grace was chiming in with questions and facts about the planets. Another big score as they both were engaged (even though Grace wouldn't have admitted it) and learning about the planets! And all on their own!
In conclusion, I am really excited about how strewing and unschooling are working for us. It takes a bit of creativity and even sneakiness on my part, but my girls are learning exactly what I want them to learn on their own terms, based on their own interest in the subject, and they are loving it.
Have you ever tried strewing? Would you?
For more classroom & homeschool learning content, check out the Learning Index.