How to teach your kids to enjoy hiking - 25 tips and ideas for hiking with kids who are as young as babies or older including what gear to take and how to pack.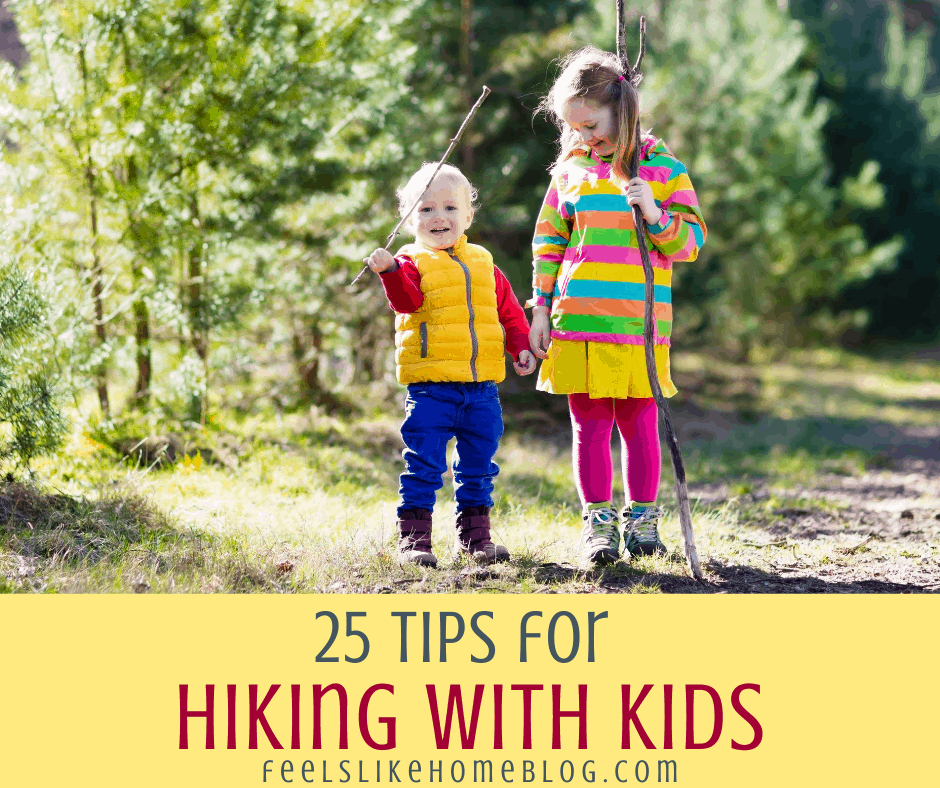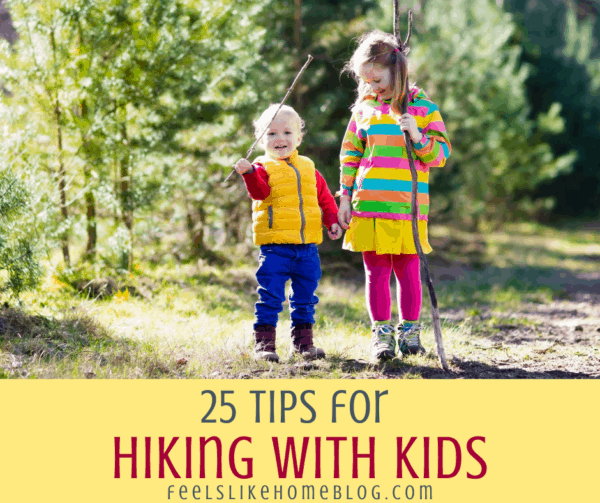 I'm happy to share this guest post from outdoor enthusiast Jeff Alt. My family is spending this weekend outside, picnicking, swimming, and enjoying the sunshine, but we'll go for walks weekly throughout the summer.
Getting kids outside is more important than ever. TV, computer and video game addictions are replacing outdoor play time and contributing significantly to the national obesity epidemic. Get the kids outside!
25 tips for hiking with babies & kids
Start Early-Develop A Routine:
Start hiking with your infant.
Let the child lead. This helps you focus on what they're interested in and keeps you from leaving them in your dust.
Take a family walk once a day.
Prepare your family for your adventure:
Research the destination & activity.

Maps, guidebooks, websites, local experts, rangers, lectures.
Choose a trail that offers easy access to domesticated amenities. Be a parent, not a Sherpa.
Check into transportation options. Have a plan for what to do if you need to get off the trail.
What kinds of wildlife can you expect? Will water be available? What are the weather and terrain like? Avoid hiking in freezing temperatures, lightning storms, and extreme heat.
Get everyone fitted into boots and packs.
Clothing- NO COTTON! Dress in layers (synthetics, fleece, wool, and waterproof breathable items).

Rain jacket
Hat
Shirt
Socks
Shorts/pants
Underwear

Child safe bug repellant
Children's sunscreen
Train before you go. This will help you adjust to carrying the pack, and your child will acclimate to the routine.
Bring plenty of water:
An adult should pack two quarts of water. Children will vary depending on age and exertion. Inquire about water availability before you hit the trail. Acquire a treatment system so you can use the water along the trail (water filter, Iodine tablets, etc.). Drink before you go. Stop and sip your water frequently.
Don't wait until you are thirsty.
Think Food – Think Fun:
Pack your kids favorite snacks to encourage your kids to eat and stay energized.
Bring items that are easy to prepare or ready to eat.
Freeze-dried meals
Pasta/rice/beans
Foil-wrapped meats such as tuna or chicken
Dehydrated fruit and veggies
Sliced apples, grapes, bananas, carrots
Energy bars or granola bars
Peanut butter
Cheese and sausage
Bagels, tortillas, crackers, candy bars, nuts
Oatmeal and dried cereals
Learn First Aid and be prepared for trail emergencies:
Carry a first-aid kit, and brush up on child first aid and CPR. Learn about the dangers of hypothermia, and monitor children for signs. Pack your child's medication.
Learn how to use a compass and map or GPS.
Learn how to make a shelter.
If you get lost, make yourself as visible as possible. Place a bright item (e.g. item of clothing or gear) in the open. Make distress signals and make noise. If you brought a cell phone, see if it works.
Leave a copy of your itinerary with a friend or family member.
Keep the journey fun:
When your children take an interest in an animal or rock or plant, stop and explore with them. Talk to them about what you're seeing. Label the animals, rocks, trees, and flowers.
Tone down your mileage goals to the comfort level of your child.
Engage older children with trip planning, animals, local history, or anything that applies to what they are learning in school.
Let your older child bring along a friend.
Entice the computer kids with gadgets (e.g.GPS, pedometers).
About Jeff Alt
In addition to walking the 2,160-mile Appalachian Trail, Jeff Alt has walked the 218-mile John Muir Trail with his wife, and trekked across a 50-mile path of Ireland with his wife, young daughter, and extended family. He and his wife emerged from the church doors on their wedding day with backpacks. His son was taken on his first hike at 8 weeks.
Alt is a member of the Outdoor Writers Association of America (OWAA). His adventures have been featured in media nationwide including: ESPN, Hallmark Channel, the AP, CNN-Radio, NPR, and more. Alt's award-winning books, A Walk for Sunshine and A Hike for Mike, have been reviewed in Library Journal, Chicago Sun Times and more.