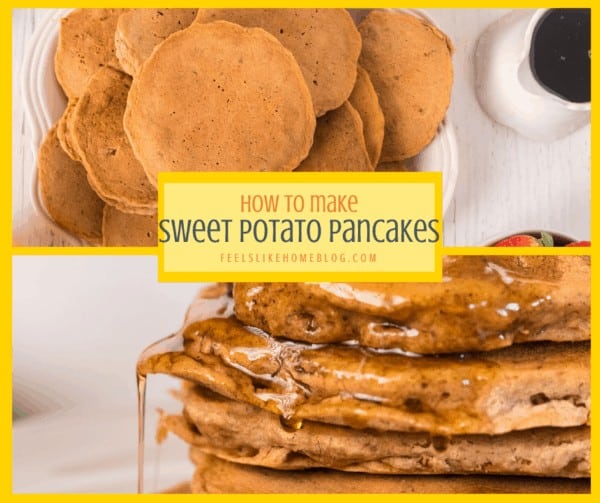 This is the best easy and quick sweet potato pancakes recipe, great for breakfast, brunch, lunch, or dinner, these pancakes use whole wheat flour. Top with cream cheese maple syrup for a delicious, healthy meal.
I love breakfast for dinner, and I especially love omelets and pancakes.
We make all kinds of pancakes - chocolate chip pancakes, pumpkin pie pancakes, carrot cake pancakes, apple ring pancakes, bananas foster pancakes, and baked pancakes.
They are a perfect breakfast or dinner (or lunch, I suppose) because they're quick and easy, and paired with eggs or ham and some fruit, they make for a satisfying and filling meal.
At home, we make pancakes and eggs for dinner often.
When we're eating out though, we really like to have them for breakfast.
We put this recipe together because we had a few sweet potatoes that needed to be used up.
You know that sweet potatoes are a super food, right? They're packed with beta carotene and a bunch of other stuff that's good for you.
Even though these pancakes are healthy, both Grace and Allie loved them! The pancakes' flavor is very similar to the pumpkin pie pancakes I also love, and they were only a wee bit more work than normal pancakes.
Don't worry about the whole wheat flour in these pancakes. You can't taste the whole wheat flour at all. If you don't have any, though, feel free to substitute with white flour.
How to Make the Best Sweet Potato Pancakes
Prepare the sweet potatoes. Bake 2-3 large sweet potatoes in the microwave. Mine takes about 8 minutes, but it would probably be best if you checked them after 5 and every few minutes thereafter. You can also bake them in the oven or boil them, but that will take a lot longer. Peel and mash the cooked potatoes.
Prepare the dry ingredients. Sift the flour, baking powder, and cinnamon into a small bowl. Sifting makes these ingredients lighter and fluffier which will in turn make your pancakes lighter and fluffier.
Prepare the wet ingredients. Using a stand mixer or a handheld electric mixer, combine the mashed sweet potatoes with the eggs, vanilla, and melted butter.
Make the batter. Gradually add the dry ingredients into the wet ingredients in the mixer bowl, frequently scraping the sides of the bowl to make sure the pancake batter is well blended. The mixture will be very thick which is why I recommend using an electric mixer and not just good old arm power. Add the milk slowly, until the batter is the right consistency, thin like cake batter. If you need help getting your pancakes right, read my post on the secret to making perfect pancakes.
Cook the sweet potato pancakes. Preheat the griddle over medium heat. Drop the batter onto the griddle using a 2-3 tablespoon scoop (or a ¼ cup measuring cup if you don't have a scoop). When bubbles begin to form in the pancakes, flip them over and cook another minute or so, until both sides are lightly browned.
If you liked this recipe, you're going to love these:
Recipe