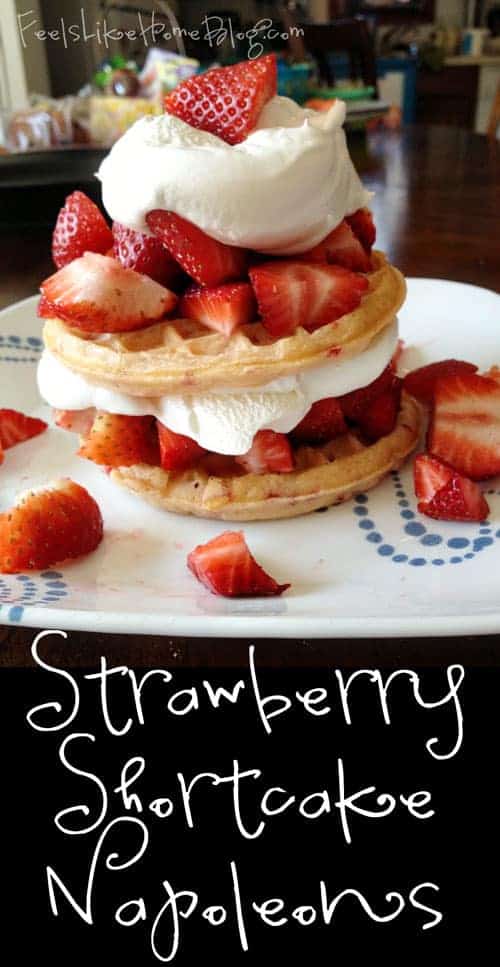 It's a Week of Waffles at Feels Like Home! Being that I'm a Chief Waffle Officer, I'll be posting waffle recipes featuring Eggo Waffles all week - from April 1 to April 7. I'll share some breakfast, lunch, dinner, snack, and dessert recipes, so make sure you come back each day for my most recent creation! (In the interest of disclosure - Eggo Waffles are not gluten-free. In most cases, my family enjoyed my waffle treat while I ate a gluten-free version of the recipe.)
I had to give these desserts a fancy name because they're otherwise almost too easy to call a recipe. A traditional napoleon is made from layers of puff pastry, whipped cream, and a fondant topping. My napoleons are made from waffles, strawberries, and whipped cream. I didn't add a top layer and fondant because I thought it would make the finished dessert too rich and too huge to be practical.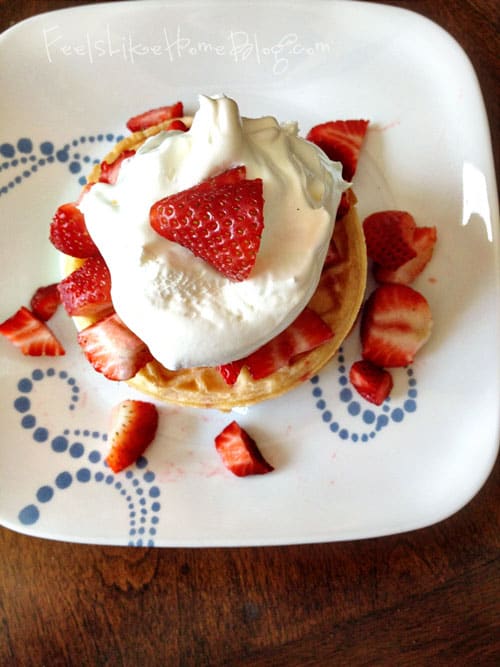 As you'll see below, I used all pre-made foods and put these together in less than five minutes. Could you make the ingredients from scratch? Absolutely. It will just take a lot more time. I'm calling this a dessert (and I would serve them after a meal), but I fed them to my children for brunch yesterday. I thought it was an acceptable meal - fruit and waffles. I've given them fruit and waffles for breakfast at least a hundred times before.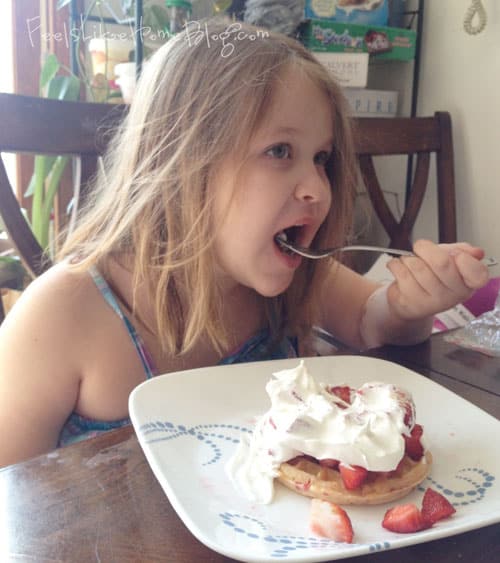 They were delighted to gobble down fruit and waffles topped with a generous amount of whipped cream! Yahoo!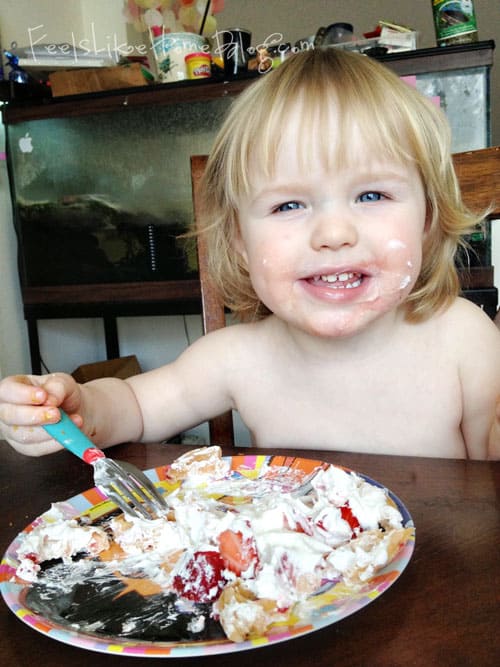 They both ate every bite. And I may have looked the other way when they picked up and licked their plates, because it was the day after Easter and they hadn't had enough sugar for the week. Ha.
Joe was disappointed that I made this for brunch because he didn't get any. Fortunately, we have more waffles and more strawberries, so I can make another one for him.
Great Eggo Waffle Off
Do you have a favorite waffle recipe? Go to Eggo's Facebook page to enter your recipe in the Great Eggo Waffle Off. You might win $5,000! While you're on the Eggo Facebook page, make sure you check out the fun recipe ideas, as well as other entries to the contest.
This post is part of a project called a Week of Waffles from Eggo, sponsored by Kellogg. I have been compensated to create and share recipes using Eggo Waffles. All recipes, photos, and text are created by me.