7 strategies for empowering a picky eater - Whether they're toddlers, preschoolers, older kids, or teens, picky eaters are a pain! Use these 7 tips and ideas to encourage healthy eating habits at dinner and all meals through the day.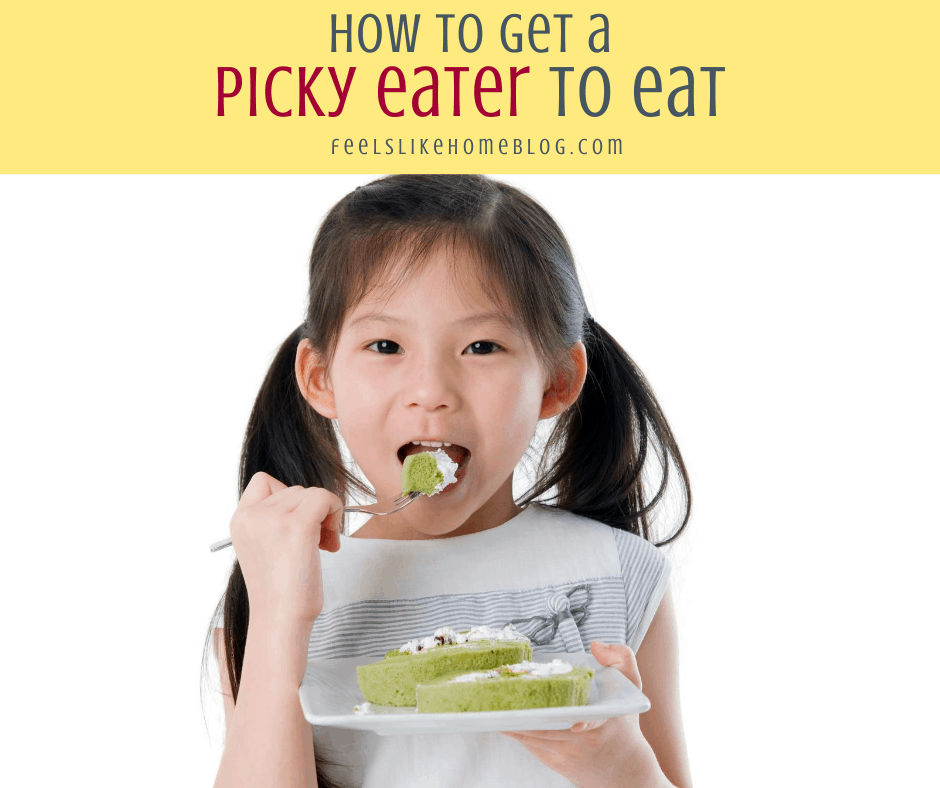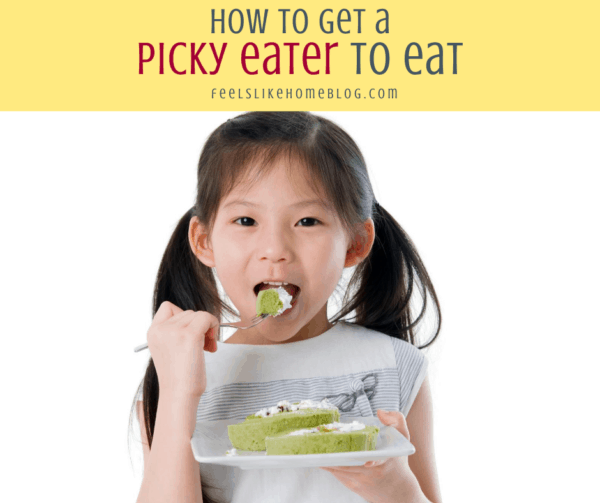 Please enjoy this guest post from Mandi Ehman, a wife and homeschooling mom of four spunky little girls and two busy little boys.
Picky, particular, fussy, sensitive – whichever adjective you prefer, you probably know what I'm talking about: the child who hates trying new foods, rarely likes what is offered and has a small group of foods that he or she actually likes.
In our family my pickiest eater really is just picky. She doesn't have any underlying issues that we know of that contribute to this; she just knows what she likes and she has no use for anything outside of that small group of foods.
My goal this summer is to help her appreciate and enjoy a wider variety of foods, for a variety of reasons. Most notably, as a fussy eater, she is the most susceptible of our children to illness. When our family had the stomach flu this past winter, it really took a toll on her body because she didn't have the resources in her body to recover from it like her sisters did. I want her to be healthier, and as our whole family moves to more real foods, I don't want her to be left behind.
Here are some of our strategies. I can't tell you for sure that they all work since we're still walking through this, but so far so good!
7 tips for getting a picky eater to eat
Make trying new foods fun.
As with most picky eaters, she is really not a fan of new foods. Rather than forcing them on her, I'm looking for ways to make new foods fun and exciting rather than something she is forced to try. I've been buying new fruits and veggies at the grocery store like an African horned cucumber, rhubarb and radishes  and making a big deal about trying to figure out what to do with these things. She loves to help me Google them and we're having lots of taste tests. Not only are we doing it together, but it's also an adventure and a challenge.
In fact, I've even put together a food passport to document all of the new foods we try!
Work in the garden together.
This year, I'm growing a garden for the first time, and our whole family is enjoying the process. A couple of years ago, one of our neighbors brought us a bag full of grape tomatoes from their garden, and my oldest has been hooked on them ever since. My hope is that harvesting our own produce from our garden will have the same effect on my picky eater.
Shop together.
As a mama's girl, she loves to grocery shop with me, and we spend a lot of time talking about the ingredients we want to avoid (high fructose corn syrup, nitrates, etc.) and why we're choosing the things we're choosing. We'll often choose a new food to try, and because she feels like she was part of that decision, she's more likely to try it with an open mind when I serve it.
Cook together.
Are you noticing a theme here? Togetherness really does make a difference for us, and when I involve my girls in cooking together, they are all much more willing to try new things. Do they always like them? No. But even the picky eater will give them a chance, which is half the battle!
Here are 11 smart tips to try for cooking with kids and 10 tips for cooking with small children and 10 tips for cooking with toddlers.
Cut back on the snacks.
A few weeks ago, we noticed that our picky eater was eating much more than she normally did, even requesting more of foods that she might not eat otherwise. Turns out she was going through a growth spurt, and her hunger was great motivation to eat! We tend to snack a lot, and while we mostly offer healthy snacks, afternoon snacks take the edge off their hunger (which is kind of the point) and leave her less likely to eat something that's not her favorite. We're trying to cut back the snack portions so that she's still hungry by the time dinner rolls around!
Bribe 'em.
I know bribing kids to eat can be controversial, and I've never really liked the whole, "Eat that and you can have this" kind of thing, but we've found a happy medium in our home. Two or three times a week, we have dessert after dinner. The only rule is that you have to eat everything on your plate (we start with very small portions) in order to have dessert, but because we do this regularly, we don't have to make a big deal about that part of the equation.
Surprisingly (wink, wink), dessert nights usually end up on the evenings that we're trying a new or not-favorite food! We mention excitedly that it's a dessert night at some point during the day. The girls look forward to it, and when dinnertime rolls around, they know they'll have to eat everything on their plate in order to get dessert. A few times one of them has skipped dessert because they really don't want to eat whatever we're having, but it's always their decision not to have dessert, not ours.
Don't force the foods they really don't like.
Which brings me to my last point. I think it's really important to respect that everyone has foods that they really just don't like. I can't do mushrooms in any form, and while I like to try new foods, I always just pass on mushrooms altogether. Our two middle daughters really do not like quesadillas. It seems so weird to me that that would be the food they dislike, but we've tried a variety of combinations and the dessert bribe from above, and they just really cannot stomach them.
I think that forcing the issue at this point will just give them more food issues, so when we have quesadillas now, I make them something different (which I hardly ever do because I don't want to be a short-order cook!). Although learning to try and (hopefully) enjoy new foods is important, I also think it's important to respect their tastes in the process!
Those are my tips, but I'd love to hear from you as well.
How do you encourage your kids to try new foods?