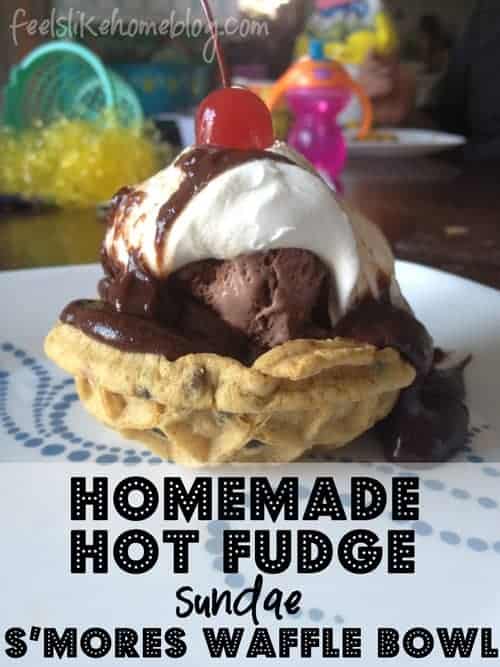 Pin
It's a Week of Waffles at Feels Like Home! Being that I'm a Chief Waffle Officer, I'll be posting waffle recipes featuring Eggo Waffles all week – from April 1 to April 7. I'll share some breakfast, lunch, dinner, snack, and dessert recipes, so make sure you come back each day for my most recent creation! (In the interest of disclosure – Eggo Waffles are not gluten-free. I did eat two of these quiches, and they were delicious.)
All week, you've seen my recipes using Eggo waffles. What do you make with them?
Enter the Great Eggo Waffle Off!
Go to Eggo's Facebook page to enter your waffle creations in the Great Eggo Waffle Off. You could win $5,000! While you're on the Eggo Facebook page, make sure you check out the fun recipe ideas, as well as other entries to the contest. There are some very creative recipes on there!
S'mores Waffle Bowl Sundae with Homemade Hot Fudge
There is so much deliciousness in this post that I don't know where to begin. Homemade S'mores waffle bowl. Homemade hot fudge. Chocolate ice cream with peanut butter swirls. Is your mouth watering yet? I knew one of my dishes was going to be an ice cream treat; I think ice cream and waffles go together as well as ice cream and syrup. Initially, though, I intended to make a peanut butter and chocolate ganache ice cream sandwich. Then Grace said, "Mom? Do all of your waffle recipes have to have peanut butter in them? I don't really like peanut butter." If I didn't remember her birth so well, I would think she cannot possibly be my child. I started thinking about other ice cream possibilities (since I'd already purchased the ice cream). We love to get ice cream sundaes in waffle bowls from our favorite ice cream stand, so I started brainstorming how I could turn an Eggo S'mores waffle into a waffle bowl. I tried toasting the waffle on the lightest setting in my toaster, just enough to warm it, and then smooshing it into a bowl shape. It broke. My first attempt was a flop, and Grace happily ate the broken waffle. My next attempt was a total success, and you can read about it in the recipe below.
Recipe
This post is part of a project called a Week of Waffles from Eggo, sponsored by Kellogg. I have been compensated to create and share recipes using Eggo Waffles. All recipes, photos, and text are created by me.