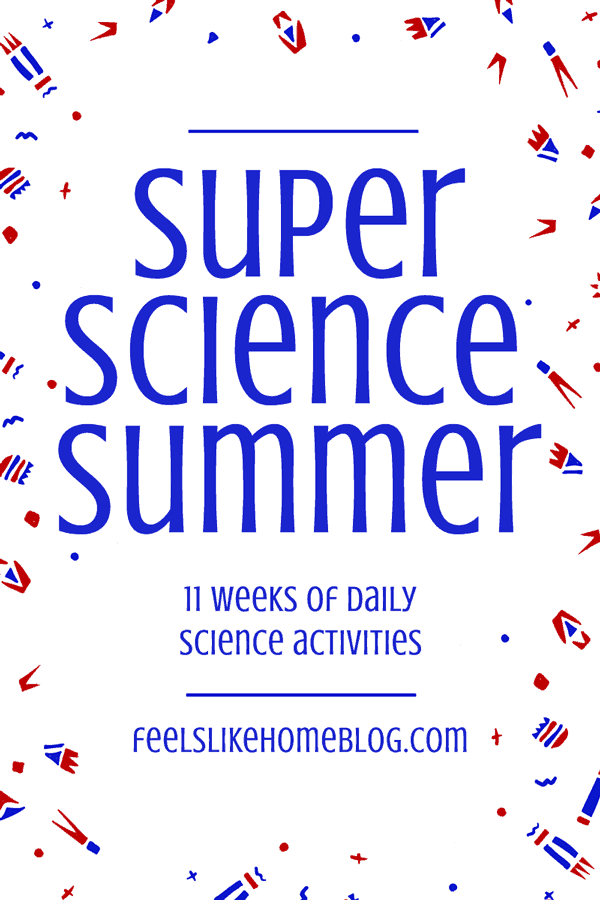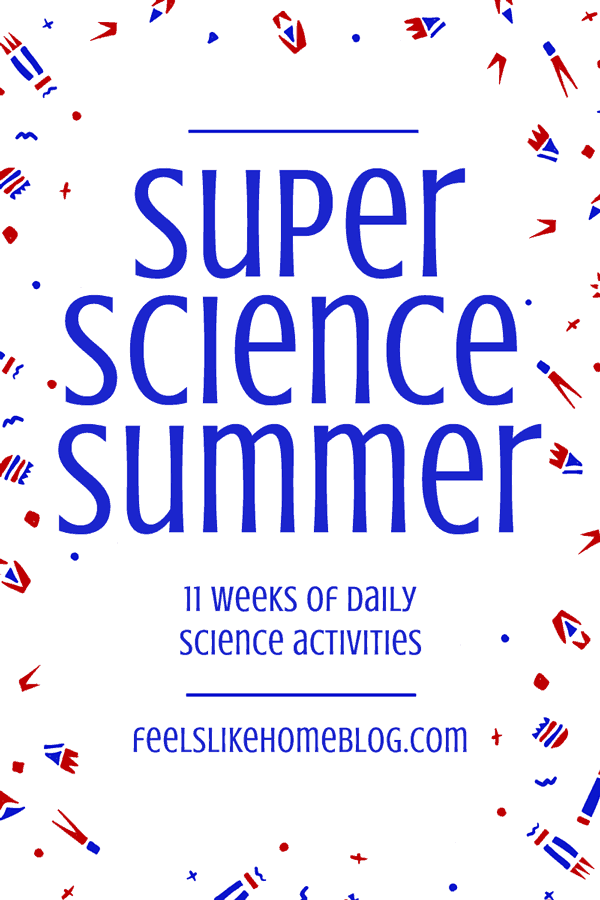 Super Science Summer has been a walk down memory lane for me. I worked as a teacher in a science museum for five years while I was in college, and then I worked as a high school science teacher for ten years, and all the super cool science experiments I did all those years ago came flooding back as I began to brainstorm for things to keep my own kids busy and thinking and engaged in science throughout the long summer.
As I said in my introduction post, I am so excited about this list. It is going to be a stretch for me to do every activity with my kids, and it will probably be a stretch for you to do them all.
There's no pressure here.
Do the ones you want to do, leave out the rest. Use this page as a resource to find super cool stuff to get your kids' minds turned on for the next three months.
There's no fluff here, so if you need a science project during the next school year, you might think about coming back here for ideas. This is real, meaty science.
So what I have done is to create a schedule of all the coolness by week. The materials are organized by week as well, and there are a few cases where you will need something that you probably don't already have. I have included links to buy where that was the case.
My plan is to post each activity as a new blog post (a few activities will link to old posts from the archives) and link the titles below as they go up. The list will be here, ready for you whenever you have time, whether it's every day or once a week.
Make sure to bookmark and pin this page as it will be your hub to all the activities!
The Super Science Summer plan
I had initially thought about planning all the physics activities during the same week, and all the chemistry the next week, and so on, but after I talked to Grace (my 9-year-old), I changed my mind. She thought the best plan was to do something from each science genre every week, so that's what I did. Here's how it works:
Monday - Garden science (seeds, plants, flowers, soil, creepy crawlies)
Tuesday - Physics (motion, energy, magnetism, light, sound, pressure, engineering)
Wednesday - Biology (human body, cells, DNA, microbes)
Thursday - Earth science (rocks, craters, weather, renewable energy sources)
Friday - Chemistry (solids, liquids, gases, freezing point, acids and bases)
After this was all said and done, I realized that I probably could have written it into a book or at the least, an e-book (and I might someday), but for now, please enjoy the plans for free.
June 6-10
How does a tea bag fly? This was a new to me experiment that I found online, and it was a big dud when we tried it at home. Sorry!
Week One Supplies
Ruler
Heavy card stock
A couple of tea bags
Matches or a lighter
Spaghetti noodles
Cup
Water
Paper towels
Pencil
Drawing paper
Coffee filters - The premium ones work best, but this link will get you 300, and you only need about 10.
Clear tape
June 13-17
What happens when rocks hit the moon?
Week Two Supplies
A margarine container or any plastic container that's rectangular and about 3" deep (a takeout container might work)
A dozen eggs
Dark colored soda
Dark colored fruit juice
Dark colored sports drink (We tried a diet brand to see what would happen.)
Orange juice
Stones in a variety of sizes - I got a nice bag of rounded stones (preferable) in the craft section of Walmart.
A block of wood or heavy cardboard about the same size as the footprint of the margarine container
Shovel or trowel
Used printer paper
4 glasses or bowls
Cardboard, like from a cereal box
A large rectangular pan - We used a disposable (aluminum foil) pasta pan from Walmart.
Sand - Enough to fill the large rectangular pan about 3" deep.
Flour - You'll need enough to fill the large rectangular pan about 1" deep.
Cocoa powder - Enough for a dusting over the whole rectangular pan.
Marbles - I got a bag of those flattened marbles in the floral aisle at the Dollar Tree for $1.
Sharpies in a variety of colors - Much cheaper on Amazon than at Walmart
70% rubbing alcohol
A white t-shirt for each kid
June 20-24
What trees are in my yard/park/neighborhood?
How do my lungs work?
What is the water cycle?
Week Three Supplies
Printer paper
Empty 2-liter bottle - You're going to have to drink a lot of soda this summer, because we are going to use a lot of 2-liter bottles. Sorry in advance.
Large balloon
Modeling clay - You're going to use a lot of this over the summer. I'm not sure of the cheapest place to get it. Maybe the craft store? Colors don't matter; you'll mostly be using it to seal things together.
Ivory soap (at least 3 bars) - Must be Ivory name brand.
Empty cereal box
Paper clip
Rubber bands
Crayons
Leftover eggs from last week
Paper towels - You're going to need a lot of these throughout the summer, so get a couple of rolls.
Duct tape - You can get this cheaper at the craft store, but don't get it at Walmart. The rolls there are too small (even though they cost less, you won't have enough tape).
Cardboard
Scavenged items - Your kids will need a few other things, but you can let them scour the house on the day of the experiment. Gracie and Allie used cotton balls, plastic shopping bags, toilet paper tubes, balloons, and some coffee filters. I personally would have used a kitchen towel, but she didn't ask for my advice.
Pushpin - You can usually find these at the Dollar Tree store.
Quart-sized zippered baggie
Soil - You're not planting anything in it, so it doesn't have to be the good stuff.
Water
Packing tape - Scotch tape might work, but something stronger would work better. You can use your duct tape if you want.
June 27-July 1
Can you remove the chlorophyll from leaves?
How can you make a rocket fly from one end of the room to the other?
What kind of fingerprints do I have?
How do forensics officers collect fingerprints?
How can you tell time by the sun?
How do they keep the roads free from ice in the winter?
Does an egg sink or float?
Week Four Supplies
A white t-shirt for each kid
Big, green leaves, freshly picked
Rolling pin
Wax paper
Hammer
Straws
Balloons - The large balloons from week three will work.
Clear tape
String
Lotion - Anything will do as long as it lubes up your hands.
Cocoa powder
Soft paint brush or a makeup brush
Glass or mirror - could be a drinking glass
Cardboard
Pencils
Paint
Paint brush
Modeling clay
Ruler
Large blocks of ice - you'll need to make these before the day of the experiment. Look for some nice big containers, like leftover containers or recyclables. Make 2-3 per kid.
Tub, dishpan, or large bowl
1 cup salt
Food coloring
2 clear glasses
Spoon
Water
2 raw eggs
July 4-8
What different shapes and sizes of leaves can I find in my yard/park/neighborhood?
What breaks down fastest in a landfill?
Why does my diver sink in a bottle of water?
How does a wad of paper stay dry when I put it in a bowl of water?
What does DNA look like?
How do stalactites form?
What happens to paper in water?
Week Five Supplies - Don't be intimidated by the list of supplies for week five. There are a boatload of them, but almost all are things you already have at home.
2 empty 2-liter bottles
Potting soil
Plastic wrap
Aluminum foil - very small piece, like 1" square
Newspaper
Printer or other paper - 1" square
Fruit peel - save this from the trash. Something thinner would be better, like an apple or pear peel. Not a banana peel or avocado skin, those would not work as well.
Green leaves in a variety of shapes and sizes. Pick these on the day you need them, and go for special and interesting ones.
Heavy books - If you have any phone books, use them.
Lettuce - a small piece
Bread - a small piece
Dead leaf
Popcorn
Scissors
Small piece of styrofoam - Not sure what to tell you on this one. Do they still sell coffee at McDonald's in styrofoam? Or a packing peanut maybe?
Modeling clay
Plain white paper
Coloring supplies
Pen cap with a pocket clip
3 paper clips
Dishwashing liquid
Onion
Mixing bowl
Salt
Spoon
Sieve or strainer
Colored plastic - small piece, likely cut from a recyclable like a butter tub or sour cream container
Water
Large bowl
3 tall jars or glasses
Denatured alcohol - You can't do the DNA experiment without this. So either buy it or skip that experiment. I don't know if you can get it anywhere else; I didn't look for it. I would think it's probably available at hardware stores at least.
Baking soda
Small plate
Colored paper
Yarn - any old yarn will do, but I wouldn't use string. You need something chunkier than string.
Colored paper
Glue
Paper in a variety of thicknesses - newspaper, printer paper, construction paper, card stock (one or two pieces of each will suffice)
July 11-15
What can I make with leaves? (Okay, this one is more art than science, but it's using collected leaves, so go with it.)
How can I make a pipe cleaner balance on a string?
How much air is in my lungs?
How do crystals form?
What happens when you mix a gas and a liquid?
Week Six Supplies
Last week's pressed leaves
Colored paper
Glue
Clear contact paper or a laminator - I prefer the laminator and personally have and use the one I linked here. I love it a lot. But contact paper is cheaper, especially if you aren't going to use a laminator outside of this activity.
Long piece of yarn
Cardboard
Two coins
Clear tape
Pencil
Modeling clay
Pony beads - You probably only need 50 for the whole summer, but I don't think they come in packs that small.
Empty 2-liter bottle
Large bowl
Water
White sugar
Mixing spoon
Pot holders
Very clean glass jar
Pencil
Clean yarn/string
Paper towels
Clear tall jar
Vegetable oil
Food color
Funnel if the jar has a small opening
Alka-Seltzer - You could probably use about 10 tablets, but if your kids love this experiment, you could easily go through a box of 24.
Small cup
Knife
July 18-22
What are the parts of a flower?
Why do I feel funny when an elevator starts to move?
Can you remove the shell of an egg without breaking it?
How does rain fall through a cloud?
How do currents form in the ocean?
Why do some things float and some sink?
Week Seven Supplies
Several different flowers
Sharp scissors
Green colored paper
Another color paper
Clear tape
Bendy straws
Tall clear glass
Water
Index card or postcard
Empty toilet paper roll
4 raw eggs
3 glass jars
Light corn syrup
Vinegar
Large clear jar (widest mouth possible)
Shaving cream
Food color
Ice cube tray
Large clear bowl or small, empty fish tank
Microwave-safe cup
Vegetable oil
Dish detergent
Rubbing alcohol
Lamp oil - This should be available in larger stores. It won't make or break the experiment, so you could skip it if you want.
Honey
Tall glass cylinder or vase
Seven small cups
July 25-29
What do worms do to the soil?
What sticks to a magnet?
How does my eye see colors?
What is in rainwater besides water?
What does it mean when they say that water is sticky?
How can water move from one glass to another if I don't pour it?
Week Eight Supplies
2 empty 2-liter bottles
2-3 earthworms (living, please)
Soil - use the soil that you found the worms in
Sand
Dead leaves
Water
Plastic wrap
Black paper
Ruler
Scissors
White paper
Colored paper - yellow, red, and blue
Clear tape
Paper clip
Pushpin
Paper towels
White glue
Liquid starch
Disposable bowl
Disposable spoon
Airtight jar
Large cup
Coffee filter - You need a round one big enough to cover the large cup.
Rubber band - Big enough to put around the top of the large cup.
Food color - yellow, blue, red
6 clear cups
August 1-5
What does an ecosystem need to survive?
How do airplanes fly?
Can a bone bend without breaking?
What happens when you cool off a gas?
How can this be solid and liquid at the same time?
Week Nine Supplies
Empty 2-liter bottle with cap
Scissors
Pebbles
Sphagnum moss
Egg shells
Potting soil
1-2 small plants - Most garden centers have a section of terrarium plants that will work nicely. You want something that is very small and slow growing.
Water
Hot glue
Clean, dry bottle with a mouth slightly smaller than a hard boiled egg
Hard boiled egg
Matches - A lighter won't work here.
Cardstock
Clear tape
Pencil
White or colored paper
Hole punch
Large rubber band
Glass jar with lid
Vinegar
Chicken bones
Corn starch
Large bowl
August 8-12
Can plants grow without seeds?
Can materials ever defy gravity?
Can you taste without saliva?
How does the wind create power?
Which common liquids are acids and which are bases?
Week Ten Supplies
A couple of the following:

Lettuce or cabbage leaves - the base of a bunch with the root end still attached
Celery bottom
Avocado pit
Potatoes with eyes
Sweet potato
Ginger root
Pineapple top
Garlic cloves
Green onion bottoms (the white part with the root attached)
Fennel bottoms (again, the bottom with roots attached)
Carrot leaves with a bit of carrot still attached
Beet leaves with a bit of the beet still attached

3 pounds tube shaped pasta, uncooked
Large spool of thin ribbon
A large bowl
Salt
Sugar
Cracker
Potato chip
Water
Brightly colored paper
Modeling class
Bendy straws
Paper clip
Clear tape
String or thread
A whole head of red cabbage - you could save the bottom end for the above experiment
Slow cooker
Strainer
Sturdy white paper towels
Liquids to test

Apple juice
Lemon juice
Orange juice
Dishwashing soap
Laundry detergent
Hand soap
Soda
Baking soda mixed into water
Potato slices
Apple slices
Sugar water
Window cleaner
Rubbing alcohol
Toothpaste
Spit
Any other liquids you might have - You don't need all of them, 5-10 will be fun.
August 15-19
How does the shape of a leaf protect it?
Can you cook with sunlight?
What does yeast do in a recipe?
Are crystals always big like rock candy?
Week Eleven Supplies
Cardstock
Bendy straws
Clear tape
Water
Scissors
Leaves of different shapes and sizes
Pringles or similar can
Clear sandwich bag
Skewer
Large marshmallow
Sugar
Dry yeast
Flour
Salt
Butter
Milk
Grated cheese - optional
Large bowl
Epsom salts
Dishwashing detergent
Rubbing alcohol
Spoon
Paintbrushes
Very clean glass 9x13 pan
Heavy cream or whole milk
Sugar
Vanilla extract
Crushed ice
Salt
Gallon-sized zippered bag
Quart-sized freezer bag
Looking for more science fun?
Check out these awesome titles from my Usborne Books store: