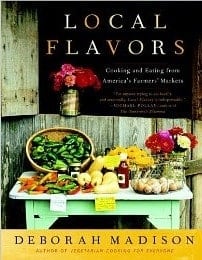 PinSince I read Animal, Vegetable, Miracle a couple of years ago, I have been committed to eating local food.
We ate a lot of fresh foods before that (especially from our own garden), but had never considered the long-term implications of eating food grown thousands of miles away. The author talks about problems with greenhouse gases created by transporting food over great distances, in addition to the decline of smaller family farms due to the rise of giant company farms. By eating local, she says, we can support our community's farms and farmers and improve our own health as we consume foods from our local environment.
Now, at least half of my family's food is locally grown, even more than that in the summer.
Local, in-season foods are healthier, tastier, and almost always cheaper than their long-traveling and out-of-season counterparts.
I was talking about seasonal foods on Twitter this week, and a few people mentioned getting stuck in a veggie rut, using the same old recipes until they were just sick of the monotony.
When you have a recipe that just works, it's so easy to get into that routine.
This year, try some new preparation methods and recipes. Here are my favorite books and web sites for preparing seasonal foods.
Books that Will Help You to Make the Most of Seasonal Foods
Recipes that Will Help Make the Most of Seasonal Foods
If you've never eaten local foods, you are in for a real treat. Local foods are picked closer to the time of eating which makes them sweeter and more flavorful as sugar content decreases the longer foods sit. They taste better because they ripened on the plant as opposed to being artificially ripened. They're also healthier as nutritional content decreases over time the longer produce sits. So even if fossil fuel consumption is not an issue for you, the quality of the food is so much better when it's closer to the garden.
Some big grocery stores (like Giant Foods and Wegman's in my area) are starting to wise up to the local food connection and purchase and display locally grown produce. This is a big start, but it still involves the purchase of foods from factory style farms rather than community mom and pop type places. If the grocery store is all you can manage, by all means, buy your local foods there. But if you have the means, seek out a smaller family-run farm for your family's produce, meat, and dairy needs.
Here in central Pennsylvania, we have purchased from Strite's Orchard in Harrisburg, Spiral Path Farms in Perry County, RowanTree Farm in Mechanicsburg, Jade Family Farms in Juniata County, Apple Valley Creamery in East Berlin, and a variety of local butchers and farmers.