Grace resists taking naps these days. She's just so over all that baby stuff.
Nonetheless, she gets very tired some days. Don't we all?
Once in a while, I can convince her to lay down in my bed – with me and Allie – so that we can encourage Allie to take a nap.
Allie really resists taking naps; she always has. So, the three of us lay in my bed, pull up the covers, read a story or two, and then we are quiet and still for fifteen minutes. Most of the time, quiet and still turns into a little snooze.
One day last week, I tried to get Allie to take a nap all afternoon. She was so tired that her eyelids drooped every time I held her close. She was exhausted.
Finally, around 3:15, I enlisted Grace, who wasn't acting tired at all, to help me out by laying down next to Allie in my bed. She was happy to oblige me, choosing a couple of books and heading for my bedroom. We read her Christmas stories, cuddled under the blankets, and we were all quiet and still.
Exactly three minutes later, Grace was asleep. When Joe came home fifteen minutes later, Grace was snoring, and Allie was babbling and laughing and trying to attack the cat.
Joe took Allie to her dark bedroom (hooray for black out curtains), and they took a nap together.
Two hours later, everyone was still quiet and still.
I replied to emails, wrote blog posts, and made a productive afternoon for myself.
Nobody made dinner.
The whole crew woke up just a few minutes before 6, hungry and ready to eat.
Nobody had even made plans for dinner.
Fortunately, we still had some turkey left over from Thanksgiving, and we had the ingredients (more or less) to make these quesadillas. We threw them together in a few minutes, and they tasted great.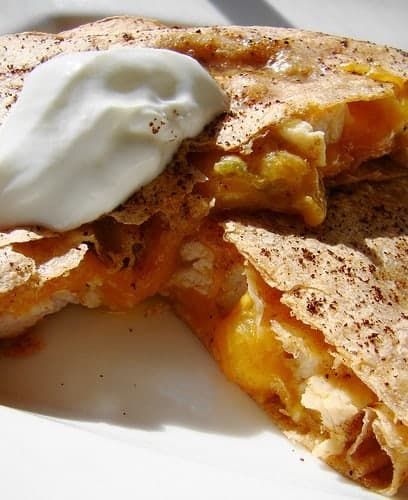 | | |
| --- | --- |
| | |
In a shallow microwave-safe bowl, combine the turkey with the fajita sauce, tossing to coat.

Cover the bowl with plastic wrap, leaving one side open a bit.

Microwave until heated through, around 2 minutes.

Either use a quesadilla maker or follow the following instructions to make your quesadillas on the stove.

Heat a bit of olive oil in small saute pan over medium heat.

Place one tortilla in the pan.

Sprinkle 1/4 cup of cheese over the tortilla, and heat until the cheese is melted and the tortilla is brown.

Remove from the pan and set aside.

Place a second tortilla in the pan.

Sprinkle with another 1/4 cup of cheese, then 1/2 of the chicken, tomatoes, avocado, black olives, beans, and corn.

Top with the second tortilla, cheese side down.

Heat the whole thing for a minute or two, until the cheese is melted and the tortilla is browned.

Cut in quarters to make 4 wedges, and serve with a dollop of sour cream.

Repeat with the other 2 tortillas.
I am working as a Blogger Advocate with Mizkan. I was compensated to write about Mizkan products, including World Harbors Marinades and Sauces. All opinions are my own.
© 2011 – 2019, Tara Ziegmont. All rights reserved.