This is one of those recipes that I'm ashamed to post. It's too easy to count as a recipe. Last week, I traveled to Utah to participate in some staff meetings for AboutOne. While I was there, I learned of my coworkers' affinity for a certain flavor of non-dairy creamer. Not a coffee drinker, I would never have tried the creamer. Working remotely, I would never have become aware of my friends' obsession for the stuff. I laughed as a local coworker shuttled a visiting coworker around Bountiful, Utah, in search of the magical flavor. I could not find any hot chocolate mix in our otherwise splendid hotel (free chocolate chip cookies at the front desk 24 hours a day!), or I might have tried the creamer myself. Having forgotten all about the peppermint mocha creamer, I spied a display of hot chocolate and mini marshmallows at the grocery store after church yesterday. I found the cheapest variety of milk chocolate cocoa, grabbed a bag of mini marshmallows, and headed for the dairy case. I found a couple of different brands of peppermint mocha creamer, so I picked the cheapest one of those, too. We always do something to make lunch special on Sundays. Yesterday, it was the peppermint hot chocolate. While I boiled water, Joe emptied one hot chocolate packet into each of our mugs. Grace filled the mugs part way with mini marshmallows, and I poured in the water.
After the mix was dissolved, I added creamer to each cup. I don't have any idea how much; I just poured until the cup was full.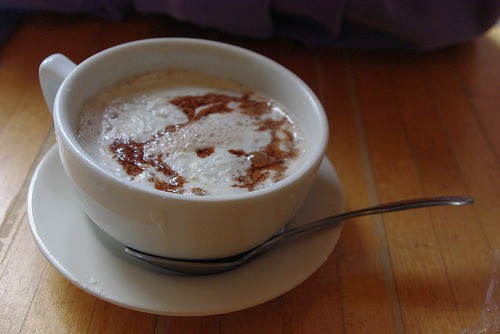 My first sip was tentative. I thought I didn't like the concoction. A second sip followed, and then a third. I liked it. I daresay it was delicious. Trying hard to set a good example, I stopped at one mug full. I think after the kids are in bed, I'll have another.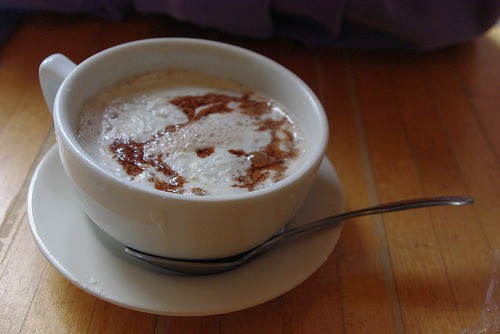 | | |
| --- | --- |
| | |
Empty a packet of hot cocoa into a large mug. Add a handful of mini marshmallows.

Pour boiling water into the mug until the mug is about 3/4 full.

Stir until the cocoa mix is dissolved.

Pour in creamer (and alcohol, if you're using it).

Drop in a candy cane, stir, and serve.
© 2011 – 2018, Tara Ziegmont. All rights reserved.