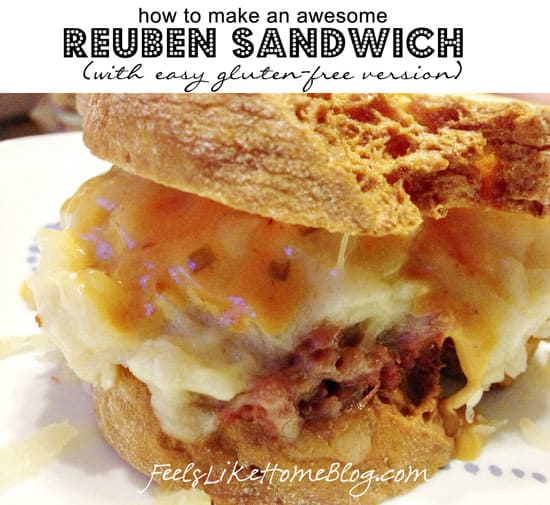 When I was a kid, my mom made Potato Pancake Reuben Sandwiches. I don't know how she made the potato pancakes, but we always had potato pancakes instead of bread in our reubens. I remember eating them often; they're a favorite of both my sisters, too.
After helping her father to prepare reubens one day last week, Grace came downstairs and announced, "I can just taste that reuben sandwich in my belly! I LOVE reuben sandwiches!"
I was delighted, especially since she's grown quite picky in her old age.
Approximately 1/4 of Grace's reuben sandwich ended up in her belly, which is a decent amount for her bird-like appetite.
Allie picked the guts of out her reuben, leaving her bread uneaten, but made up for it by eating part of my corned beef.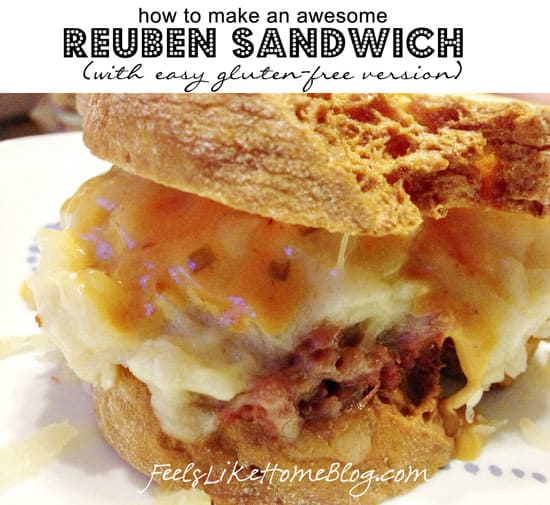 | | |
| --- | --- |
| | |
Open the can of corned beef, dump it into a sauté pan, break it into little pieces, and cook until it's browning and heated through.

Assemble the sandwich - a piece of toasted bread, a healthy scoop of corned beef, a healthy scoop of sauerkraut, a slice of Swiss cheese, a healthy squirt of Thousand Island dressing, and the other piece of toasted bread (although Joe and I have lately been eating our reuben sandwiches open-faced, because they have fewer calories that way).

Pop the sandwich in the microwave for 45-60 seconds or until the sauerkraut is heated and the cheese is melty.
I want to thank Udi's Gluten-Free for sending me a care package of gluten-free goodies. When they heard I was trying a gluten-free diet, they sent me two loaves of gluten-free bread, some gluten-free bagels, gluten-free brownie bites, and gluten-free chocolate chip cookies.
You have to store most gluten-free baked goods in the freezer; they don't last very long on the shelf. The bagels are still in the freezer, but I've really enjoyed both of the loaves of bread.
Before I was gluten-free (like more than a year ago), I sampled some Udi's Gluten-Free products. I thought they were awful.
I'm being totally honest here. Gluten-free bread is much heavier and has a completely different texture than regular bread.
If you're eating them side by side, you probably will not be pleased.
In January, after being gluten-free for well over a month, I had a sandwich on gluten-free bread, and I was really happy with it. It was close enough to the old stuff, and that's all that really mattered to me.
Being gluten-free is something I need to do for my health, and Udi's Gluten-Free products allow me to do that without sacrificing foods I used to love.
Udi's Gluten-Free bread (My favorite so far is the ancient grain millet chia, because I like bread that's full of seeds and such. I also tried the white sandwich bread, and it was good.) allows me to have grilled cheese, reuben sandwiches, meatball sandwiches, even a plain old ham and cheese sandwich with pickles. I am thankful for the normalcy.
And those chocolate chip cookies and brownie bites? Those didn't last long enough to need to be frozen. I was expecting them to be bad, but they were oh-so-good. Yum.
I don't know how they compared to glutenous goodies, because I wouldn't allow anyone else in the house to have one. 🙂
Connect with Udi's Gluten Free on Facebook or Twitter.
What do you like to put on your reuben sandwiches?
© 2013 – 2018, Tara Ziegmont. All rights reserved.