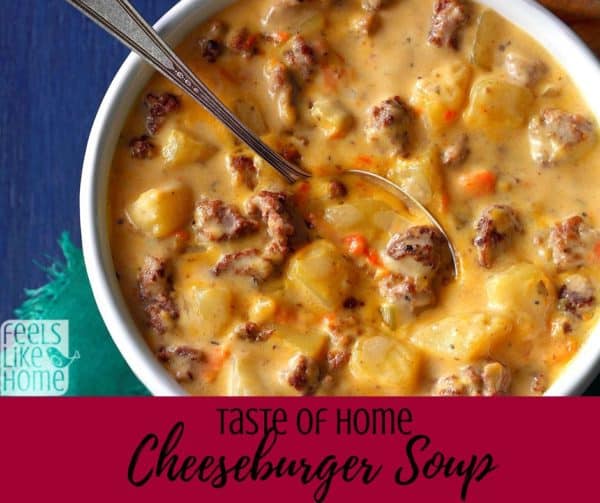 Once a month, we get together with our good friends and eat spend the day enjoying each others' company. It's always a long, laughter-filled day of eating.
This month, my friend Linda (who, as you may have noticed, gives me most of my best recipes), made Cheeseburger Soup. I was expecting the soup to be a ketchup and mustard laden dish with pickles. It was not at all pleasing in my brain.
Nonetheless, I was hungry, and I asked if I could try some. Oh my. It was amazing.
The soup turned out more like a spicy potato soup than a cheeseburger soup. It's so very good.
Even Grace liked it. She ate my entire first bowl.
I had two little bites.
It is filling, though, and that one bowl was enough for her.
I was able to enjoy my second bowl in relative peace.
I can also report that this soup reheats nicely as I ate the leftovers on Monday night.
Note (2017) – We have made this soup at least monthly since the time I posted the recipe in 2009. It's one of our most favorites. Joe takes it to every soup and recipe contest, and he almost always wins because everyone loves this soup.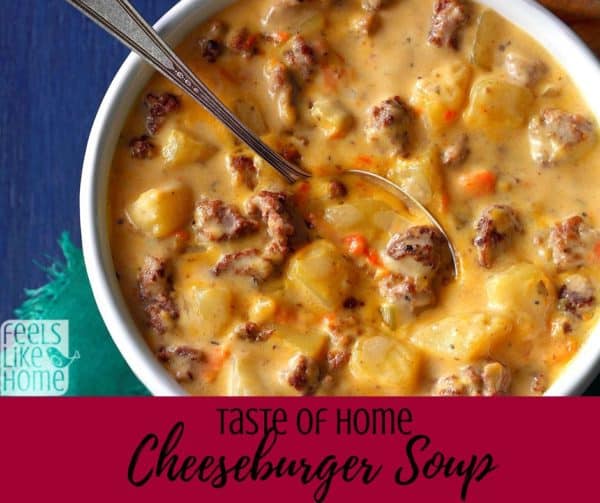 | | |
| --- | --- |
| | |
In a 3-qt. saucepan, brown beef; drain and set aside. In the same saucepan, saute onion, carrots, celery, basil and parsley in 1 tablespoon butter until vegetables are tender, about 10 minutes. Add broth, potatoes and beef; bring to a boil. Reduce heat; cover and simmer for 10-12 minutes or until potatoes are tender.

Meanwhile, in a small skillet, melt remaining butter. Add flour; cook and stir for 3-5 minutes or until bubbly. Add to soup; bring to a boil. Cook and stir for 2 minutes. Reduce heat to low. Add cheese, milk, salt and pepper; cook and stir until cheese melts. Remove from the heat; blend in sour cream.
Linda served her soup with a fresh bread. The bread was splendid dipped into the soup.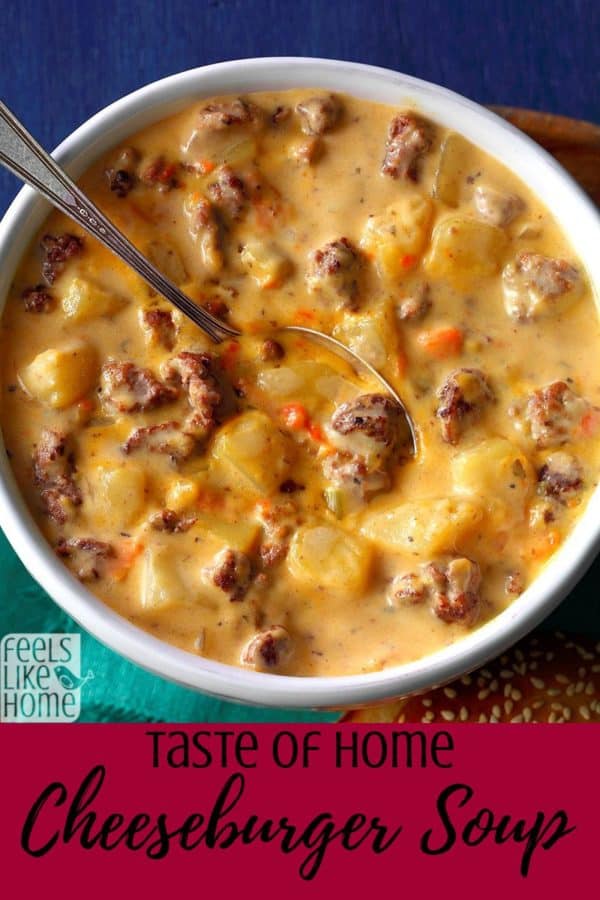 Photo courtesy of Taste of Home

© 2009 – 2018, Tara Ziegmont. All rights reserved.