This recipe includes homemade enchilada sauce. You can, of course, use a can of pre-made enchilada sauce, but it will not be as flavorful or delicious as the homemade. I promise.
The homemade enchilada sauce takes about ten minutes to prepare, and it will make your enchiladas so very delicious.
© 2016 – 2019, Tara Ziegmont. All rights reserved.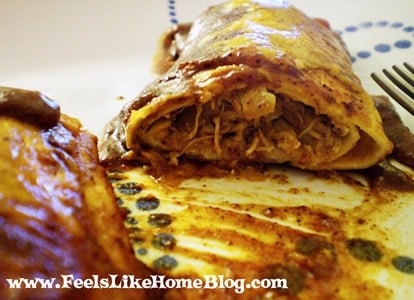 | | |
| --- | --- |
| | |
Mix BBQ sauce with the enchilada sauce.

Remove 1/2 of the BBQ enchilada sauce and pour over the shredded chicken. Sprinkle BBQ seasoning, onion powder (or onions), cayenne pepper, and about half of the shredded cheese over and mix thoroughly.

Spread a spoonful of BBQ enchilada sauce in the bottom of a 9x13 pan.

Using a measuring cup or scoop, add 1/3 cup of the chicken mixture to a tortilla and wrap. Repeat with other 7 tortillas.

Spoon the rest of the BBQ enchilada sauce over the top of the enchiladas, then sprinkle with the rest of the with shredded cheese.

Bake at 350 for 20 minutes. Everything is cooked, so you're just crisping up the tortillas and melting the cheese.
For a bariatric portion, I reserve 5 ounces of the chicken mixture from the tortilla wrapping process, and I eat that portion of chicken topped with 1/2 ounce of shredded cheese, an extra spoonful of enchilada sauce, and 1/2 avocado.