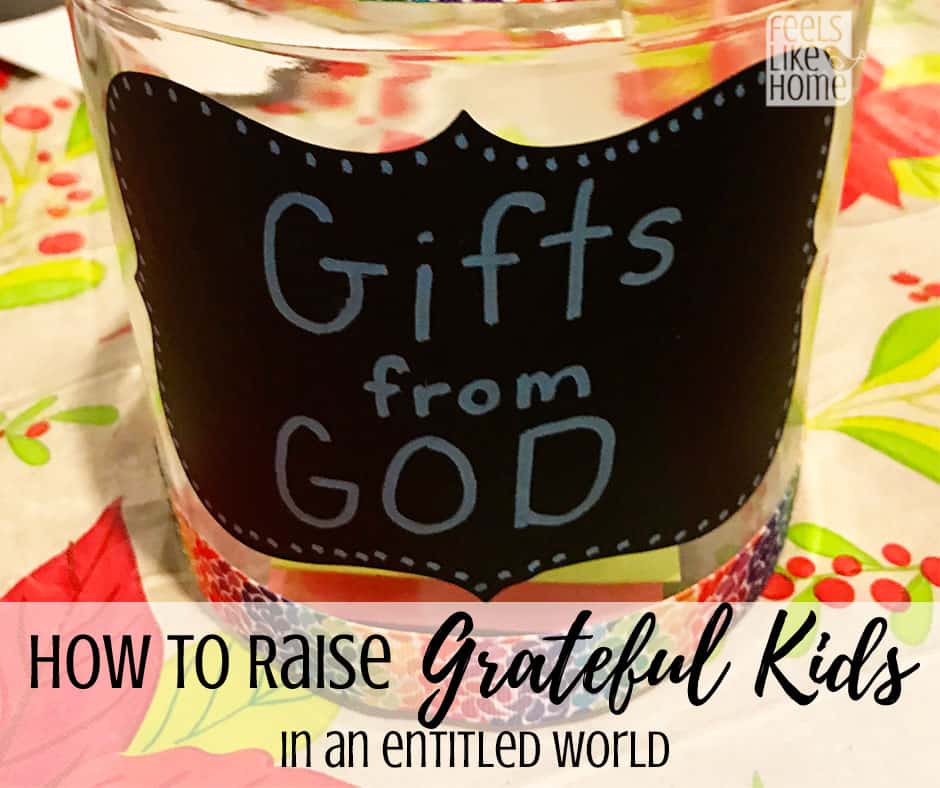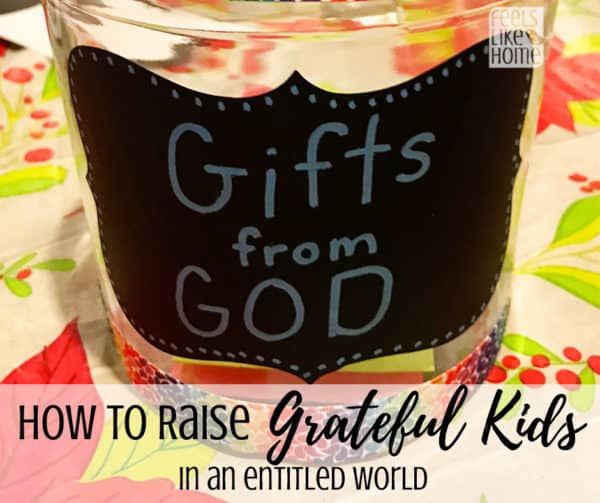 Pin
The Christmas hangover is hard for kids - and for adults. After weeks and weeks of thinking and talking about all the bounty that Santa will provide, kids spend an hour (maybe less) opening the gifts, and then – nothing. If your kids are like mine, they will play with their new gifts for a while, but then, what is left to look forward to?
Their birthdays? The next major gift-giving holiday? Next Christmas?
Grace is not so bad anymore, but Allie (who turned 7 December 28) is all about the gifts. Immediately after opening her Christmas gifts, she started making a wish list for her birthday. And then she spent all the Christmas money she'd been given.
It's annoying and ungrateful and the opposite of what I want for my kids.
Allie has cried 3 times in the last 36 hours about the fact that her sister got a new screen (a Kindle Fire) for Christmas, and she didn't get a new screen.
Even though she received many hundreds of dollars' worth of toys and goodies, all of which she asked for and really wanted and was delighted with at the time.
Even though she has more toys and clothes and dolls than any other kid I know, including her sister.
Even though Joe gave her his old iPhone about six months ago. (And it was so important to her that she lost it somewhere in the house about two weeks later.)
As annoyed as I am with her tantrums, I know the feeling because I fall prey to those feelings myself sometimes. I was a shopping fiend on our recent Disney cruise, buying much more than we could afford or was prudent. It was so bad that we had to buy 3 suitcases at Walt Disney World so that we could cart home everything I got.
Admitting the problem is the first step to recovery, right?
It says in the Bible:
The Lord is my shepherd, I have everything I need. Psalm 23:1
I have memorized this verse and repeat it to myself many times a day because the temptation to shop is just. too. strong. for me to overcome by myself. I need divine intervention, moment by moment.
While I am well aware that there are children in America and around the world who don't have everything they need, I am betting that your kids are pretty well off. They have food and clothing and shoes and a warm home and the love of family. They have a lot of things they want, too, like toys and books and the coolest gadgets.
So how do we encourage them to be grateful for all these blessings instead of always looking to the newer and better shiny object? (And how do we encourage this in ourselves?)
My newest strategy, which has been on my radar for a couple of years but never seemed so necessary as now given Allie's Christmas fits and my own shopping binge, is to make a gratitude jar.
The jar - which ironically required me to purchase a few supplies - was super simple to put together. I'm planning to store it on my dining room table, right in the middle where everyone will see it and be inspired to write in it. But I'm getting ahead of myself.
How to Make a Gratitude Jar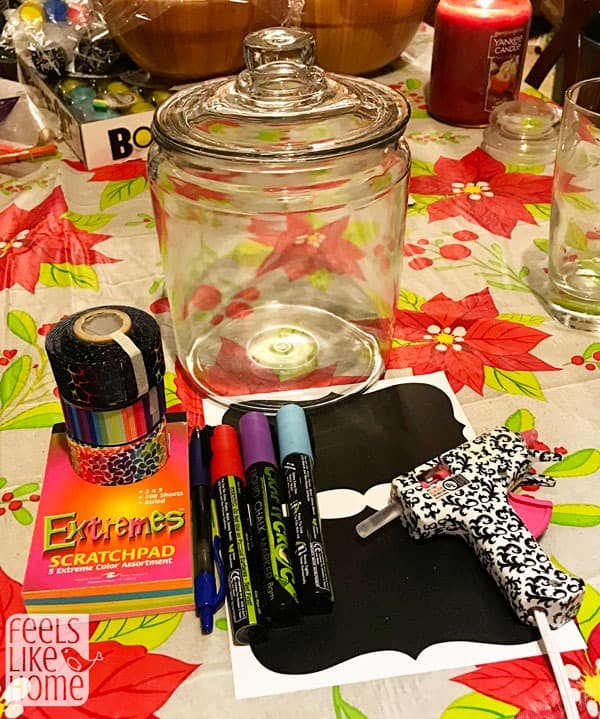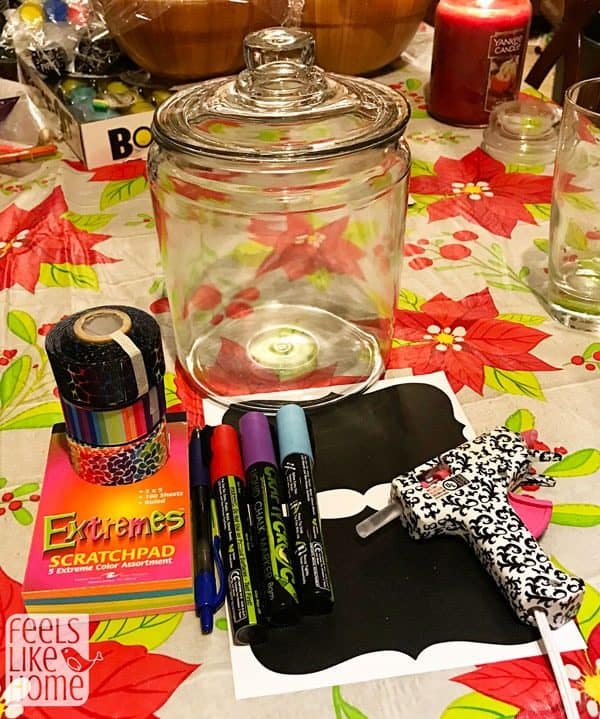 Pin
Materials
Instructions
This project is so easy, I hesitate to call it a craft.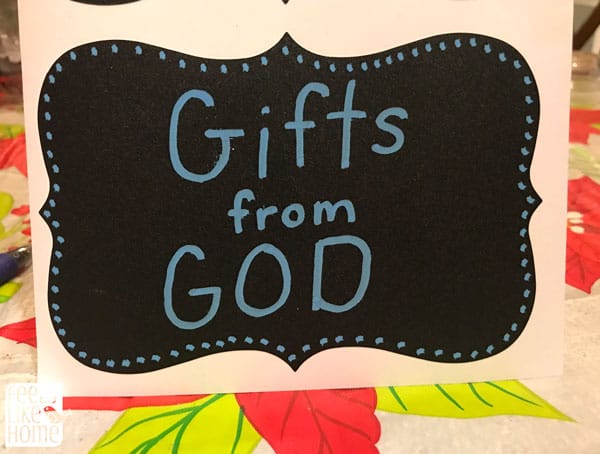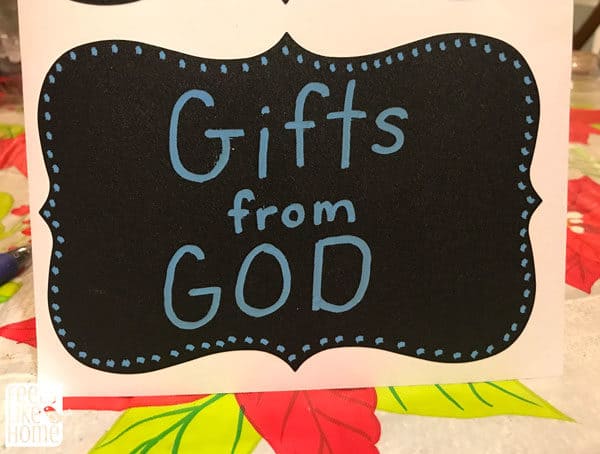 Pin
Make a label for your jar using the chalk markers. I chose "Gifts from GOD", but you could use anything you want. I included a few suggestions below.

It is not happy people who are thankful, but thankful people who are happy.
There is always, always, always something to be thankful for.
Be thankful for what you have; you'll end up having more. If you concentrate on what you don't have, you will never, ever have enough. -Oprah Winfrey
I'm thankful for every moment.
Eat, drink, and be thankful
Give thanks in all circumstances. 1 Thessalonians 5:18
Oh give thanks to the Lord, for he is good, for his steadfast love endures forever! Psalm 107:1
The Lord is my shepherd; I have everything I need. Psalm 23:1
Giving thanks always and for everything to God the Father in the name of our Lord Jesus Christ, Ephesians 5:20
Oh give thanks to the Lord; call upon his name; make known his deeds among the peoples! Psalm 105:1

Decorate the label. If you have a nice selection of chalk markers, you can make some simple lines or dots around the edge to pretty it up a bit.
Hot glue some ribbon around the jar and lid.
Tie the pen to the jar with a string long enough to comfortable write on the note paper.
Set the jar on the table with the pen and note paper next to it.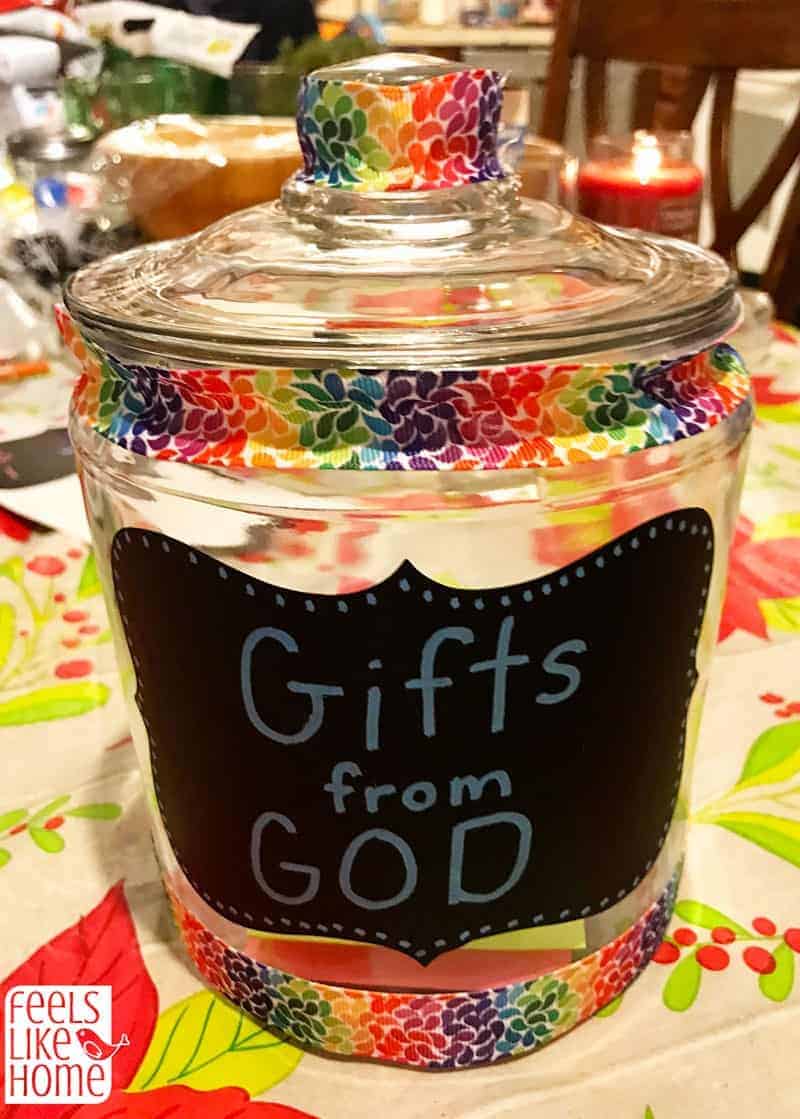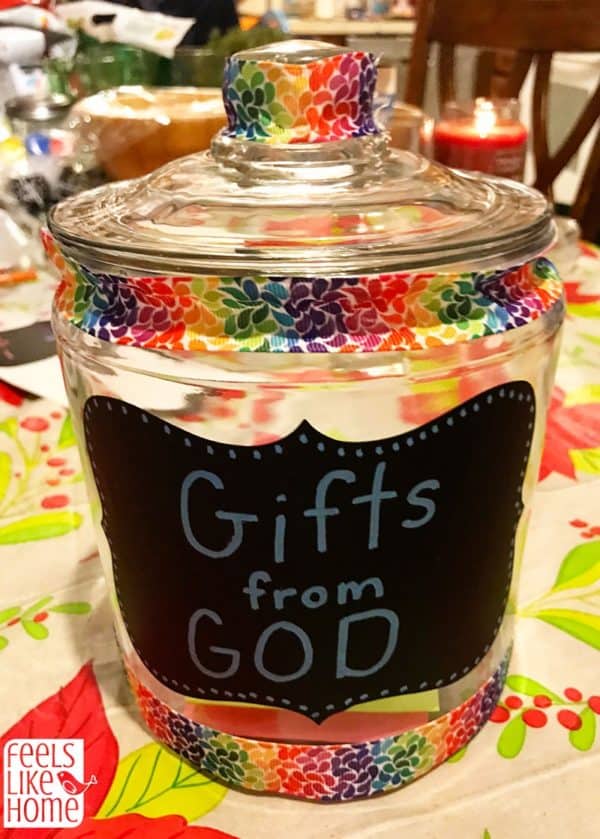 Pin
How to Use a Gratitude Jar
First of all, consider the name of your jar. I don't think the word gratitude carries much weight with kids because they don't really know what it means. You could call it a Thankful Jar or a Blessings Jar or even your Warm Fuzzies Jar if they know what that means.
Gather your family together and read this to them:
Every time something good happens to you, write or draw it on a slip of paper and drop it into our jar. Some things you might write down include:

Gifts from God
Moments that make you smile
Surprises
Gifts you like
LOL moments
Memories you want to savor
Accomplished goals
The beauty of the world around you
Daily blessings

Any time you're having a bad day, you can open the jar and read some of the good things that have been happening in our family, and it will brighten your mood.

If you have non-readers, encourage them to draw a picture or find someone who can scribe for them.
A Last Word on Gratitude Jars
Brené Brown, whose voice rattles around in my head sometimes, says "What separates privilege from entitlement is gratitude." and that is exactly what I want for my children. They are privileged. They have so much, such good and rich and wonderful lives, and I want them to be grateful to their dad and me, to their extended family, and to God for all the blessings they've received. I don't want them to feel entitled. (Does anyone say, "Gee, I wish my kids would be more entitled." ?!?)
She also says, "I don't have to chase extraordinary moments to find happiness - it's right in front of me if I'm paying attention and practicing gratitude." This is another thing I want for my kids - a sense of lasting happiness and joy in their lives. I want them to be present in their everyday moments, not numbing out with a screen (current pain point) or with food (as I did for years).
Finally, Brené also said, "I never talk about gratitude and joy separately, for this reason. In 12 years, I've never interviewed a single person who would describe their lives as joyful, who would describe themselves as joyous, who was not actively practicing gratitude." and this is the quote that I remember most often. I have not always been joyful. To be perfectly honest, it comes and goes for me. But the lasting happiness I mentioned about is most often described as joy especially in Christian circles.
Christians are called to be joyful.We aren't getting what we deserve; we have eternal life in Christ Jesus through divine grace. And yet, none of this joy happens except when we are being thankful.
There's more to it than just feeling thankful though, and Brené Brown talks about that in one of her books. (I've read them all and can't remember which one it was in, and I couldn't find a published quote on this.) She talks about how you can't just be thankful. You have to act thankful. You have to do something with it. You can pray your gratitude or meditate on it or write it in a gratitude journal, as I have done in the past. Or you can write it on a slip of paper and stick it in a jar.
I have not always been good about following through on my gratitude practices, and that has had all kinds of consequences in my life. But I am hopeful that this constant reminder in the middle of my dining room table will lead me to remember and to prompt my family to contribute. I'll update in a few months and let you know how it's going.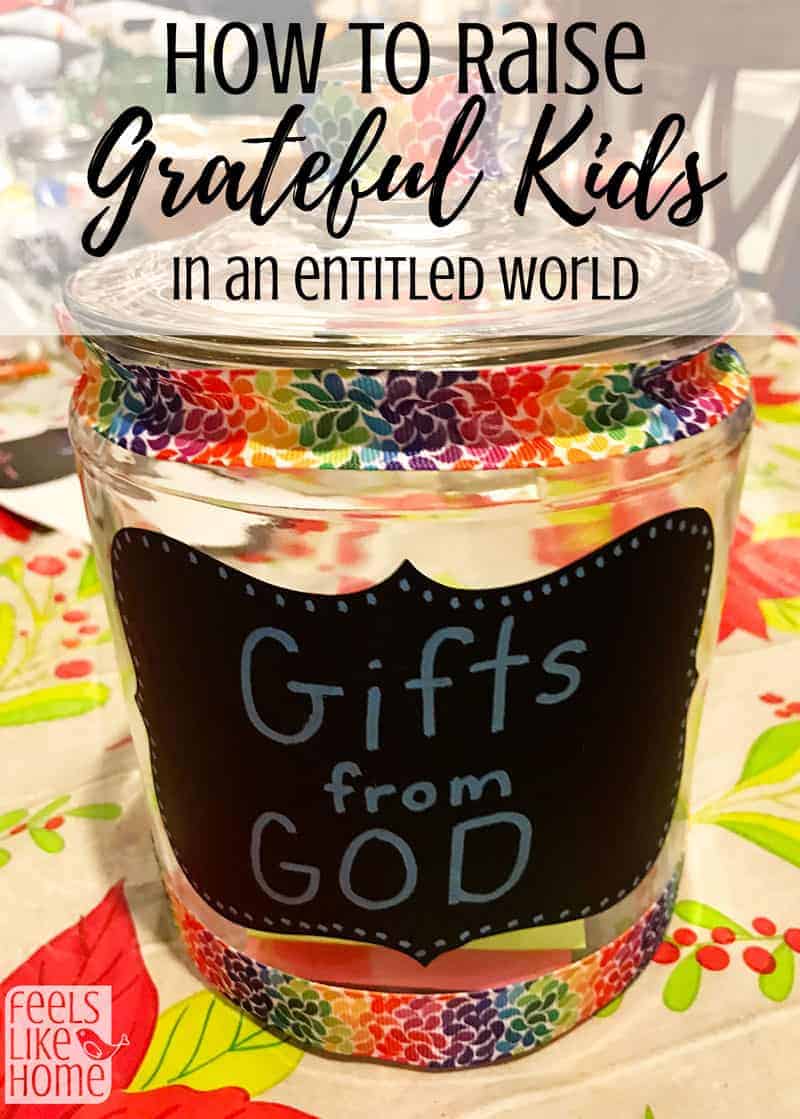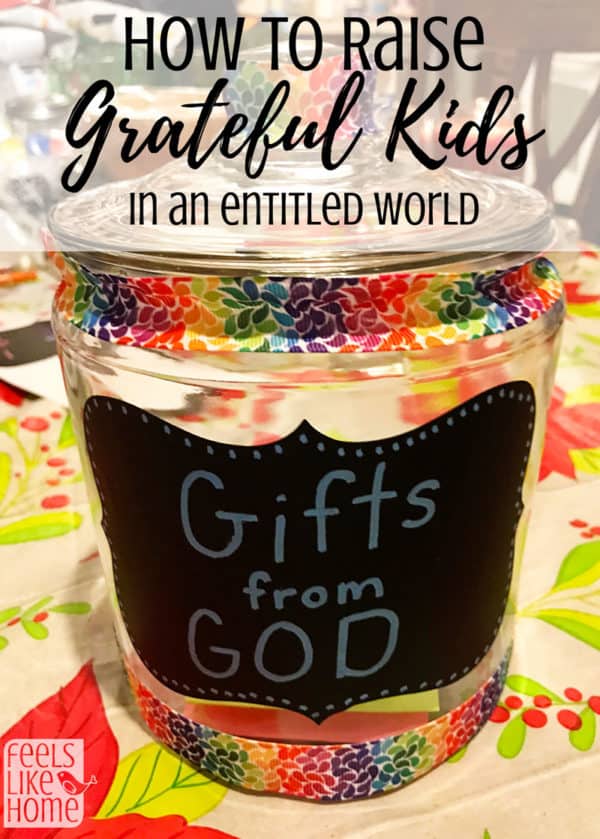 Pin