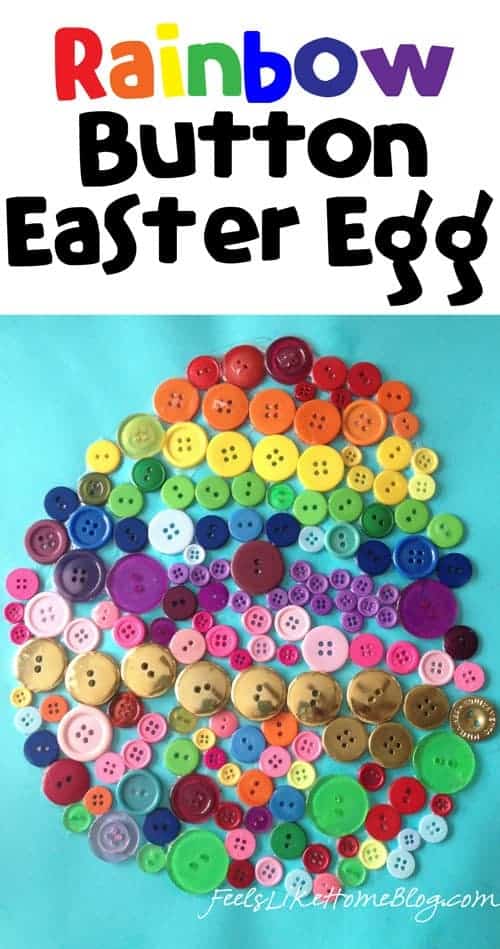 Pin
Sometimes, when Grace and I are really lucky, Allie meanders down the steps after lunch, lays down on our overstuffed chair, and falls asleep.
I say it happens only when we're lucky because - although we love her madly - Allie can be a veritable distraction when Grace is trying to get her schoolwork done. She's a little past the halfway point of first grade, and she is getting in to new topics, things she doesn't already know. She needs to focus.
I suppose you could argue that I need to do a better job of occupying Allie while Grace is learning, but that would require me to be in two places at once, simultaneously entertaining Allie (who demands my full attention) and teaching Grace (who sorta needs my full attention).
So. Grace and I consider ourselves lucky when Allie falls asleep watching Dora after lunch. It gives us a break long enough to get schoolwork done and having a little Momma-Gracie time to do a craft, bake something, or play for a few minutes.
This may disqualify me from the Super Mom club, but so be it.
I'm glad when she falls asleep.
(Are you feeling better about your own parenting now? Every single parent on the planet is happy when her toddler takes a nap.)
Back to our craft.
Some weeks ago, Grace and I ran across this button egg printable on Pinterest (where else do we find crafts nowadays?).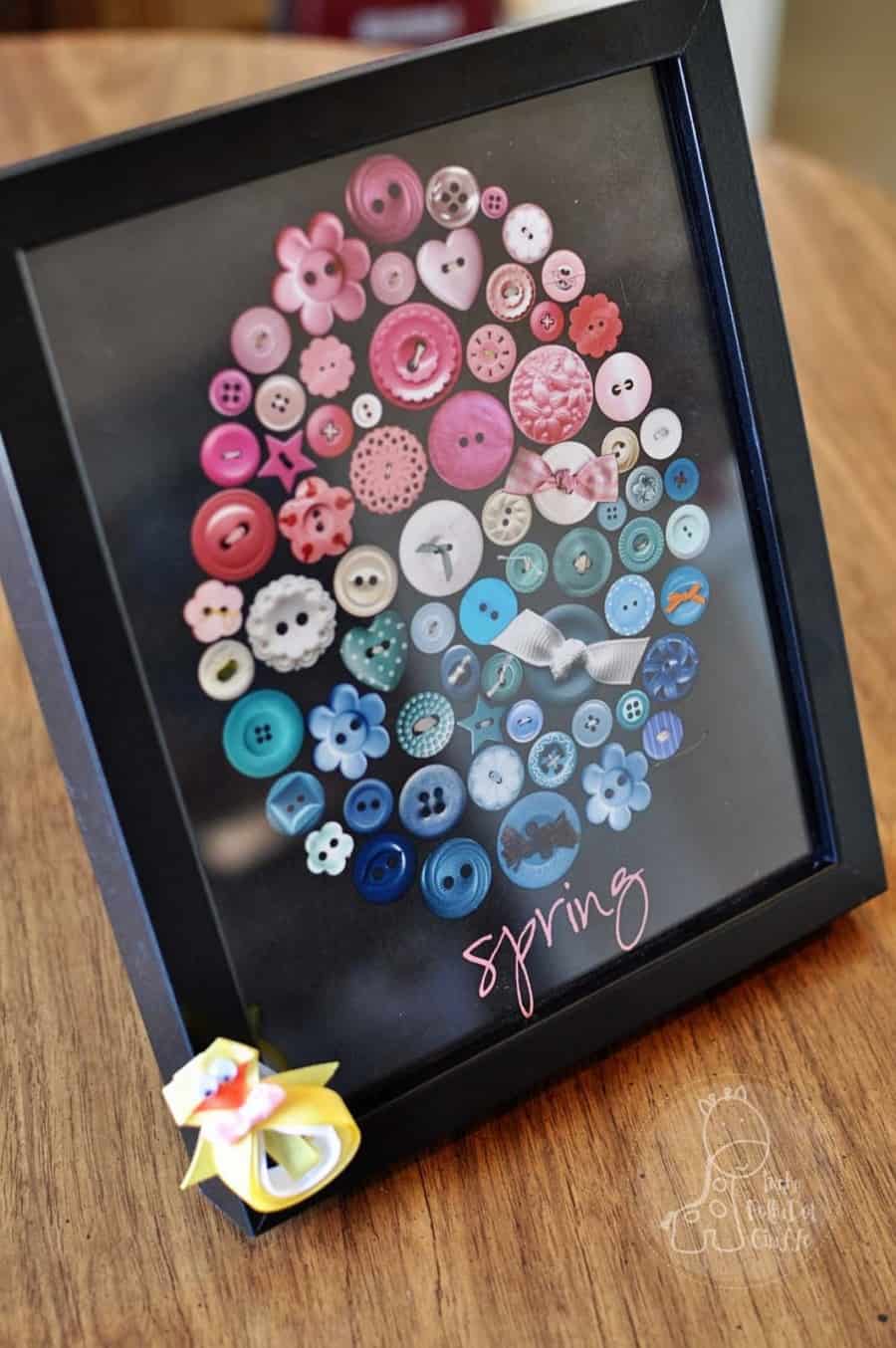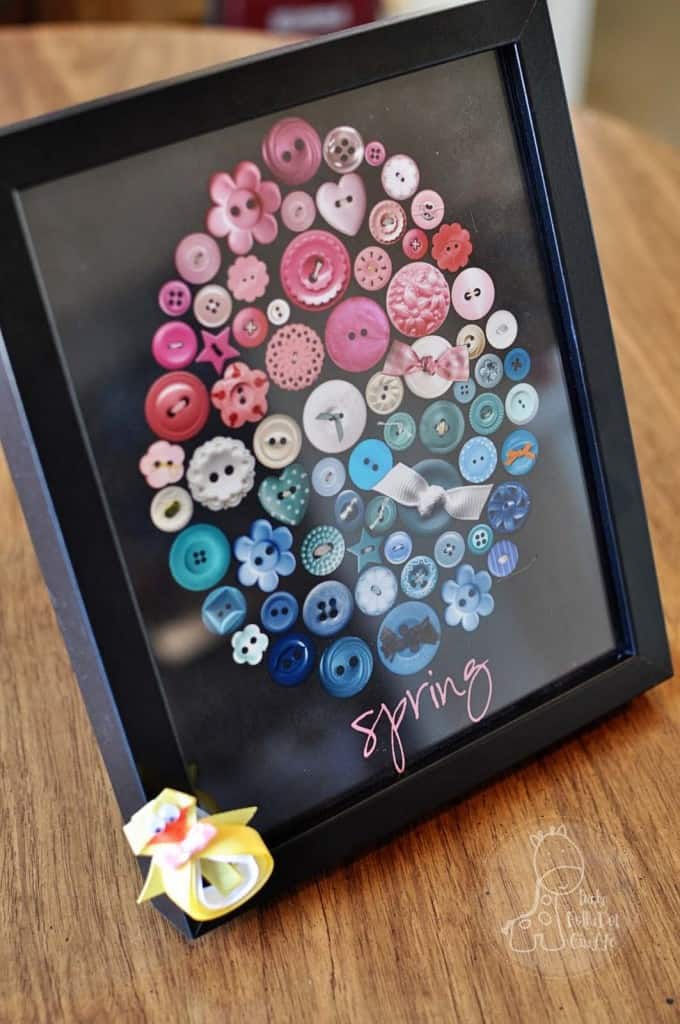 Pin
Isn't that pretty? We thought so.
Of course, Grace decided that she wanted to make her own button egg. (Don't dare suggest printing out the pretty craft to a 5-year-old with a mild glue obsession. That would be tantamount to heresy.)
Grace ran downstairs to find her giant box of 2 pounds of assorted buttons.
There is a fabric store in the Harrisburg area that sells buttons by the pound. We have gotten lost in that button vat many times, and we have treasures to reflect it.
Materials
I forgot to take a picture of the materials, but it's very easy.
A lot of buttons without shanks - important since they need to lay flat. 

Glue - We used "cow glue," otherwise known as plain old Elmer's.
A piece of thick cardstock - this is a heavy craft, so a regular piece of computer paper wouldn't hold up very well.
Making the Rainbow Egg
I have no idea how big that printable is, but Grace thought it looked like a full sheet of paper. She asked me to draw her an egg on a piece of paper, so I did. I'm not an artist extraordinaire, and my egg is pretty lopsided.
Grace didn't notice.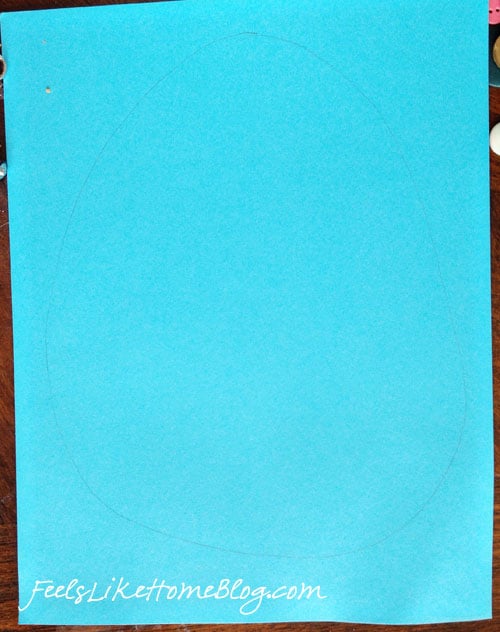 Pin
Grace wanted to make her egg a rainbow (Are all 5-year-olds obsessed with rainbows?), so we dumped all the buttons out of the giant box and began sorting them into colors.
When she'd found 4-5 of each color, Grace decided that she had enough buttons and was done.
We had to have a discussion about this craft being good for her persistence and perseverance, that if she wanted to actually make her rainbow egg, she would have to spend quite a bit more time sorting buttons.
She walked away from the table, but came back on and off for a couple of hours. It reminded me of the way that some people do puzzles. Walk away, get fresh eyes, come back and take a peek, walk away.
She was really interested in how the transparent buttons would look on top of the blue paper. There were transparent buttons in five or six different colors, and she tested all the, looked from different angles, and chose which ones to keep and which to put back. (She kept yellow, green, and pink, but only because the pink turned into purple on top of the blue paper.)
When her button plate looked like this, I said she could probably start gluing the buttons onto her egg shape. We talked about how she should put buttons the whole way to the edges, to cover up my pencil line.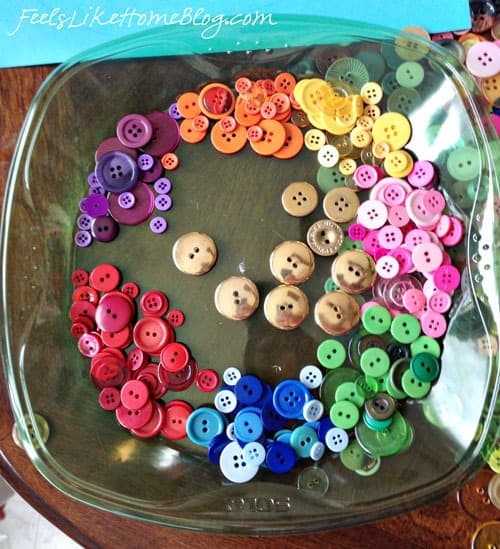 Pin
I asked what the gold buttons were for. Do you know what she said?
"For the pot of gold at the end, Mom." She said it in that, how can you not know this? voice that all kids use on their parents.
Right after I handed the bottle of glue to Grace, Allie woke up. She's not a pleasant human being when she wakes up, and she wants to be held while she cries and moans and wakes up properly.
I left Grace just like this, applying glue to a button, and I went to sit with Allie in the living room.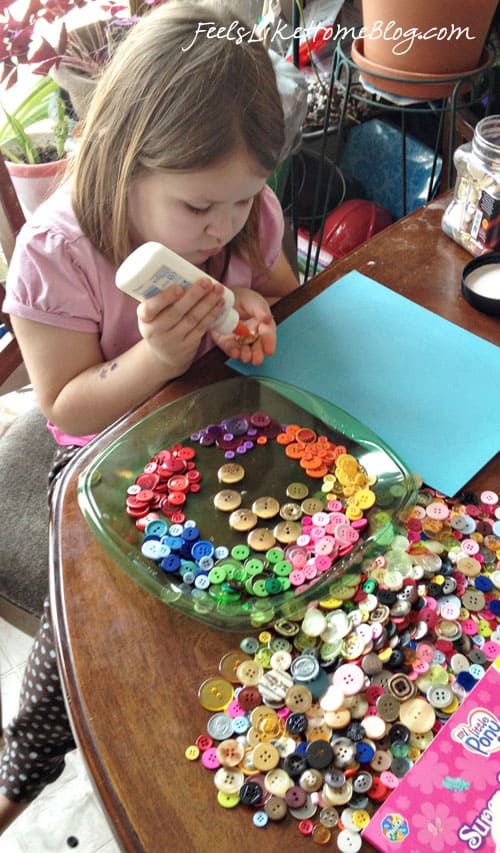 Pin
When Allie and I returned, about fifteen minutes later, Grace had poured out what appeared to be half of the bottle of glue onto her paper.
(Toddler version of this craft coming next week.)
I started to say, "WHAT ARE YOU DOING!?" in that not-really-asking motherly way, but I stopped myself.
"Looks like you have a lot of glue there."
"Yeah. I thought the buttons would stick better if I put on more glue. They weren't sticking very well at first."
"Oh. Okay."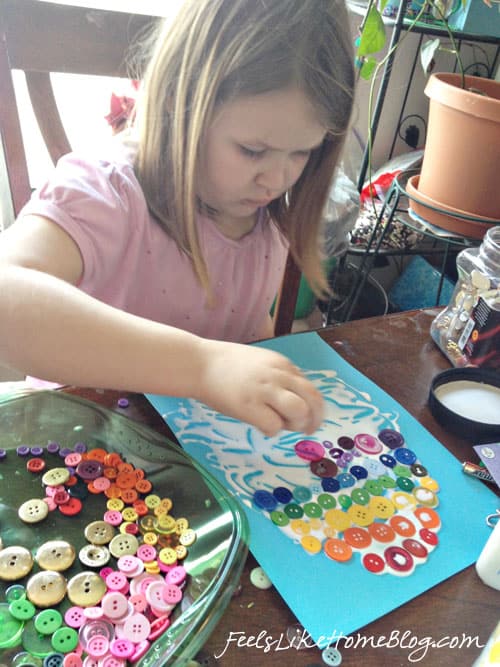 Pin
I looked a little more closely at her egg.
"I thought you were making the whole egg a rainbow," I said.
"Yeah. I am," she replied.
"But your rainbow is going to end halfway down the egg. What are you going to do with the rest of the egg?"
"I don't know. I'll fill it in with all different colors."
"Oh. Okay."
After she was all done, I thought of a great suggestion: to cover the bottom with green, as if it were the grass. We both liked my idea better than what Grace did; I'm glad I didn't think of it sooner. It was Grace's project. I hate to interfere with her art.
Pin
By the time she was finished, the paper was pretty much soggy, there was glue all over the place, and Grace was thrilled with herself (for sticking it out til the end) and with her egg (because, obviously, it is beautiful).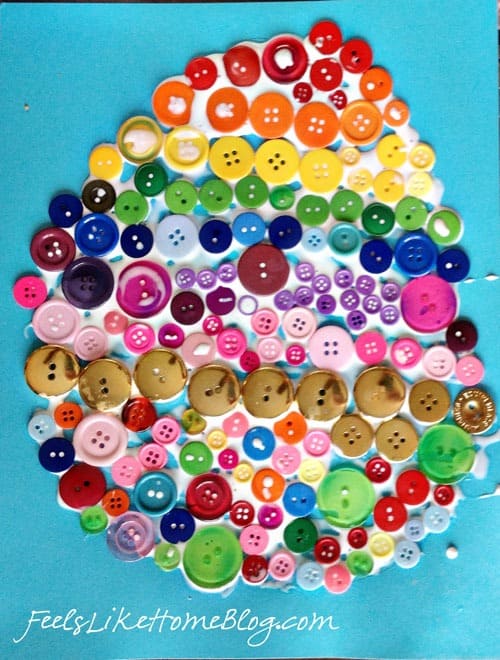 Pin
I set some shiny hardback books on top of it so that it would dry flat instead of a warped mess. I came back and checked it the next day; glue was still wet and runny.
I checked the day after, the third day; glue still wet and runny.
On the fourth day, the glue had become pasty and tacky, but it was still white.
I forgot about the egg for a couple of days because Joe moved it off the table while cleaning. When I remembered it and went looking, the glue was dry, and the egg looked like the picture in the title.
It is quite awesome. Grace loves it, and I love it. We hung it on the china cabinet. That's where we hang all the best art projects.
P.S.
It is amazing that I can take a project that involves basically 2 steps (1. draw shape 2. glue on buttons) and turn it into a 1,160 word essay. Clearly, God has given me a special gift here.
What's your special gift?