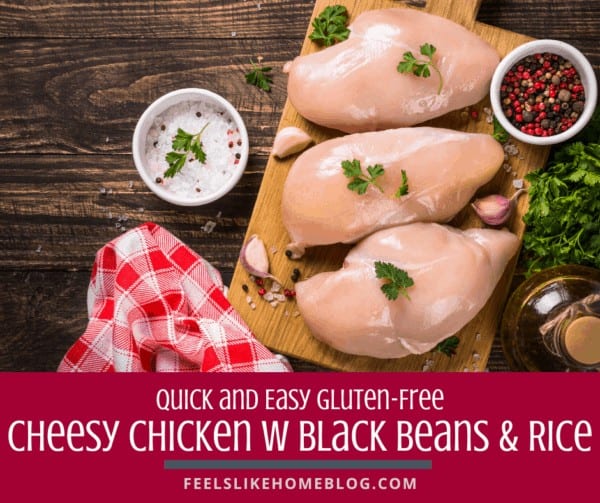 This recipe was inspired by the Cheesy Chicken Monterrey that I shared two weeks ago.
That recipe was part of a program sponsored by Knorr Recipe Sides. The idea was to create a full meal around one of their pasta and rice side dishes. It worked really well, and the result was a flavorful, quick and easy meal.
Unfortunately, I couldn't eat the finished dish because Knorr Recipe Sides are pasta and rice mixed together. Good for flavor, bad for gluten-free diners.
The recipe is so easy that making it gluten-free was really simple. Joe doubled the ingredients for the salsa mixture, combining half of it with rice and the other half with the Knorr Sides. He and the kids ate the Knorr version - and loved it.
I alone ate the gluten-free rice-only version, and I loved it, too.
I'm not a huge fan of reheated chicken (is that weird?), but I ate my salsa beans and rice for lunch three days in a row after our initial cheesy chicken dinner. I really liked it.
How to make quick and easy cheesy chicken with salsa beans and rice
Prepare rice according to package directions, substituting chicken broth for water. After rice is fluffy, stir in corn, beans, green chilies, and salsa.
Meanwhile, heat 1 tablespoon of olive oil in a large skillet over medium-high heat and cook chicken, turning once, until chicken is no longer pink. About 4 minutes.
To serve, arrange rice mixture on a plate. Top with chicken and cheese.
Recipe