I am purging.
Purging my house. Purging my psyche. Purging my calendar. Purging my life.
My decision to clear the clutter from my life was inspired by the Weight Release process, by Simple Mom's favorite quote, and by my friend, Megan.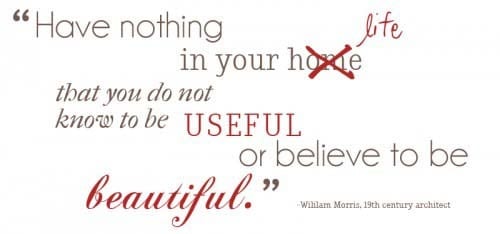 Pin
First, the Weight Release process has, in a very short time, understand that I must take care of my own needs first. I need to be able to find clean clothes to wear in the morning. I need to have a calm, peaceful, orderly home. I need quiet time to think and write and recharge my own batteries. My needs aren't negotiable.
Second, I have seen or heard Tsh from Simple Mom's favorite quote at least ten times this week. I wasn't looking for it. I didn't spend any more time on Simple Mom than I normally would. Nonetheless, I kept reading that quote over and over. At some point, it even began echoing around in my brain.
Last, my friend Megan and I have been pushing each other out the door at work lately. She has to leave at a certain time to pick up her kids from elementary school, and I need to leave about the same time to pick up Gracie. It's so easy when you're a busy person to try to tackle one more project before you leave, so it's convenient to have a friend to motivate you out the door.
It's about a quarter of a mile from our classrooms to our cars, so we have nice chats on the way out of the building. A few of our conversations have drifted toward my too-late bedtime (too much to do!) or my frustration to find clothes in the morning (too much clutter in my bedroom!) or my frenetic schedule (too many commitments!).
A friend like Megan can be better than a therapist in many ways. This week, Megan has (in no uncertain terms) told me that I needed to delegate some of my tasks, get rid of 90% of my clothes, and discard some of my commitments.
All 3 of those tasks were insanely frightful to me a month ago. Yesterday, given the current state of thoughts in my brain, I decided that a major purge was just what I needed.
Purging my Home
There's a massive amount of clutter in my home, mostly in part to my shopping compulsion. Because the clothing clutter in my bedroom has forced me to start the day frustrated and frazzled every day for the past week, I started in my own bedroom.
Megan was adamant that I should get rid of every article of clothing that I don't love and feel good in.

My weight has been in a state of flux since January, and I am not ready to get rid of the clothes that I love that are too small. On the other hand, they don't need to be in my bedroom, taking up valuable drawer and closet space.
I started this morning in the doorway of my bedroom, armed with a large box and a large, heavy-duty trash bag. Any clothes that currently fit and that I like to wear went onto my bed. Any clothes that are too small went into the box, and any clothes that are too big or that I don't love to wear went into the bag.
I showed no mercy. My rule was "When in doubt, throw it out." If I didn't love it and look forward to wearing it, I put it in the bag. I had been holding on to sweaters  since high school because I had liked them once. I'd been holding on to some t-shirts since college because I was afraid to throw them out. Maternity pants lingered because I didn't know what to do with them. Tops with an array of stains hung around because I thought I'd wear them around the house.
It was all just clutter. It prevented me from having a peaceful and calm morning. No more.
By the time I cleared the enormous pile on top of my dresser, I'd filled the bag. I'm going to donate it to our community clothes closet this week. The box is headed downstairs into the crawl space. The clothes on the bed will get folded and put into the dresser before I go to bed tonight.
I'm hoping to tackle another area of my room on Wednesday evening. The clothes are never ending.
It's not just clothes being purged.
Joe was working on Grace's clothes and toys. There's no need for her to have bottles, sippy cups, or baby toys in her room. It's cluttering up the place. He did that while I worked on my clothes.
I'd like to do the same with our living room (oh, the toys!) and family room in the basement.
Purging my Psyche
I hold myself responsible for too much.
No longer.
If it's not directly related to my family (or those friends who I consider family), my teaching career, my blog, or my home, it simply isn't necessary. It isn't. There's no need to pretend that it is.
I'm not going to feel obligated to do anything that isn't directly related to one of those four items unless it brings me great joy or personal satisfaction.
Purging my Calendar
This is painful.
I'm going to quit the Usborne Business I just started. I feel like a huge failure for quitting, but I just don't have the time to devote to getting a business off the ground. I already feel overstretched, and starting a business was neither wise nor well-informed.
I made a choice. I need to do the Weight Release process. I need to work, an I love writing this blog. Those activities were my first priority
For future calendar entries, I'll evaluate in the same way that I'll evaluate obligations.
Purging my Life
I'm excited about these changes.
I've always closely guarded family time, but I'm going to begin to treat my calendar, my responsibilities, and my physical space with the same watchful eye.
I already feel better.