Grace is in love.
Our friend's Yorkshire Terrier had puppies on June 25. We were at the beach at the time, and we first saw the puppies when they were two weeks old. There was clearly a runt, a little porker, and a slender pup. Their eyes weren't open; they weren't getting around at all. Grace was impressed by their squeaking and by how they drank their momma's milk.
We saw the puppies again two weeks later, when they were a month old. Their eyes were open, and they were taking a few wobbly steps at a time. There was still a small, a medium, and a large puppy, but they were sturdy enough to be picked up and held by an enamored 3-year-old.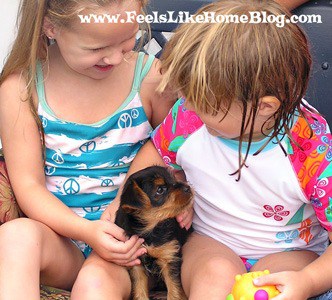 Pin
Soon after, the puppies had names - Wilbur (the piggy), Wyatt, and Wilson (the little runt).
Once they had names, Grace began pretending to be one of the puppies. Whenever we were at home, Grace would pretend to be one of the puppies, usually Wilbur, and I would have to be their momma. This went on for hours. And hours. And hours.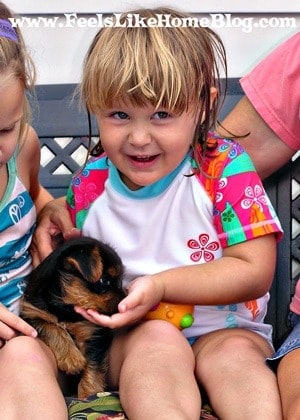 Pin
Every time she sees the puppies, Grace's love for them grows. They play with her, chew her, and kiss her - and she is thrilled by even the smallest interaction with them.
Now, the puppies are 9 weeks old. Wilson has become the biggest pup, loving to run and play. Wilbur is now the smallest, perfectly happy to cuddle in a warm lap. Wyatt is snappy and really likes to play.
Pin
A lot of the time, the pups are too busy investigating the world to notice her, but Grace has learned how to get their attention. Squeaky toys, toys with treats inside, running and squealing.
Few things make me happier than seeing Grace so in love.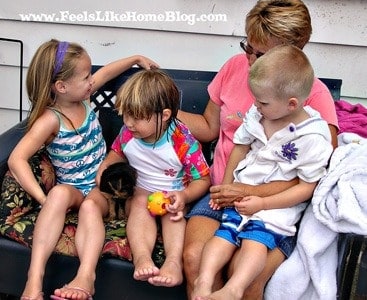 Pin
I hope this is a preview of what she's like with her baby sister.