For the last 3 years, my mom has played Lucky the Leprechaun for Grace. Every time we left the house during the week of St. Patrick's Day, she would come over, make mischief (making little messes and dying things green), and leave little presents (a donut, a Shamrock shake, green beads, gold coins, candy).
My mom couldn't come over this year. She's too sick.
Grace realized that Santa was Mom and Dad this year. Then she caught on to the Easter Bunny. When she asked, I admitted that Grandma was Lucky and Daddy is the Tooth Fairy.
She knows that Grandma is sick, and I prepared her for a year without Lucky.
One day in early March, she asked, "Mom, can you be Lucky this year? Can you just do some little things when I'm not looking?"
It made me cry, and I said I would.
I did do a few things this year. There were leprechaun headbands on stuffed animals one day, and there was green milk another day.
My mom and sister did make it over one day, but my mom fell in the garage and never got up into the house. My sister and I had to help our mom up into a chair, and she had to rest there for a while. Grace surveyed the scene, and she was disappointed that Grandma hadn't been able to make mischief.
When she got into the dining room, however, mischief had been made. There were shamrock cookies all over the place, and green beads made a booby trap with a glass of water.
"LUCKY IS REAL!" she screamed. "HE'S REAL! HE'S NOT JUST GRANDMA!"
She knew that Sunday was St. Patrick's Day, and she ran into the house after church searching for signs of Lucky. She searched the living room, nothing. She looked in the bedrooms and the bathroom, nothing. She checked the kitchen and dining room, even the refrigerator. Nothing.
While she was searching the house, I dropped some green food coloring into her favorite St. Patrick's Day glass and put it back in the cupboard. I put the food coloring bottle into the waistband of my pants to avoid detection and headed to the bathroom to color the water in the toilet.
I squirted food coloring into the bowl and the tank, put the bottle back in the waistband of my pants, and met Grace in the dining room.
"What are you doing?" she asked.
"Nothing," I lied. "Why?"
"I just saw you put something in your pants. What was it?"
"I don't know what you're talking about," I lied. Moving very quickly, I turned away from her, pulled the bottle out of my pants, and pretended to drop it on top of our turtle's tank.
Grace had to get a chair to see on top of the turtle's tank, so while she was moving it and climbing up, I dropped the bottle of food coloring into my bra.
She picked up everything on top of the turtle's tank, sure she'd seen a bottle with a red lid.
"Mom. What did you do with that bottle?" She asked.
"I didn't have a bottle," I lied again.
She eyed me. She checked my waistband again, and she looked at both hands. She was sure there had been a bottle, but she didn't know what it had been or where it had disappeared to.
I love that she's at an age where she understands it's me but still really wants to believe in the magic.
I didn't have a chance to get away from her again until after lunch. She asked for a drink of milk, so I poured her one. Magically, it turned green even though she watched me get the glass from the cupboard and pour in the milk.
After she walked away with her glass of green milk, I reached in my bra to put the food coloring back in the cupboard. As I set it down, I noticed that my fingers were green.
The bottle was damp.
It had leaked.
I looked down inside my shirt and found this: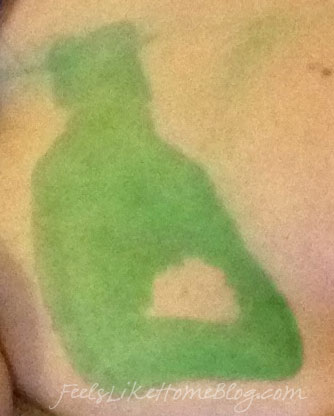 Pin
A green stain, as if I'd photocopied the food coloring bottle onto my boob.
I laughed and showed Joe. He smiled and shook his head.
I really wanted to show Grace, but I don't want to spoil her magic. Someday, she'll come back here and read about the stain and feel smug that she was right about the bottle.
Hopefully, the stain will have faded by then.