Last week, we did a homeschool lesson on musicians. We talked about Laurie Berkner and Louis Armstrong and Elizabeth Mitchell. For each, I read a (very abbreviated) biography, we looked at a photo, and I played a song that Grace was familiar with (My Family, What a Wonderful World, and You Are My Sunshine).
After the learning, we crafted and played.
Joe played the saxophone during our church services this past Sunday, and Grace sings in the children's choir. Music is on her mind. Especially after our lesson, Grace wass excited to learn about music and to make music (and you already know she's excited to make crafts). She really had a blast making homemade instruments.
These two crafts were perfect for Grace because both were quick, and the results were close enough to the real thing to satisfy her.
We started with some basic household supplies and put them together to make a guitar and a shaker.
Preschool Guitar Craft
For the guitar, we needed:
a box - we picked an old, lidless wipes box, but a more shallow shoebox might work better
6 thick, strong rubber bands - I chose 6 different widths
a piece of slightly drawn-on cardstock
a black marker
scissors
The first step to make the guitar is to stretch the rubber bands around your box. Try to keep each rubber band flat, not twisted.
Grace needed some help with this step, mostly to flatten and straighten the rubber bands.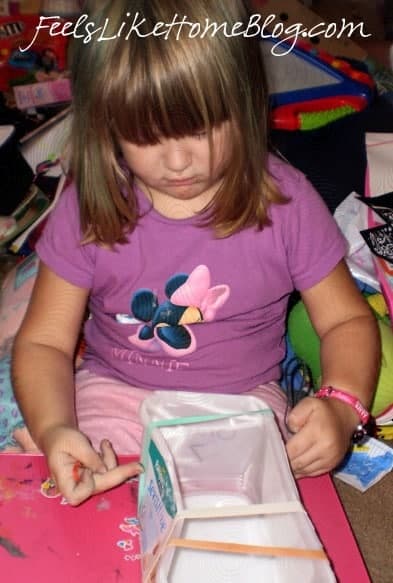 Pin
While your small person tries to do the rubber bands, draw the long part of the guitar with strings.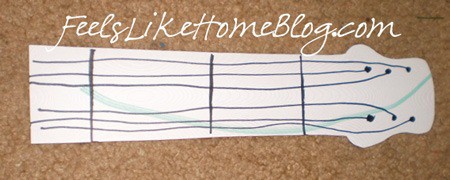 Pin
Straighten the rubber bands, then slide the frets (that's the part you just drew) into the back of the rubber bands.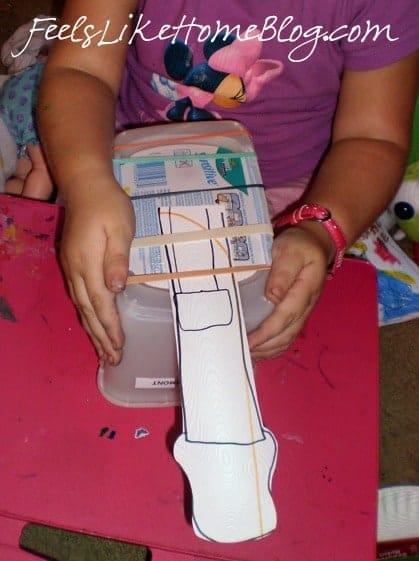 Pin
Let your small person pluck and strum to her heart's content. When Grace's strumming slowed down a little, I pointed out the differences in the sounds between the looser and tighter rubber bands and between the thicker and thinner rubber bands. We talked about that for a few minutes. I was also able to work in some science, talking about vibrations and shaking and the earthquake we experienced in August.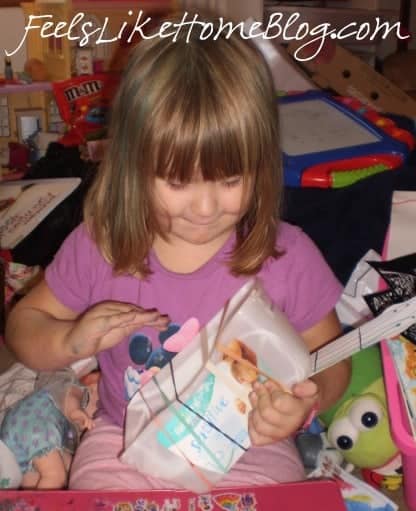 Pin
Preschool Shaker Craft
Markers
2 paper plates
Beans or rice or something to make noise
Stapler
You thought the guitar was easy? The shaker is easier yet.
The first step is to color the outside of the paper plates.
Next, put a handful of beans on the inside of the plate. I grabbed a handful out of a sensory tub I made earlier this month.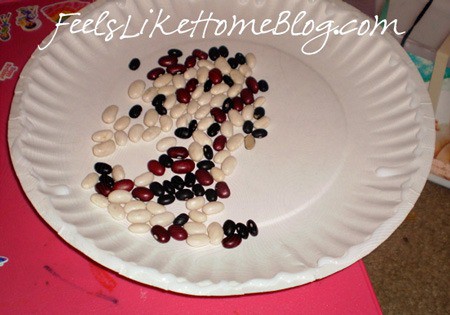 Pin
See the glue in that picture? I thought gluing the paper plates together was a good idea. It's not. It made a giant mess, and the paper plates didn't stick together anyway. Skip the glue.
Step three is to staple the plates together. Try to keep the staples close enough together that your beans don't slip out in between them.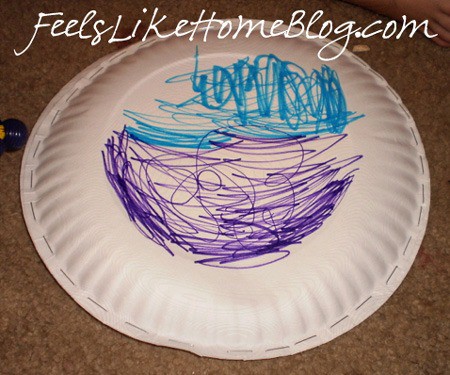 Pin
I feel like I should add another step, but I can't think of anything. The only thing left is to shake, shake, shake your body. And your shaker.
What's your favorite homemade instrument?