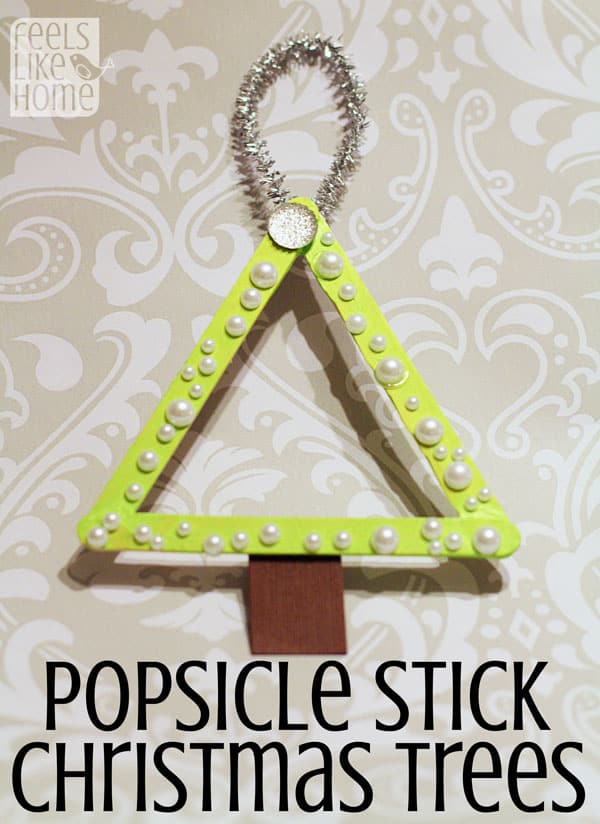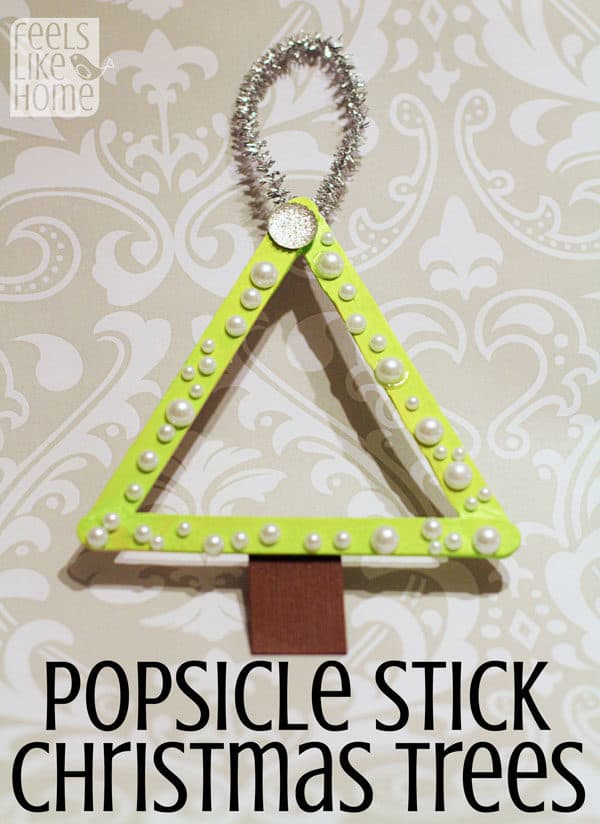 Pin
Clearly, we had a giant party with popsicle sticks, stick-on pearls and gems, and glitter glue, right? We bought a whole bunch and then went to town on all kinds of ornaments including these traditional little trees.
If you're a new subscriber, you should know that I don't just post about crafts, but we are on a big Christmas crafting kick, so that's what you're getting right now. Things will return to normal soon.
I have made these little triangular trees at least five times in Grace's 8 years. I may even have posted them before here. They're just a fun and easy way to make trees (even easier than the last trees I posted since these don't involve any cutting).
If you used pre-colored popsicle sticks, it would make these even faster!
Materials
Popsicle sticks
Hot glue gun & glue sticks
Green paint
Paint brush
Paint palette or paper plate
Brown cardstock, textured if you can find it
Stick-on gems, pearls, or buttons
Glitter glue
Wooden stars or gold pompoms or larger gems for the tree topper
Instructions
1. Glue the popsicle sticks in an equilateral triangle.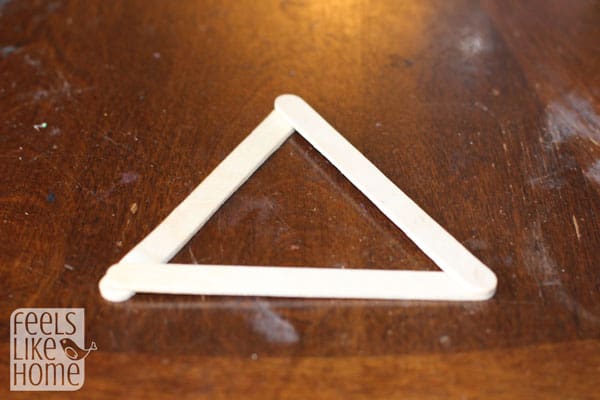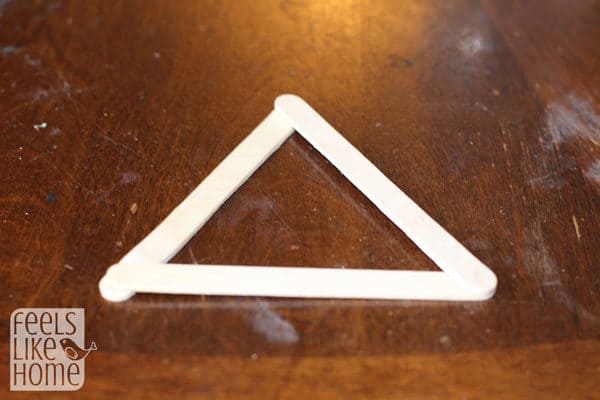 Pin
2. Paint the sticks green. My kids used a dark green for some of their trees and a light green for some. I didn't like the light green, but I kept my mouth shut.
I explained at the bottom of this snowflake tutorial why I let my kids' ornaments be however the girls made them. I think there's so much important stuff wrapped up in those blobs of glitter glue.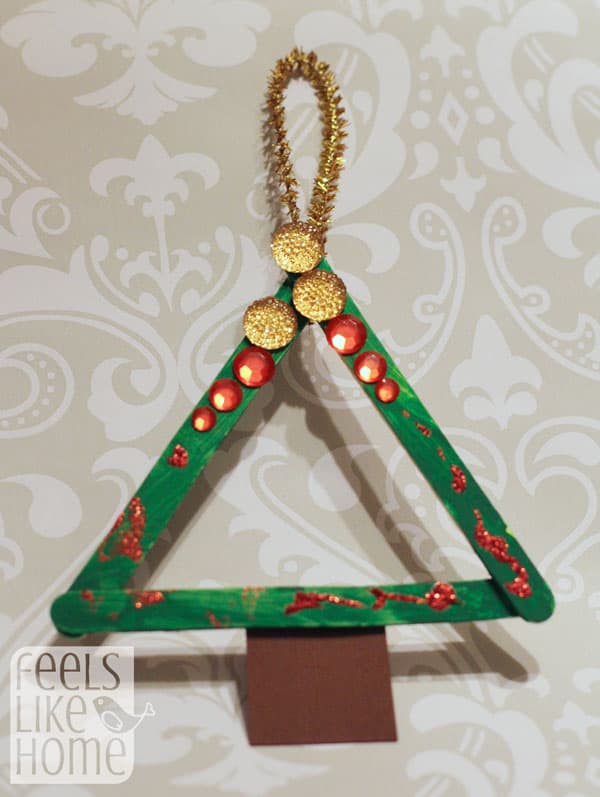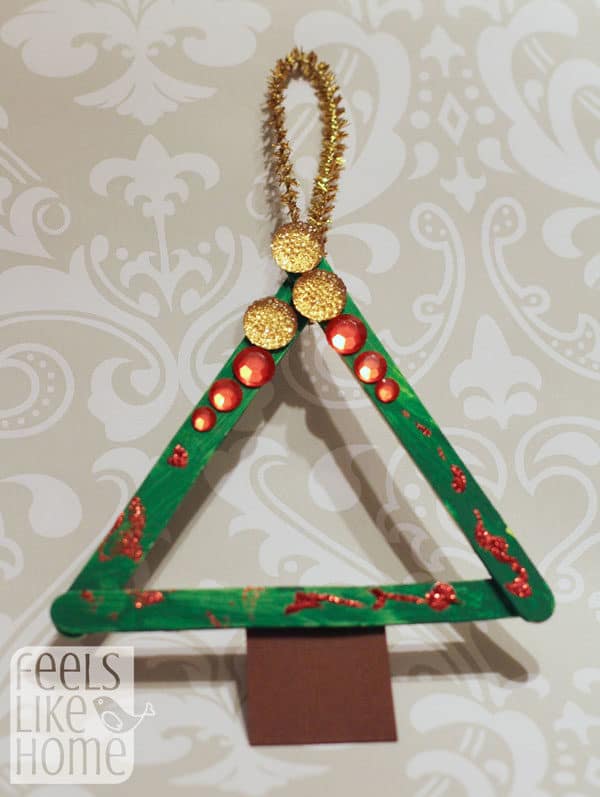 Pin
3. When the trees are dry, decorate them with jewels, pearls, buttons, or glitter glue.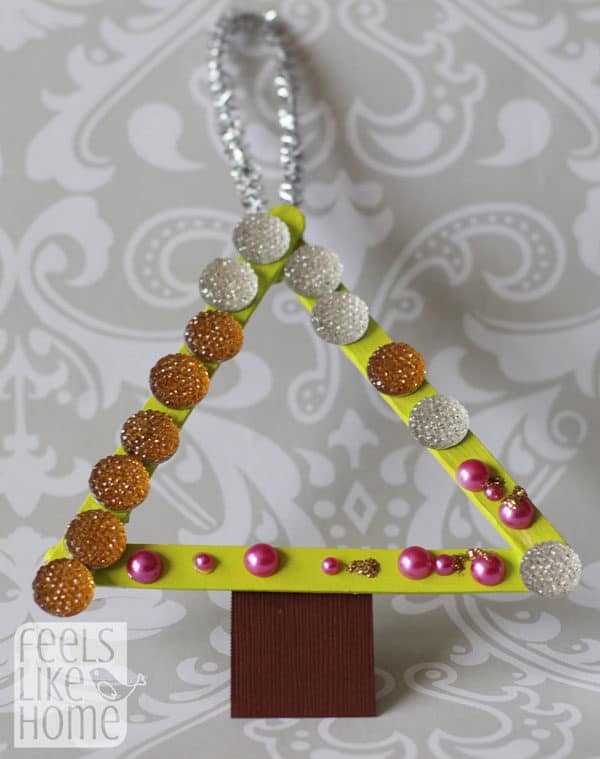 Pin
4. Glue a tree topper on the tree.
5. Flip the tree over. Cut a pipe cleaner in half and hot glue a piece in a U shape on the back of the tree.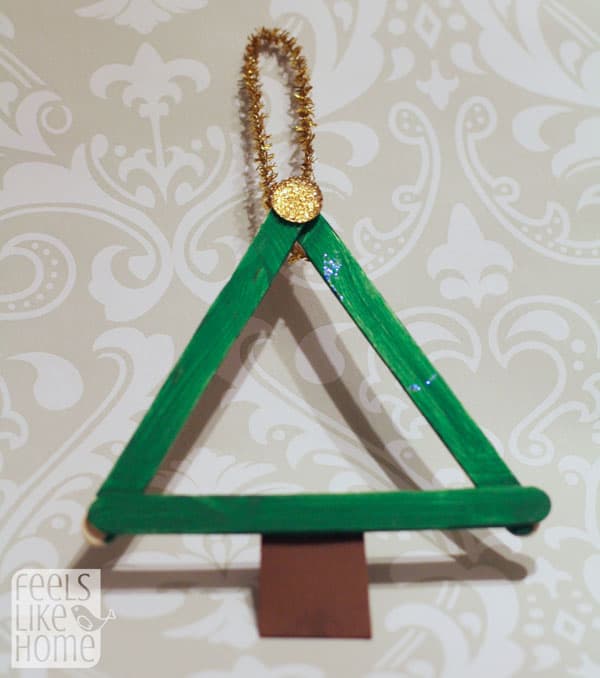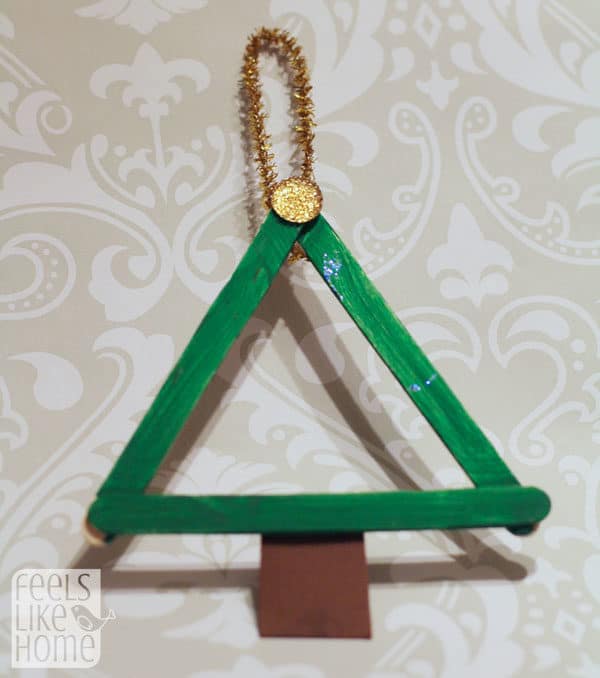 Pin
6. Cut a rectangle out of the textured cardstock and glue that onto the bottom for a tree trunk.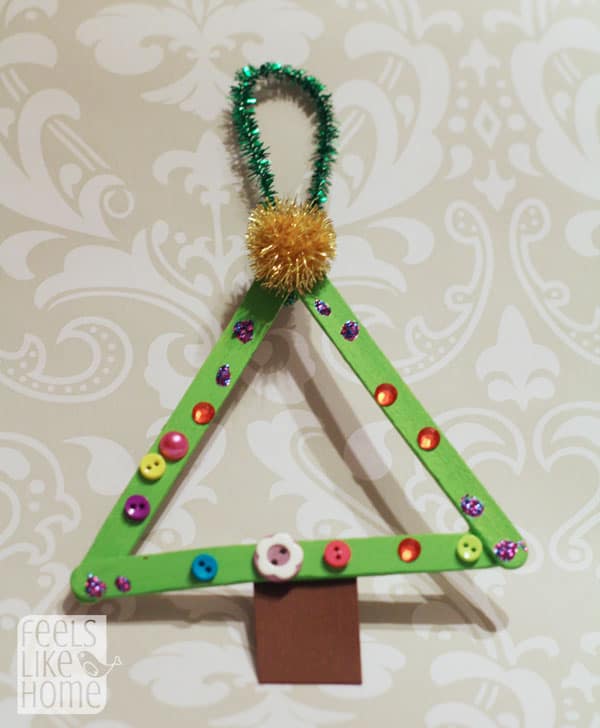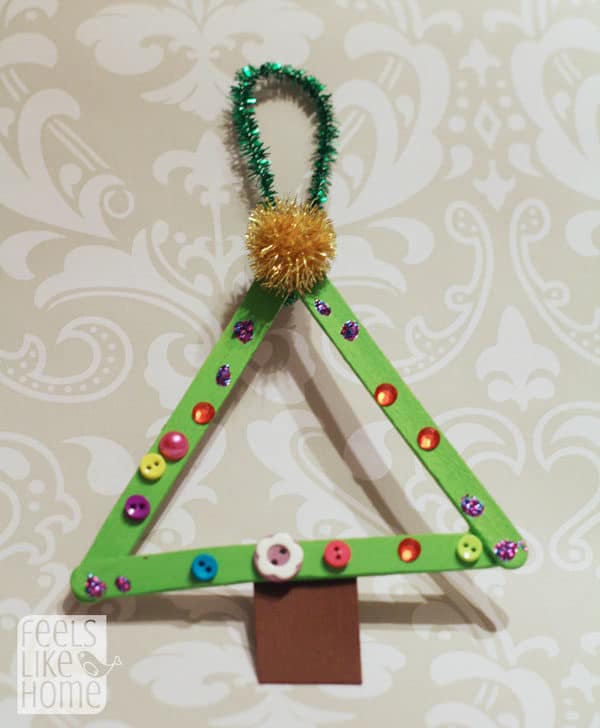 Pin
That's it. Attach a hook and hang on the Christmas tree. You're done!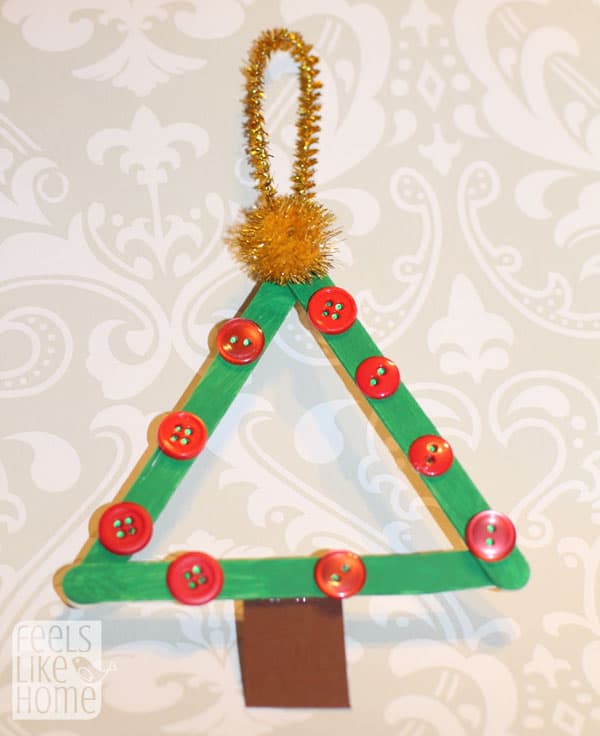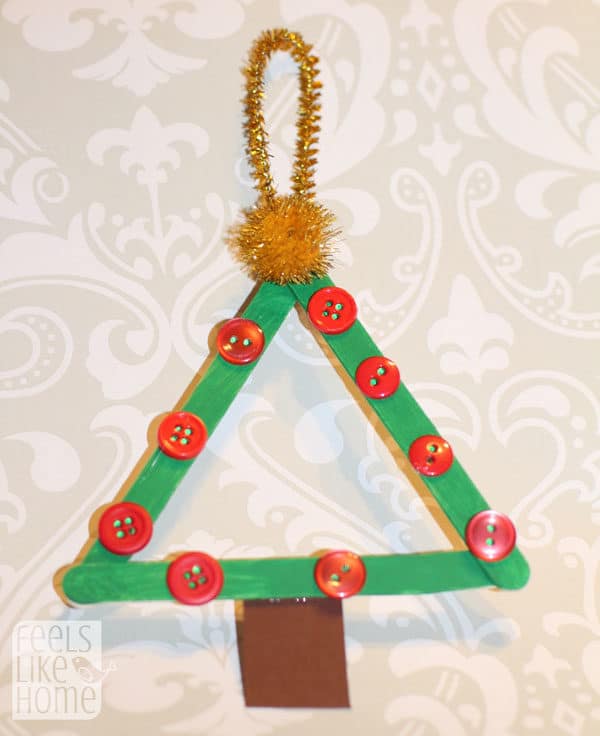 Pin
I have to be honest. I don't like these as much as I liked the last trees I posted. I like the colorful ones better, but these are still nice. I especially like the pearly one Grace made that I put in the title image.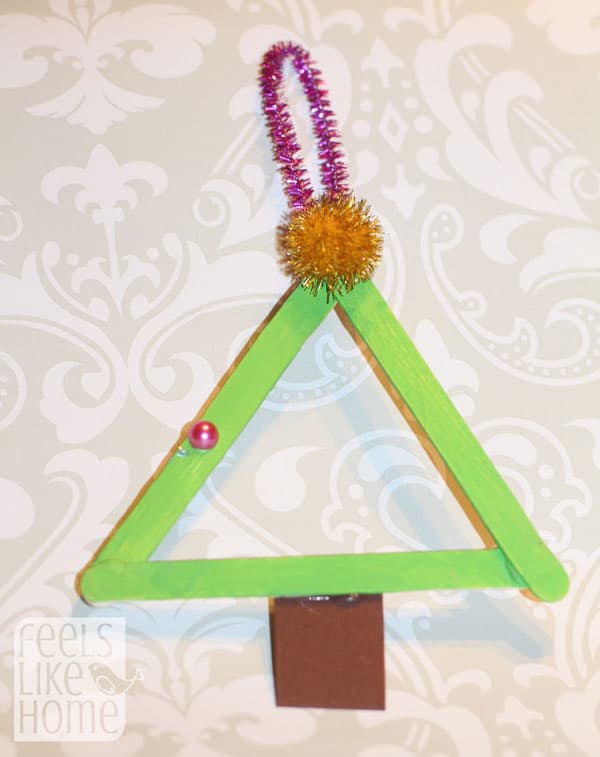 Pin