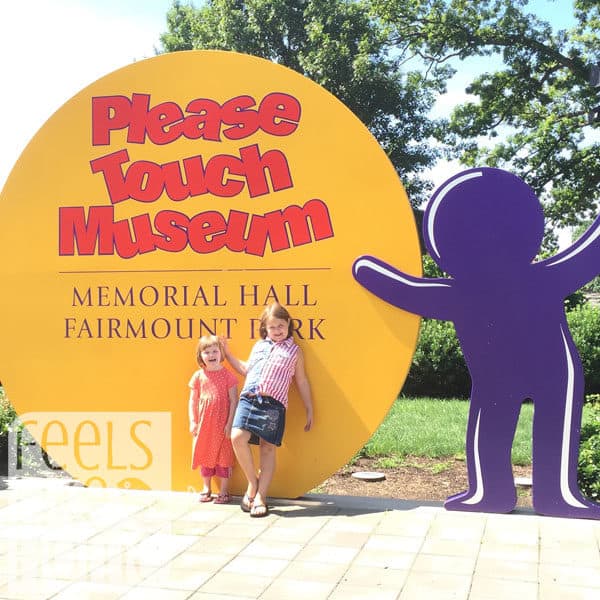 Pin
All summer long, I'm featuring day trips around the Harrisburg, PA area. Our last trip was to the Adventure Aquarium in Philadelphia. This week's trip was to the Please Touch Museum, also in Philadelphia. (And we stopped at IKEA on the way home, if you're interested.)
The girls were super excited for the Please Touch Museum. Allie had never been there, and Grace had been only once when she was 4. She couldn't remember much at all.
Tickets for the Please Touch Museum are $17 per person over the age of one, and parking is around $20 if you park in the on-site lot. It's not cheap, but when you look at everything there is to do, I think you'll see the cost is worth it.
We were at the Please Touch Museum from about 11 in the morning until they closed the place at 5 o'clock. We encouraged the kids to stay and play at each area for as long as they wanted, and they did. They went back to some areas over and over again. They also participated in some group activities. More on those later.
It's hard to say what each of the girls' favorite activity was. They enjoyed everything so much. This is Allie in the Children's Hospital area. We went back to it at least three times. She would play with the babies, check them out, make new friends, check them out, wander around, find some medical tools, and on and on.
She also showed me that her baby doll had girl parts and lo and behold, it did. There were also babies with boy parts. It's real life, I suppose.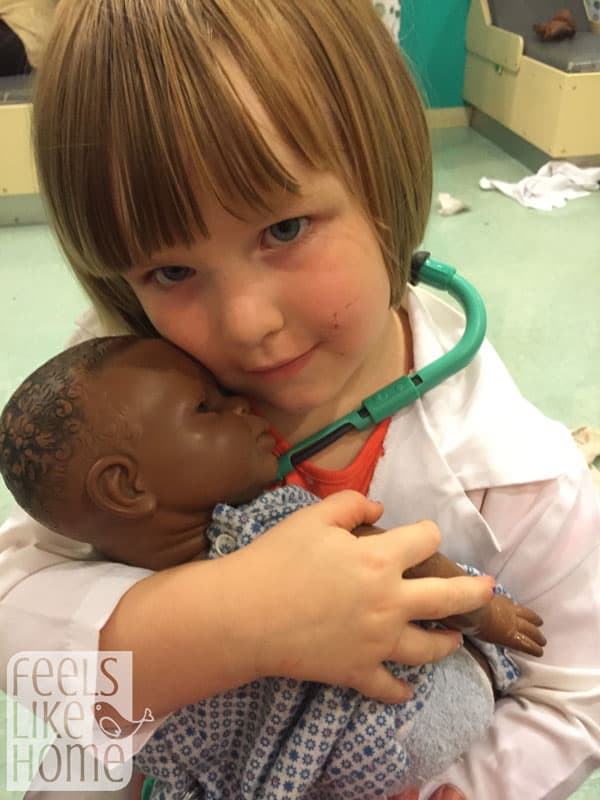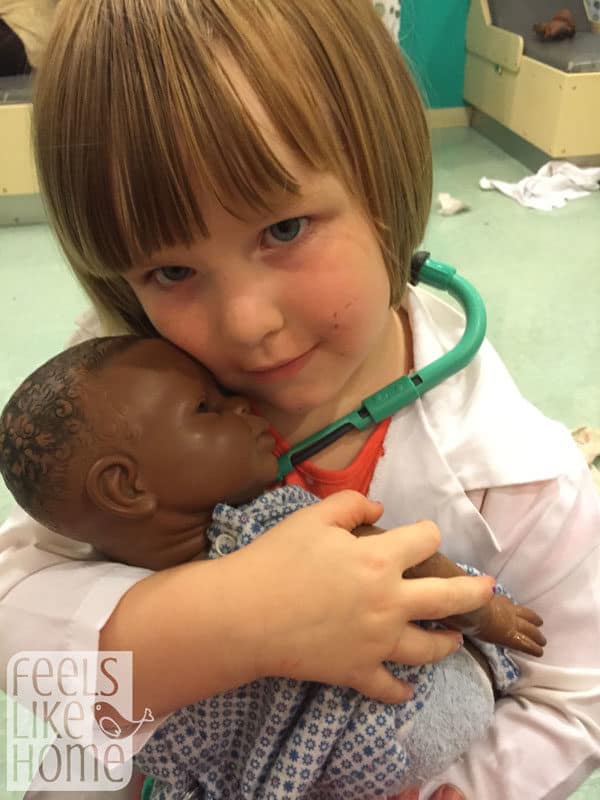 Pin
On one of our visits to the hospital, Allie climbed in the baby doll CT scan machine. I guess she needed a checkup. Clearly, I am a lackluster mother since I immediately took photographs instead of scolding her.
(And also, it was really funny.)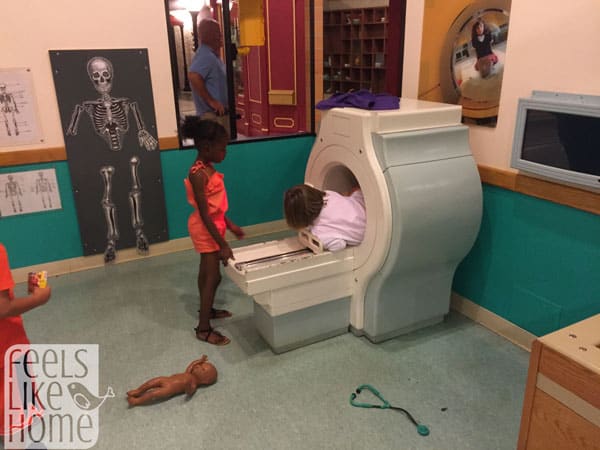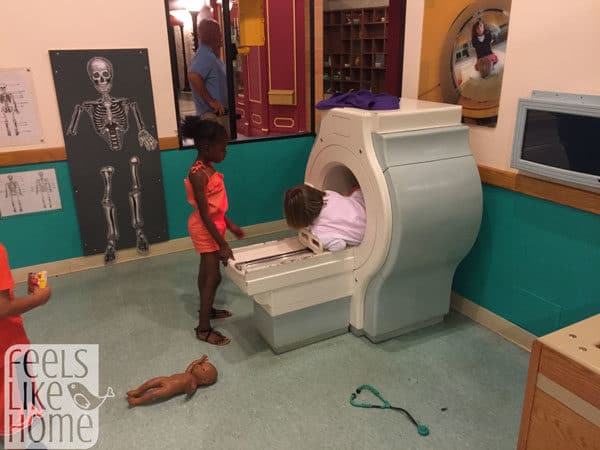 Pin
There are a couple of areas in the museum that I didn't end up photographing, either because the kids didn't play there long or because I was playing with them and forgot. One of those areas was the huge water table. All the time they were playing there, they were both saying, "Let's go down there!" They could see the Alice in Wonderland maze of hedges and a big tea table. They couldn't wait to get down the ramp and have tea.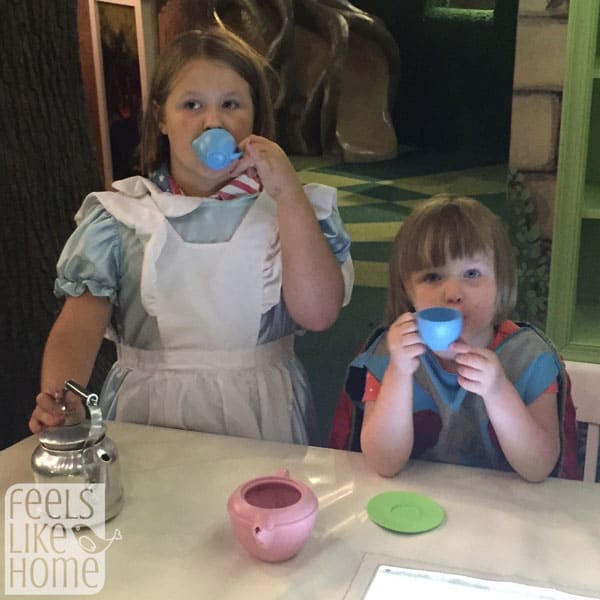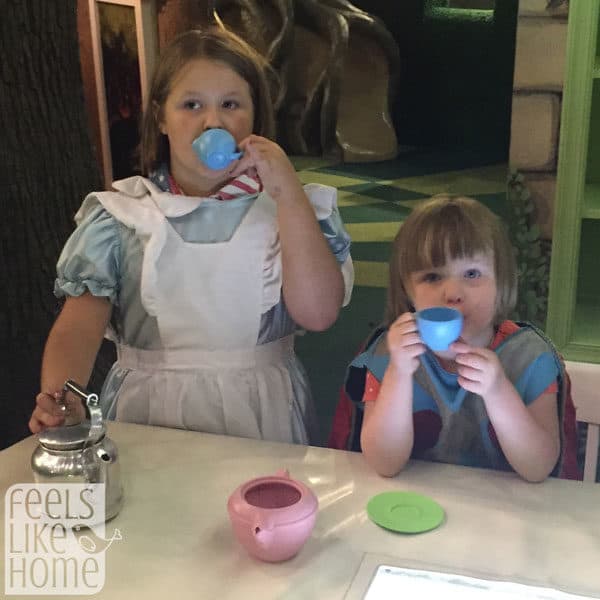 Pin
They're dressed up like Alice and the Queen of Hearts if you can't tell. There's also a really neat room made out of a giant tree trunk where you can sit with the kids and have tea.
The maze led us to this garden where the kids painted roses red. (Do you have the song in your head? We're painting the roses red, painting the roses red! We dare not stop or waste a drop! We're painting the roses red!)
I was impressed with the red roses because the kids actually had to pretend to paint them with the paintbrushes, and then they would turn red. And then gradually back to white again. I don't know how it worked, but it was cool.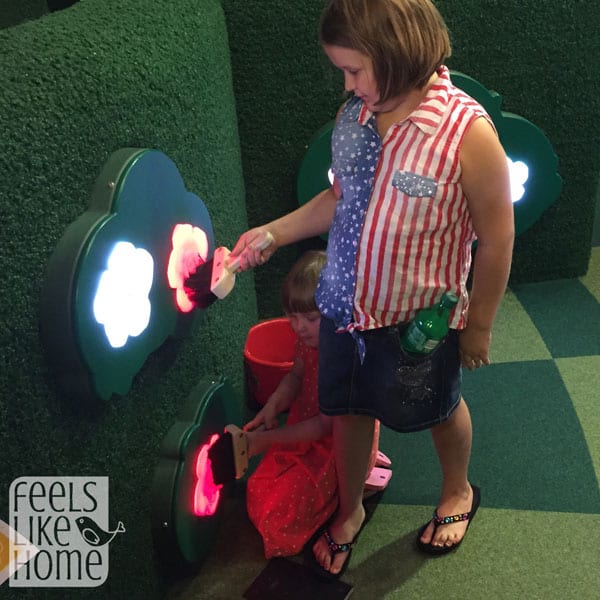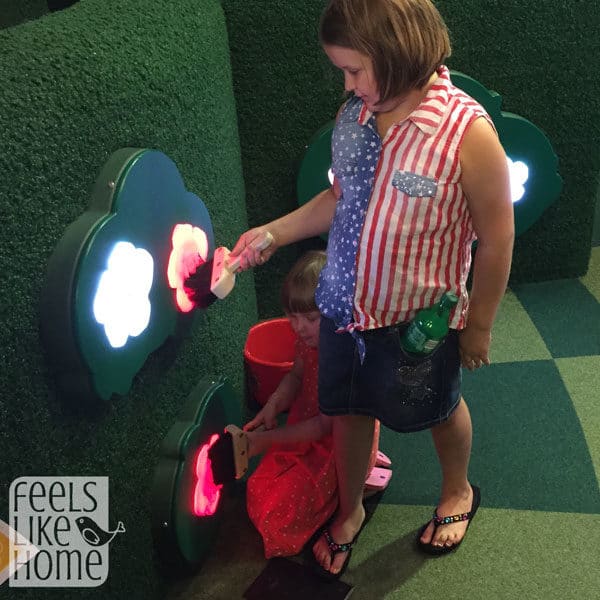 Pin
Oh, the grocery store. The Whitaker Center, Harrisburg's science museum, has a small grocery store, and the girls both adore it. This was nothing like that.
This grocery store had carts and shelf after shelf of canned, boxed, and frozen goods as well as fruits and vegetables. Joe and I found a ledge to sit on and just waited. The girls could have played in the store all day long.
They took turns as the cashier and checked each other out. Then Joe would put all their groceries away, they would switch places, and collect another cart load of groceries. It was fun to watch.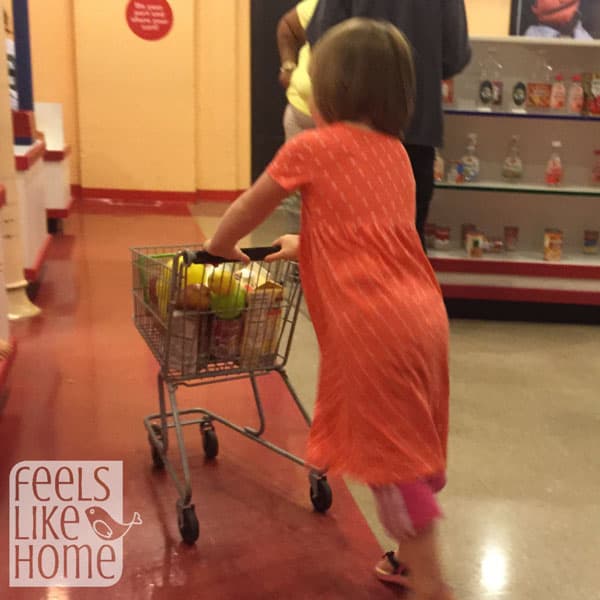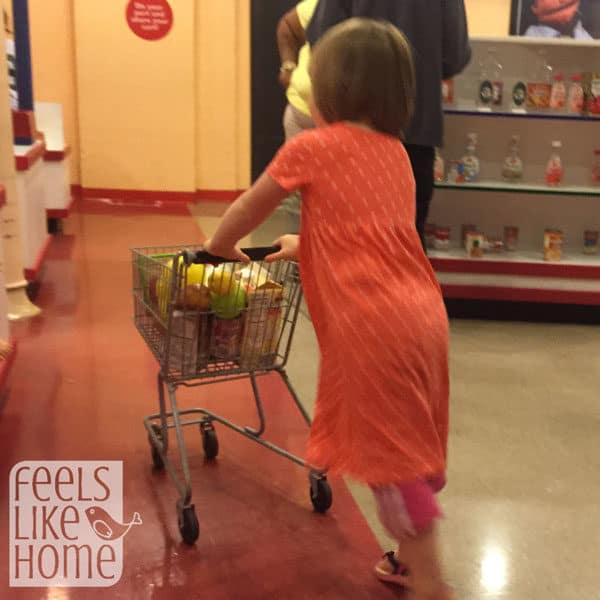 Pin
I asked Grace on the way home what her favorite part of the Please Touch Museum was, and she said the train station. I was surprised because the train station was very low key. There were never more than two or three other families in that area, and often we were the only ones. There was a wooden train to play in, a train set to play with, and large laminated pages and tickets. Grace stood behind the counter and helped me, and I stood behind the counter and helped her. We looked at maps and read pages.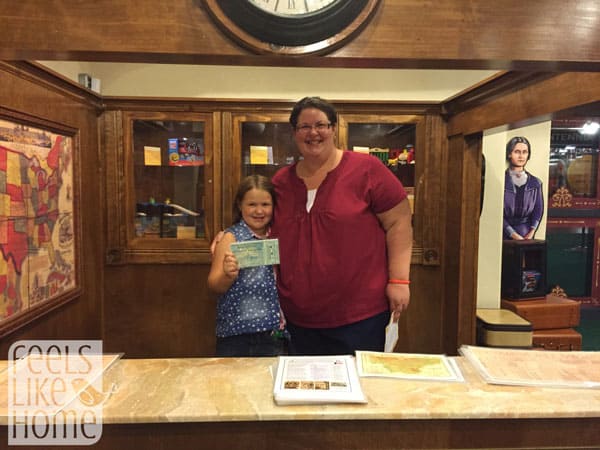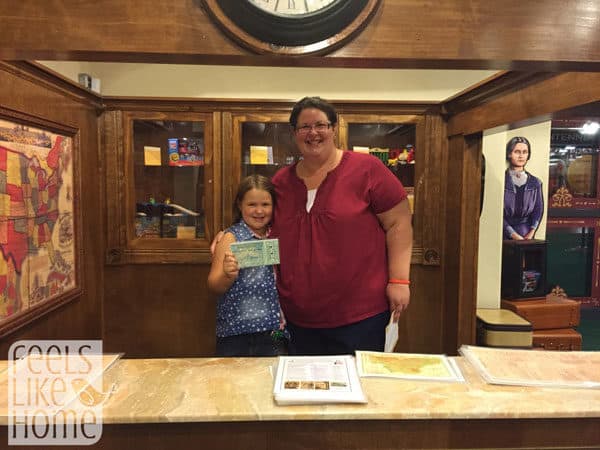 Pin
The vehicles area of the Please Touch Museum boasts a SEPTA bus, a trolley, a full-size car, a model car engine, cars to build, and much more. Grace liked using the diggers to excavate balls. Allie wasn't into that as much. She didn't have the patience to wait for the slow moving machine.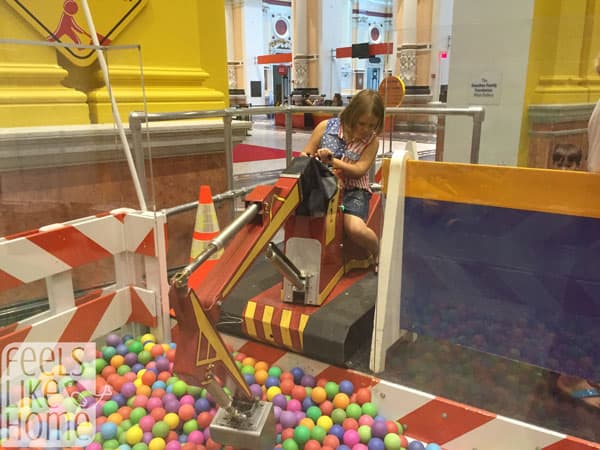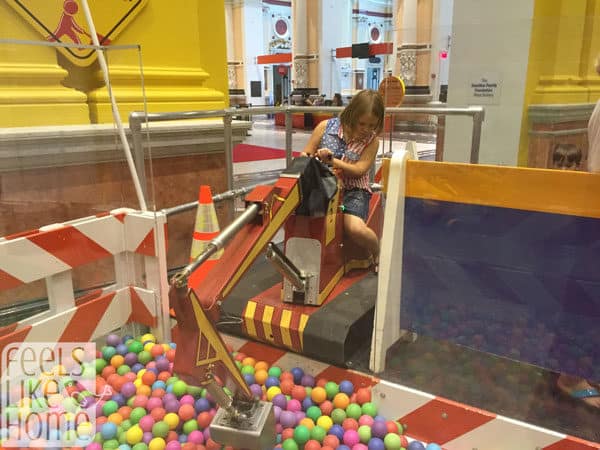 Pin
Also in the vehicle area is a Rita's Italian Ice cart. We love Rita's!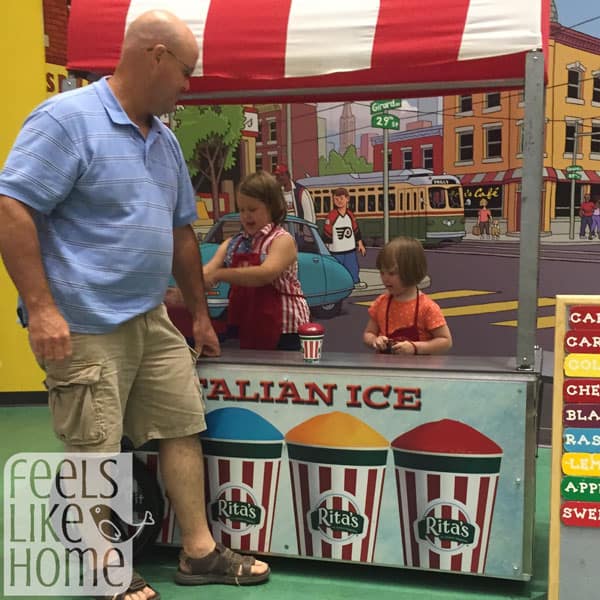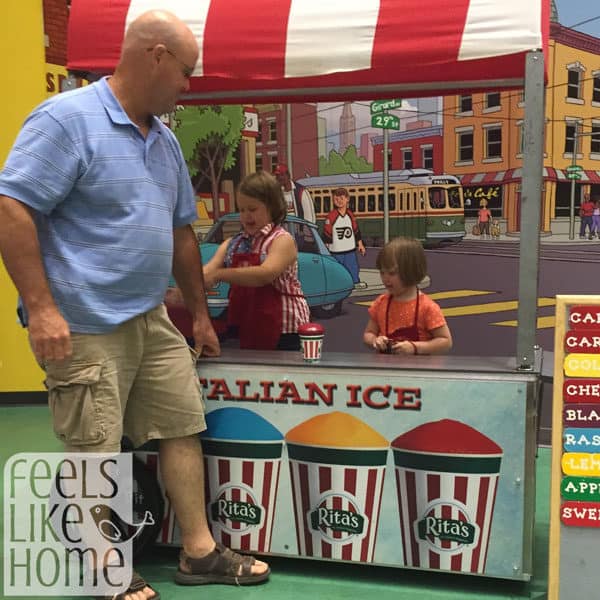 Pin
Tucked away in a corner of the museum is a room where kids can play with materials from the gift shop (Bubber, which is kind of like Playdoh but never dries out, and Arx 2.0, which are magnetic circular building blocks, both of which we ended up buying). There are books to read and other toys to play with, and there was also a table set up for a real life scientific study on kids' sense of smell. Grace was happy to participate in the study, where she had to smell these pens and identify how the smells made her feel and what the smells were. It was neat.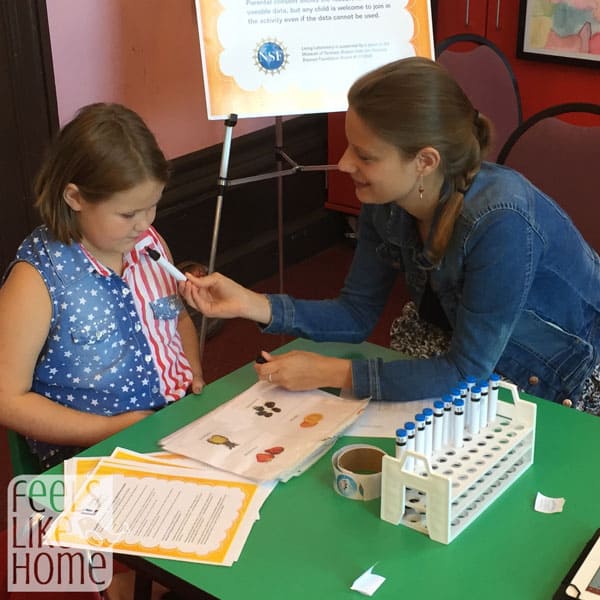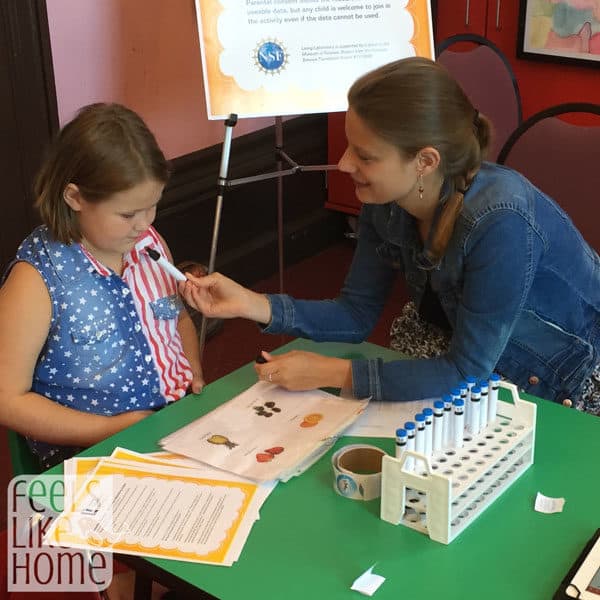 Pin
There was a space room where the kids could build simple rockets and launch them out into the air. We had a lot of fun with this.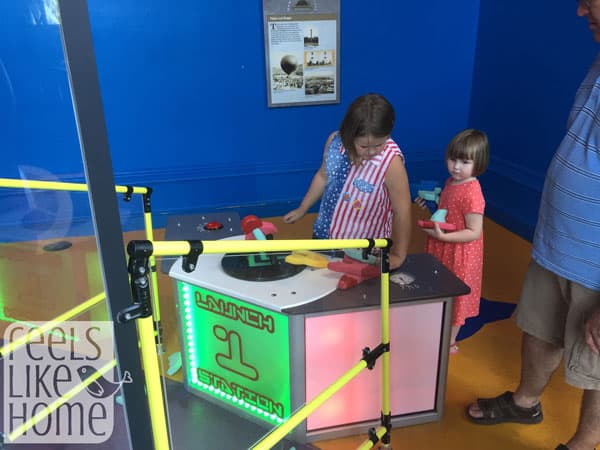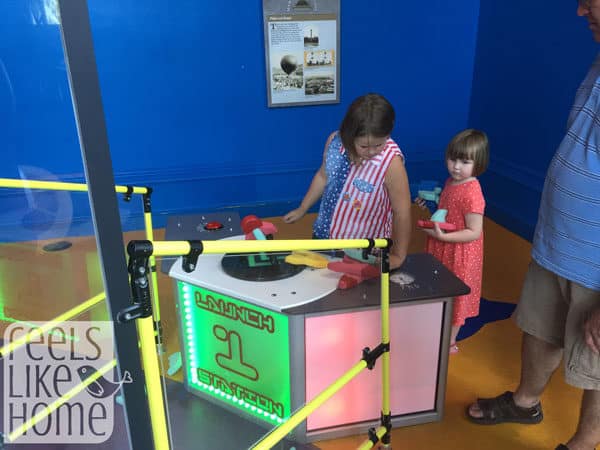 Pin
Also in the space room was a blue screen where the kids can don an astronaut jacket and helmet and pretend to be in the space shuttle. They weren't too thrilled with standing there in a blank room doing nothing, but I made them both stay long enough to snap a picture.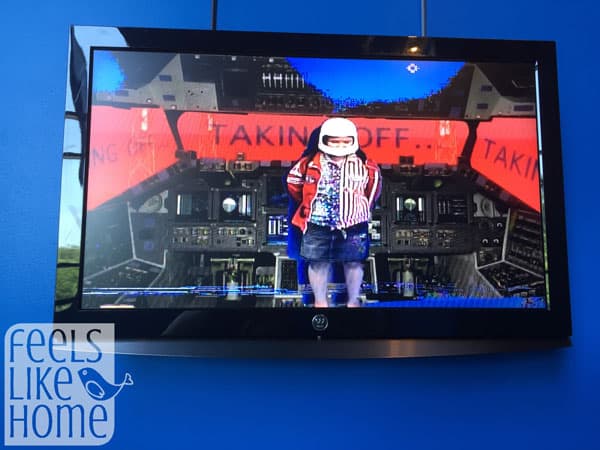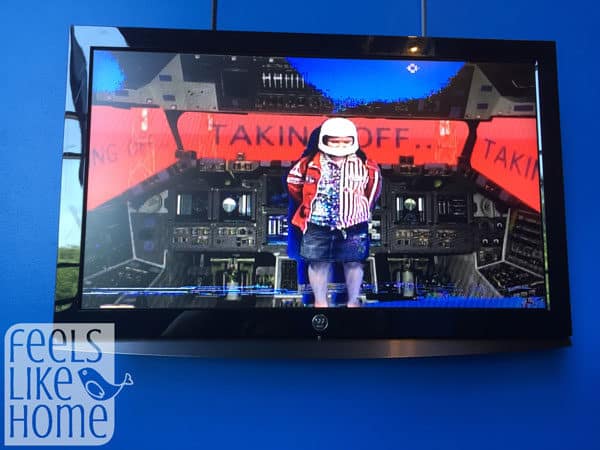 Pin
Allie's blue screen adventure took her to Mars.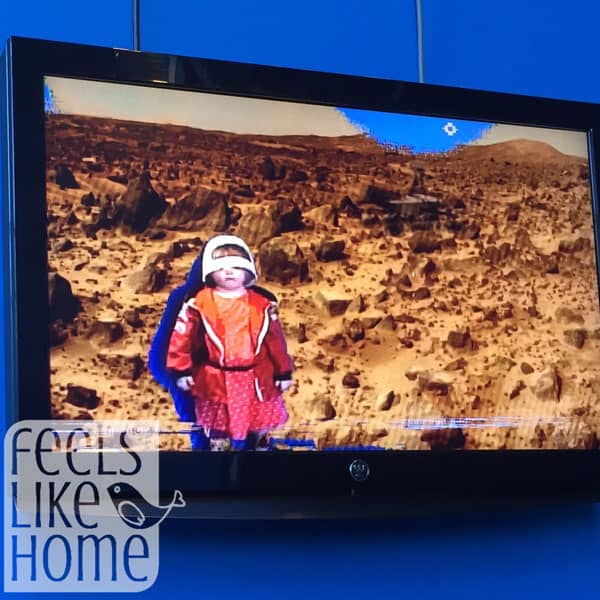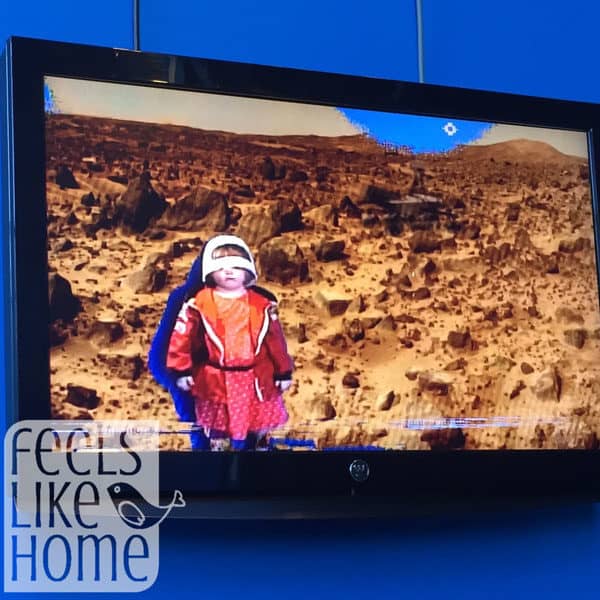 Pin
This was a really fun trip. The kids loved it, and both Joe and I had a good time.
The only other thing I should say about the Please Touch Museum is that Grace is on the older side of its age range. She had a great time, but I don't think it will be long before she's too old for a children's museum.
I received 4 free tickets and free parking in order to write this review.