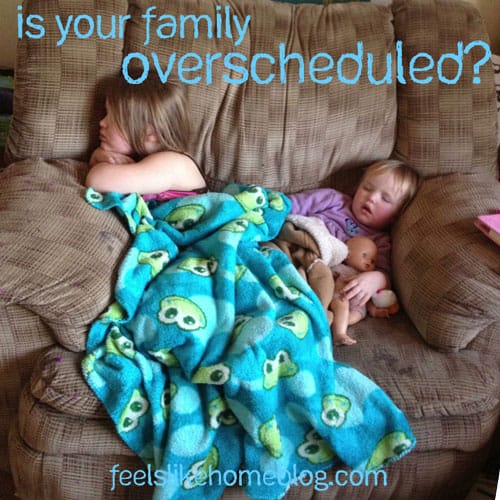 Pin
I am a compulsive joiner. It's part of my DNA.
My joining began in first grade, when I joined the Girl Scouts. I tried to join my sister, too, but they wouldn't let her in. She was too little.
In third grade, we joined cheerleading. We wore sweatshirts in September in Virginia. I remember that being a fiasco.
Throughout my school years, I joined Release Time and clubs and groups. I ran for student council every year (but never got voted in). In seventh grade, I joined the school volleyball team. The biggest uniform they had didn't cover my underwear (but I wore it anyway!), and the coach suggested I might wear my own black shorts with the too-tight top while I sat on the bench at the games.
I must have been a sight. It's no wonder the other kids made fun of me.
Oh, the memories.
By high school, I had given up on sports but played a major role in the school play and led the marching band onto the football field (always. out. of. step. in the front of the line! I had no hope.). I wrote for the school newspaper, was secretary of SADD, and bowled in a youth bowling league. I kept the statistics for the boys and girls track team. I went to the Hugh O'Brian Youth Leadership Camp and spent my summers in the Upward Bound program, living on the campus of Kent State University with my friends.
After we moved to Harrisburg (in eleventh grade), I was in the French Club and the Key Club (president!) and the National Honor Society. I was in the Bowling Club and traveled with the track team.
My college resumé looked like the Yellow Pages of high school activities.
And in college? Egads. I spent more time my first semester in club meetings than I did in class, and my GPA reflected my commitment.
I wasn't kidding when I said I'm a joiner.
It turns out that joining didn't wane as I grew older. Now, I go to blogging conferences and join networking groups. I am in two separate moms' groups (including the one I quit last year - I rejoined.) and just volunteered to help with Girl Scouts. I work a rotation in the church nursery.
And that's what I do after a major paring-down last fall. (I give my friends unsolicited advice about this all the time. Pare down! Fewer commitments!)
Grace has inherited my joining gene.
Or maybe she just acquiesces, the way my little sister always did.
Grace takes ice skating lessons. She's in Girl Scouts and art class and Kids Club (at our church) and a dance class. She goes to classes at Home Depot and Lowe's. Just this week, I looked up schedules for soccer and additional art classes, but they conflicted with things she already does.
It never ends, but I haven't told you my most egregious commitment yet.
Last fall, I signed my family up for a homeschool co-op. I thought that's what all homeschoolers do, and I knew Grace would enjoy taking classes with other teachers and other kids.
Grace does love taking classes with other teachers and other kids. She really loves the classes I signed her up for - Meow Woof Bark, Edible Math, and the pièce de résistance, Fancy Nancy.
I had no idea what signing up for a co-op really meant. Yes, I saw the schedule on the computer screen, and I knew I'd have to teach a class, but these concepts didn't really permeate my brain until the first co-op session in January.
Allie hates the co-op. As soon as we enter the building, she whines, I go home! I go home! The coordinators of the co-op had to modify my helping schedule so that I could be in the nursery for the entire time that Allie is in the nursery.
I have (hate) to admit that the co-op is giant hassle to me, too. I have to plan lessons, make photocopies, get my kids myself up at 6:30 in the morning, pack our lunches, and try to keep Allie quiet during the morning meeting. Co-op runs from 8:30 am until 2:00 pm, but I teach during the last period, so it's 2:30 by the time I get my supplies put away and get out the door.
And then we have to drive to art class, because Grace has art class at 3pm on the same day as co-op.
I have joined us into exhaustion.
At last year's Allume conference, I accompanied my friend to The Nester's session. I don't remember what it was mostly about, but I remember her talking about how she needs a lot of blank space in her calendar to be productive, to feel like herself. I had no idea what she was talking about last October, but I get it now.
I've been so worried about Grace missing something fun, about somehow cheating her out of a learning experience, that I've severely over-scheduled our life.
Grace is going to be disappointed, but we aren't signing up for the co-op again. Everything else we do is an hour here, ninety minutes there. I can handle all that, even though we are on the run for little pieces of four days each week.
So I live and learn. Homeschool co-ops are great for many families, but not for us right now. Everyone there is terrific and kind, and I know they'll understand.
Is your family over-scheduled? What are you doing about it?