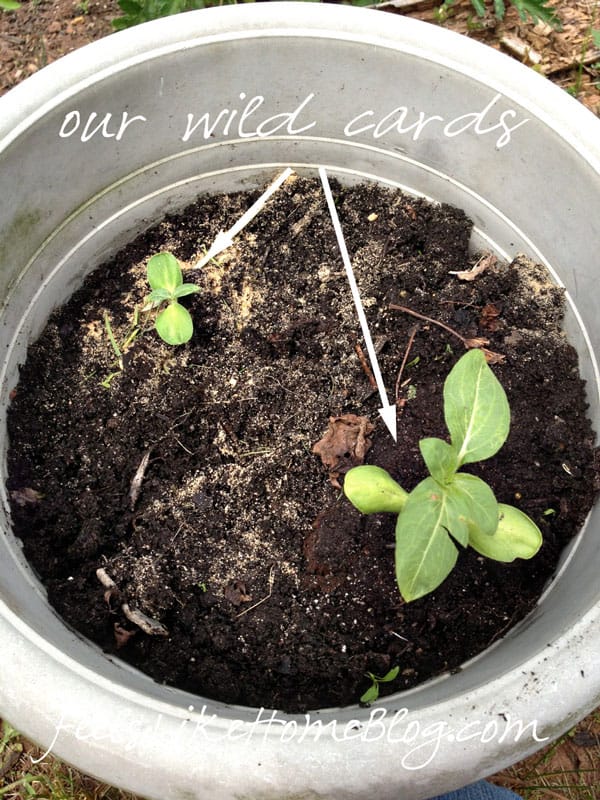 Pin
I get excited by volunteer plants, remnants of last year's planting that survived the winter or grew up to make seeds that sowed themselves. We have at least one volunteer every year.
I read a neat article on Nurture Store last week, about gardening with wild cards. Cathy and her two daughters garden in the city in the UK, and her experiences are a bit different than ours (gardening in our backyard in Pennsylvania).
We have more similarities than differences.
In her post, Cathy says one of her favorite gardening traditions is throwing in a wild card each year - something they've never grown before, something that is exciting, something that is a risk.
Joe is growing loofah gourds this year. I think those qualify.
The same day I read Cathy's words, I went outside with the girls and found two (2!) volunteer plants in places they shouldn't have been.
I found both of them in flower pots still holding remnants of last year's annuals, apparently planted by squirrels hoarding seeds cast aside from last year's pumpkin adventures.
(I may have neglected a pumpkin or five in the backyard to be devoured by the local wildlife.)
I have no idea what these little plants will become, nor if they will become anything at all.
We'll see!
After I wrote and scheduled this post, we had a hailstorm that I fear killed the smaller of my two wild cards. Time will tell, but I think the stem is broken.