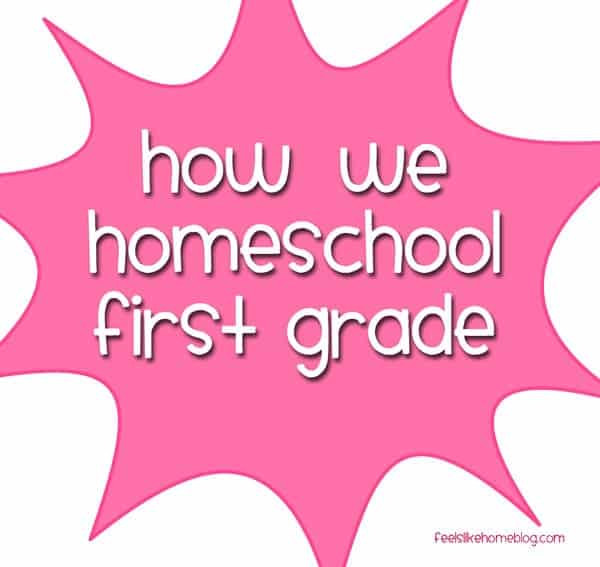 5-year-old Grace will soon finish first grade, so I thought it was time to share the curricula we've used this year as well as what worked and what didn't work.
We continued to participate in a cyber school for first grade (here's why we chose that route).
I wanted to quit the cyber school (and its curriculum) partway through this year, but I thought Grace and I should make the decision together. Quitting meant she would have to give up the in-person classes she really enjoys (art), but it would have given us a lot more freedom and flexibility in terms of day to day schoolwork. Grace was adamant that she did not want to quit, so we stuck with it. Instead of abandoning our primary curriculum, I tweaked it to fit us better. It takes a lot more planning now, but it works much better for Grace's unique learning style and abilities.
In the end, sticking with it was absolutely the right decision (even though we still have a lot of school left to finish before we break for the summer). The planning and the work are tough. Homeschooling is challenging me as much as it challenges Grace.
Disclosure - When I realized I wanted to use the curricula below, I reached out to publishers. Some agreed to give me a copy of their full curriculum in exchange for inclusion in my curriculum guide. If they had not agreed, I would have purchased it on my own. I believe in all of them that much.
For more homeschool curriculum ideas, visit my curriculum index.
Our First Grade Homeschool Curriculum
1. Calvert First Grade
To be fair, I want to first say that I am teaching an exceptional student whose needs and abilities are very different from an average kid. Calvert works for many kids, just as it's written. It doesn't work for us that way, but I doubt that any all-in-one curriculum would.
We get Calvert free from our cyberschool. Like any curriculum, Calvert has advantages and disadvantages.
We used the first grade curriculum in its entirety when we first started. I felt like Grace would miss something important if I didn't follow each instruction and force her to do each worksheet and activity.
For a very young, very bright child like Grace, this made her grow to hate school time. It was constant worksheets and practice that she didn't really need.
After a few chats with my friend Colleen (an elementary gifted teacher turned homeschooler), I realized that I needed to modify the curriculum to challenge Grace. I needed to leave out the vast majority of the worksheets and practice, because Grace simply didn't need it.
Here are each of the Calvert subjects and how I've modified them:
Reading - We don't do any sight word instruction at all, and Grace has a vocabulary far exceeding many adults, so we don't do much of that, either.
We do read one story from the Calvert reader each day. We don't do the worksheets or questions that go along with the story (too basic), but we do talk about the story. Sometimes, we role play the story or I have Grace write about the story in her journal. Sometimes, she retells or rereads the story to her dad when he gets home. My point is that Grace reads to me from her reader every day, and we make up our own comprehension/interaction activities to fit each story.
Phonics - Grace gets a lot of phonics with The Logic of English, below, so we do these activities rarely. When we do them, we use magnetic letters on a whiteboard or Scrabble tiles on the table, and we take turns making words with certain letters. (The last one we did was words with -r blends. I made crap, and Grace made trap. Then track and grab. We went on like that until we couldn't think of any more words. I walked away, and Grace played with the letters for another ten minutes by herself.) We play games and try to make each other laugh.
Writing - The Calvert curriculum suggests writing prompts a few times a week, and I do try to get Grace to do them in her journal. We often modify them (instead of writing a friendly letter in the journal, we wrote a letter to her pen pal), but we do try to do these activities.
I am a Certified Writing Specialist, and I know that the only way to learn to write fluently is to practice getting your ideas down on paper. Often.
Fine motor skills are a stumbling block for Grace (because she's so young, I suspect), and the actual act of writing letters is still a challenge. I sometimes let her dictate her writing, and I do the writing on the page. It's still practice in fluency because she's making up the story.
Spelling - So spelling. I give Grace a pretest on the Calvert spelling words, and she gets every single spelling word correct, so I also count that as the spelling test and we forget about spelling until the following week when this process repeats itself. She's never missed a single spelling word on the pre-test.
Handwriting - I really dislike Calvert Script, the specific-to-Calvert brand of cursive handwriting. I think Calvert Script is like a lazy version of cursive writing, with some letters almost-printed and some written in cursive. I am not using this AT ALL.
Because the Calvert tests (that we have to turn in to Grace's cyber school teacher) require some cursive writing, we went back to The Logic of English cursive workbook, and Grace is learning that way.
Math - Calvert uses Singapore Math in first grade. I am impressed by the math skills taught here.
Right now, Grace is learning 2 and 3 digit addition and subtraction. I didn't know these were first grade math skills, but they are an appropriate challenge for her. I can't wait to see what's next.
I should also say that I modify the math lessons quite a bit. We do the lesson, I do a couple of guided practice problems with Grace, and when she feels like she can do them on her own, I watch her solve 2 or 3 problems for independent practice. If she can do 2 or 3 on her own, we quit. She doesn't need 10 guided practice problems, and she doesn't need to solve 10 more independent problems if she can do 2 or 3 correctly without any help. Some kids need all that practice, but Grace simply doesn't.
Science - Grace really liked the science curriculum at first (lots of hands-on experiments and investigations), but it quickly turned into a lot of reading and writing without hands-on activities. We've dropped a lot of that. I want her to do science, not to read about science in a textbook.
We do a lot of science activities and experiments that I find online instead.
Social studies - She enjoys the social studies for the most part. It started out really easy, so we've skipped a lot, but we're into labeling a world map and learning about the continents and oceans. It's good stuff for her to know.
Technology - We have done the technology lessons sporadically, but they're pretty good. Right now, I have Grace working on the keyboarding skills lessons from earlier in the year.
Poetry, Games, & Activities - These are good. It's nice that they build in fun things to the curriculum. We don't end up doing them most of the time because we had other games or crafts or whatever planned, and we don't have time to do everything. I get a lot of ideas from this section of the curriculum, though. Sometimes, I pull the activities out and save them for a day when we have more time to play.
The bottom line on Calvert - If the cyber school weren't paying for Calvert, we would not use it. As I said above, I think it probably works well for most kids, but it is not a good fit for Grace. I wanted to quit Calvert partway through this year, but Grace wanted to stick with it so that she could continue going to her art class. We're making Calvert work for us, but I am not comfortable recommending it as a first grade curriculum option.
If there hadn't been The Logic of English, I might have been happy with Calvert's phonics and reading instruction. I didn't know any better.
Fortunately for Grace, I was introduced to Denise Eide and her program, The Logic of English, and we've been using it for almost a year now. We started with 30 lessons on the phonograms (that's the sounds made by each letter), and we moved into the actual curriculum after that.
The rules and the phonograms are not hard; Grace has a great memory. She understands how the rules work together to explain spelling words; this makes sense to her.
What's really tough for Grace is the weekly spelling list. They can be quite challenging. While Calvert is giving Grace spelling words like look and good, The Logic of English is giving her spelling words like train and play and strong and hero (which seems like it should be easy, but trips her up every single time).
We just finished a unit review where Grace went back and practiced the words she missed during the last 5 lessons. She wrote each of the consistently-missed words on an index card, and we used those words to play games. She had enough to fill a bingo board!
I'm really happy that Grace isn't able to skate through The Logic of English. It's hard for her. She has to work at it. She makes mistakes, corrects them, and learns. It's beautiful.
The bottom line on The Logic of English - We use this curriculum for spelling, grammar, writing, reading, and cursive. We had taken a break on the cursive handwriting, but Calvert forced us back into it.
3. Lapbooks
Whenever a topic comes along that interests us, we learn about it and then make a lapbook. A lapbook is a way of reviewing and displaying information, like a homemade book full of graphic organizers. Once I figured this out, I was in love. It's a record of the cool stuff we learned.
I put our lapbooks together using stuff from a bunch of books: The Ultimate Lap Book Handbook (which is currently out of print, I think, but so good), The Big Book of Reproducible Graphic Organizers, Big Book of Books and Activities (pretty hard to find but worth it), The Big Book of Projects (another hard to find but really good resource), 3-D Graphic Organizers, and the website Homeschool Share (where everything is free).
We are currently working on a sloths lapbook. We might start a rainforest one next, since that goes along.
4. Lots and lots of really good books
We read constantly, voraciously, several times every single day.
Here are our favorite picture books (101 Picture Books to Read or Hear Before You Grow Up) and our favorite chapter books (101 Chapter Books to Read or Hear Before You Grow Up).
5. Experiments and activities
I mentioned in the Calvert section above that we do a lot of science activities and experiments that I've found online. We don't do units so much as we explore Grace's interests as they pop up or as I find cool stuff.
Last year, we did an apple investigation - sampled 17 different kinds of apples, created a graph of their flavors and textures, compared their sizes, and made applesauce.
We've done experiments with seeds, polymers, clouds, colors, and more. Some of my favorite sites for inspiration are:
I am so excited about Home Art Studio! It was created by Lindsey Volin, a certified art teacher who's also a mom of two. It is a DVD-based home art curriculum designed to increase students' appreciation for and love of the visual arts.
We're started with the kindergarten curriculum (skipping a few activities because Grace has already done something very similar) and will move on to first grade after that. Ms. Volin recommends doing one lesson a week, but we pretty much always have a project drying or hanging or half done. Grace really loves art, and she asks to do it almost every day. (We don't have time to do it every day, but she asks.)
One thing I really like about Home Art Studio is that each DVD comes with printable lesson plans. I view them on screen so that I know what materials are required and what the objectives of the lesson will be.
I really love this Bible curriculum. We've been using it for a couple of years, since Grace was in preschool. Each lesson includes a coloring page and a cartoon version of a Bible story.
8. We Choose Virtues
I've written before about We Choose Virtues. I really love it.
We don't do this as often now, but we still talk about VirtueVille kids, discussing their virtue, why they're important, and how to display them. It takes 2 minutes, but it has set the stage for some serious virtue discussions at other times. Those kids have also been a source of pride for Grace as she models her behavior after theirs.