Just after publishing When Breast Isn't Best (where I was thinking a lot about the pressures that we put on moms and the guilt that follows and how parents have to make hard choices based on what's best for our whole families), I saw a Tweet from my friend, Sara, about her post called "The Family Bed: When Did You Stop Co-Sleeping?"
Sara explained how each of her three children slept in her bed or in their own bed, by their choice or by the necessity of the situation. She did what was best for her family - for each of the children.
But then, at the end of the post, Sara wrote:
He became so used to sleeping with us and now it seems he'll be here forever. He told me last night, as we fell asleep next to each other, "Momma. I'm never going to leave you. Even when I'm a man, I'll sleep right next to you."

I cried.
I feel bad for Sara. She feels like that's true, like he's never going to leave her bed. She wants to put her son into his own room, but he doesn't want to go. It's a sticky situation.
A few lines later, she wrote:
I've built an unbelievable closeness with this child due to a fear we all had when our lives were in shambles, but he's developed an attachment to me that needs to dissipate... and it breaks my heart into a million pieces.
And that made me wonder, why does the attachment need to dissipate now? If there's a reason, if it's best for Sara and her husband and their son, then so be it. He needs to move out.
But is there always a reason?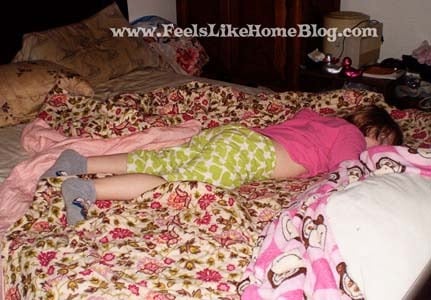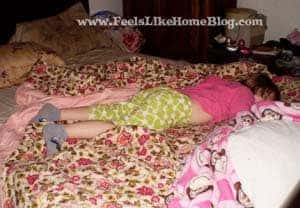 Pin
I don't know if this is the case for Sara, but I know other parents who've felt that they had to have their kids sleeping in their own rooms by X months or years, just because. I had this precise conversation with a friend just last week.
Why do parents feel pressured to put our kids into their own beds just because they're a certain age or just because we have enough space to give them a bedroom?
It doesn't make sense to me.
When Grace was born, a family friend told me about how he raised his three children. "You let that baby sleep with you. She knows what she needs, and what she needs is you," he said. "My wife and I let our kids come into our bed whenever they wanted to. Sometimes it felt like a party."
Joe asked if that would create a bad habit. He was worried that the baby would want to sleep with us forever.
"My kids all slept in our bed for part of the night until they were in school. Tom* slept with us until he was in the second grade - don't tell him I told you that! He'd be mortified! But he did. He needed us longer than the others did. That's what being a parent is about, give each one what he needs."
That conversation stuck with me for three reasons.
He agreed with me.
Our friend is a doctor, so his opinion carried a little more weight with me than someone else off the street. He sees lots of children, and he sees both good and bad parenting.
Our friend's three children are all college educated, successful adults. They are all independent and intelligent. They all earned scholarships to play big time college sports. One of the three is now a professional athlete; one has a doctoral degree. Clearly, our friend and his wife did a great job of nurturing and developing the people God entrusted to them.
In light of that discussion in the early weeks of Grace's life, I strong-armed Joe we decided that we'd have a family bed. Grace would be welcome to come into our bed whenever she needed to.
In the last four years, she's needed to a lot.
When she's stressed or sick or having a growth spurt, she spends more time than usual in our bed. She needs to. In the weeks following our 2009 car crash, she didn't sleep in her own bed at all. She was too traumatized.
Grace usually starts out in her own bed at bed time. If she wakes up because she's had a bad dream (or lately, because she's wet the bed or rolled over on a toy or feels insecure or just because), she comes over and crawls in with us.
We were concerned about how things would need to change when Allie arrived, but that, too, worked itself out.
Allie sleeps in our bed about half of the time, and Grace ends up in our bed five nights out of seven.
It gets a little tricky when all 4 of us are in the queen-sized bed, but everyone has a spot and we all sleep well enough. Allie lays between Joe and I. Grace spreads out at the bottom of the bed so that she doesn't accidentally kick or roll on the baby.
Once or twice a month, we have a sleepover and allow Grace to sleep all night in our bed. It's a special treat that she looks forward to.
I know that Grace and Allie aren't always going to need or want to wake up with us. Eventually, they're going to grow up, and they are going to want their own space, far away from Joe and me.
I'm not rushing toward that day.
Actually, I'm trying to delay it as long as possible.
Because that's what works for us.
*I changed the names and identifying details of our friend and his family to protect their privacy.